Kids Globe 571931: Farm Figures, 1:32 Scale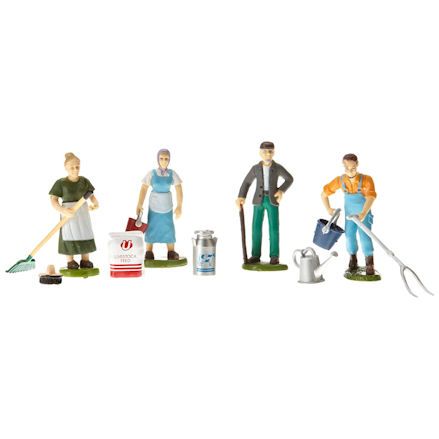 Kids Globe 571931: Farm Figures, 1:32 Scale
Set of 4 Kids Globe farming figures in 1:32 scale; made from durable plastic, painted with each model holding an item, includes additional farm accessories.
Brand:
Kids Globe Farming
Product description
Create a busy farm scene using this set of 4 farming figures; each one has a task to do thanks to what they're wearing, and the accessories they've been handed too.
Chap standing straight with walking stick would be your figurehead, the farmer so to speak. So would be in charge of his entire workforce well giving orders.
Two ladies could be his employees but either one could be the farmer themselves. It could be up to the young child to create a farm family by using a husband/wife combo.
Either way, one female farming figure is using a rake well the other is holding onto bucket.
Figure wearing light blue overalls with orange undershirt is busy getting to work; he'll hold onto the feed bucket with the option to hold onto any farm accessory.
As it happens, there's up to 5 accessories that are loose, with either one able to connect to the grasp of each figures hand: they include a hard brush, livestock feed, watering can, milk churn and fork.
All Kids Globe farm figures are set on a base as to keep them all standing up in play.
Features
Discontinued
Item No: 571931
Scale: 1:32
Age: 3 years and up
Presented in window display box
Made from plastic
Includes 4 farm figures
Dimensions: L2 x W1.5 x H6 cm
Weight: 40.8g
Kids Globe
This Item: Kids Globe 571931: Farm Figures, 1:32 Scale
Age: 3 Years
L2 x W0.5 x H5 cm
Weight: 18.1g
Britains
Age: 3 Years
L2 x W0.5 x H5 cm
Weight: 18.1g
Britains
Age: 3 Years
L2 x W0.5 x H5 cm
Weight: 18.1g
SHOP BY THEME
SHOP BY
INFORMATION