Early Learning Centre 119817: Farm Figures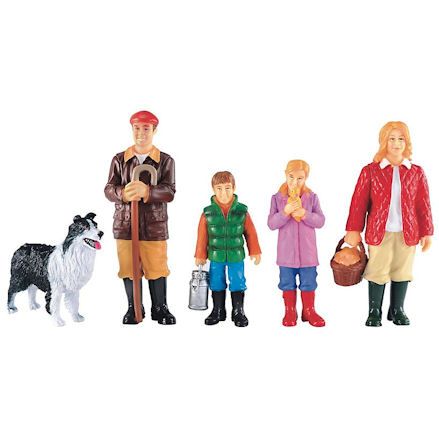 Early Learning Centre 119817: Farm Figures
Large, colourful, durable plastic set of 5 ELC farm figures with dog; standing in various poses well self-balancing. Includes farmer, daughter, son and mum.
Brand:
Early Learning Centre
Product description
Play farm with use of this ELC farm figure set; for use with your favourite Early Learning Centre farm set and related farm animals and accessories.
Invent a real world around the farmyard by bringing the farmer to life, along with his family who will pitch in and take care of the animals to sweeping up the hay.
The farm figures will fit in with all large ELC farm sets for sale, farm animals, vehicles and accessories, though they don't drive, so therefore are not in a sitting position.
Encourage creative thinking and communicative skills by giving the figures a voice with made up character names.
Classic farmer figure holding a walking stick; boy holds watering can; daughter caring for animal well the mum holds a basket of eggs.
Bonus is a pet Border Collie dog who will act as the family pet, well assist in rounding up the sheep on the field to bring them back to the shed.
No need to restrict this farm family figures to ELC farms only; will fit in with similar made from wood, self-assembly farm sets available in UK.
Features
Discontinued
Item No: 119817
Age: 3 years and up
Presented in closed box
Made from plastic
Includes 5 farm figures
Hand painted in bright colours
Dimensions: L3.5 x W1.5 x H12 cm
Weight: 99.8g
ELC
This Item: Early Learning Centre 119817: Farm Figures
Age: 3 Years
L3.5 x W1.5 x H12 cm
Weight: 99.8g
John Crane
Age: 3 Years
L5 x W5 x H11.5 cm
Weight: 181g
Le Toy Van
Age: 3 Years
L6.4 x W3.8 x H10.2 cm
Weight: 49.9g
SHOP BY THEME
SHOP BY
INFORMATION