Collecta 33882: Billy Goat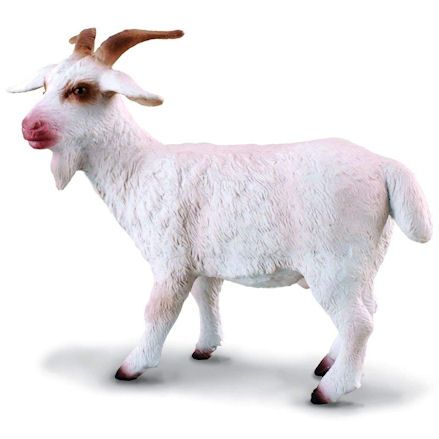 Collecta 33882: Billy Goat
Classic Billy Goat toy is finished in a white coat with big ears, long horns and a beard, posed looking to his left in a standing position.
Brand:
Collecta
Product description
The Collecta Billy Goat is made from a strong but flexible plastic to prevent breaking during farm play.
You can use this toy Billy as a pet or match him up to a herd of goats or sheep - as both breeds come from the same family.
A Billy is a male goat with still very important uses even today, including producing offspring for dairy and a firm favourite with the kids.
This toy goat is a classic farm animal in use today and an importent part of the farmyard where he'll settle in well with a bunch of sheep or paired up with female toy goats, known as nannies.
Features
Item No: 33882
Age: 3 years and up
Presented loose with label attached
Made from durable plastic
Includes 1 goat only
Collecta Farm Life range
Dimensions: L6.5 x W2 x H5 cm
Weight: 5.9g
UPC: 4892900882123
Collecta
This Item: Collecta 33882: Billy Goat
Age: 3 Years
L6.5 x W2 x H5 cm
Weight: 5.9g
Collecta
Age: 3 Years
L7 x W1.6 x H6 cm
Weight: 59g
Schleich
Age: 3 Years
L7 x W1.8 x H6 cm
Weight: 18.1g
SHOP BY THEME
SHOP BY
INFORMATION