Bullyland 62704: Farm Boy Paul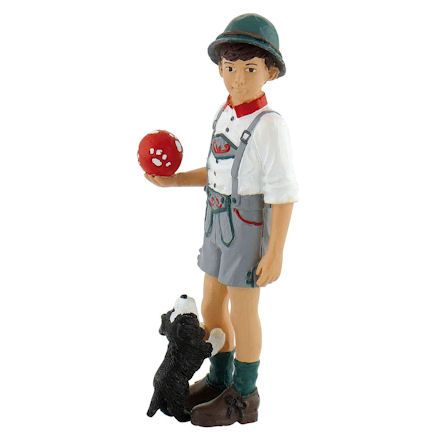 Bullyland 62704: Farm Boy Paul
Delightful figure depicting boy having fun with Border Collie pup well holding a ball well the puppy dog scampers up Paul's leg, ready for him to throw it.
Brand:
Bullyland
Product description
Young farm boy Paul is dressed in clothing similar to that of German, Scandinavian attire; he's in a standing up position well the puppy dog is up on his hind legs.
Well his left hand is free, the right hand is held up well holding the ball for the pup to chase; though you might agree the ballis a little big for an adult dog, let alone a pup - so fail on Bullyland's part there.
Non of this action can come true mind you, as its only in the imagination as the the features are attached and don't separate from the figure.
That includes the ball that can never be released from his hand, well the puppy is always positioned scampering up Paul's leg.
Paul is suited to playing the part of the young son on the farm, with Bullyland providing a series of farm figures to create a whole family - so Bullyland Farm Boy Paul is just a small piece of the puzzle.
Features
Item No: 62704
Age: 3 years and up
Presented loose with label attached
Made from durable plastic
Hand painted in bright colours
Includes figure with puppy dog
Bullyland Farmyard range
Puppy and ball cannot be removed from boy
Dimensions: L2 x W2 x H7 cm
Weight: 40.8g
Bullyland
This Item: Bullyland 62704: Farm Boy Paul
Age: 3 Years
L2 x W2 x H7 cm
Weight: 40.8g
Bullyland
Age: 3 Years
L2 x W2 x H7 cm
Weight: 40.8g
Schleich
Age: 3 Years
L3.6 x W5.1 x H9.1 cm
Weight: 22.7g
SHOP BY THEME
SHOP BY
INFORMATION