Bullyland 62703: Farm Girl Lena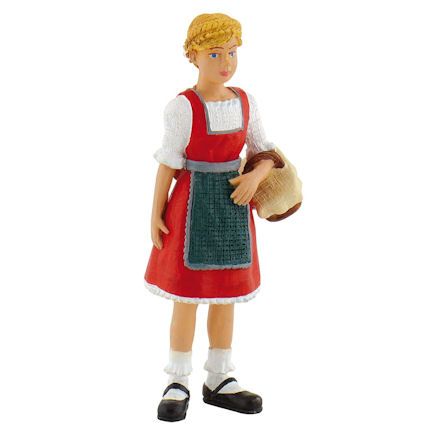 Bullyland 62703: Farm Girl Lena
Sweet, playful Lena collects flowers and picks mushrooms for the family; she is in a standing position well posed with her arm folded well holding a basket.
Brand:
Bullyland
Product description
Farm girl Lena plays the part of the daughter on the Bullyland farm; due to the summer dress she's wearing and the picnic basket she's holding.
She's not a worker by any means, so instead she goes out to the meadow picking mushrooms on the hills, before bringing them back to surprise the family.
Blonde hair, she's wearing a red dress with a pinny; with white ankle socks and black shoes which are large enough to help keep Lena standing - so they act as a sort of base.
Her right hand is down by her side, well the left is folded up as to help keep the basket on her arm.
Its not a removable basket mind you, this is a feature that is permanent. Which is probably just as well, as it saves losing the basket if separated.
Lena can meet up with Bullyland Paul - who is her bother - with mum and dad making up the family.
Features
Item No: 62703
Age: 3 years and up
Presented loose with label attached
Made from durable plastic
Handpainted, wearing brightly coloured dress
Includes figure holding bag
Bag cannot be removed from arm
Bullyland Farmyard range
Dimensions: L2 x W2 x H7 cm
Weight: 40.8g
Bullyland
This Item: Bullyland 62703: Farm Girl Lena
Age: 3 Years
L2 x W2 x H7 cm
Weight: 40.8g
Bullyland
Age: 3 Years
L2 x W2 x H7 cm
Weight: 40.8g
Schleich
Age: 3 Years
L3.6 x W5.1 x H9.1 cm
Weight: 22.7g
SHOP BY THEME
SHOP BY
INFORMATION