Bullyland 62613: Farmers Boy Leo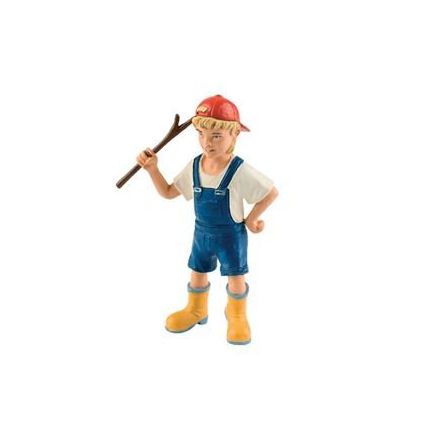 Bullyland 62613: Farmers Boy Leo
Bullyland young boy Leo is the son of the farmer; though its possible there imagination can run wild as he becomes the trickster or visiting neighbour.
Brand:
Bullyland
Product description
Bring a little joy to the farm scene with this up to no good Bullyland farmer's boy Leo; with his wrist on his hip, he's ready to throw the stick... but what act you might be thinking.
As the farmer's boy he could be ready to throw the stick well playing fetch with the family dog. And as Bullyland have a number of plastic toy dogs, that's quite possible.
He could also just be mucking around on the yard or playing in the woods; either way allow there imagination to run wild well picking there own personality for young Leo.
Dressed in short overalls, wearing a red cap backwards well wearing ankle boots.
Boots are larger as to allow Leo to be self-standing; meaning they can balance Leo in a standing position without him falling over so easy.
Features
Discontinued
Item No: 62613
Age: 3 years and up
Presented loose with label attached
Made from durable plastic
Includes figure holding stick
Stick cannot be removed from hand
Handpainted in bright colours with red hat
Bullyland Farmyard range
Dimensions: L2 x W2 x H6 cm
Weight: 22.7g
Bullyland
This Item: Bullyland 62613: Farmers Boy Leo
Age: 3 Years
L2 x W2 x H6 cm
Weight: 22.7g
Bullyland
Age: 3 Years
L2 x W2 x H7 cm
Weight: 40.8g
Bullyland
Age: 3 Years
L2 x W2 x H7 cm
Weight: 40.8g
SHOP BY THEME
SHOP BY
INFORMATION