Bruder 03084: Lamborghini R8.270 Tractor, 1:16 Scale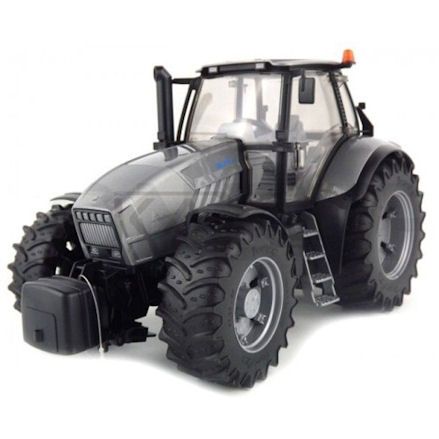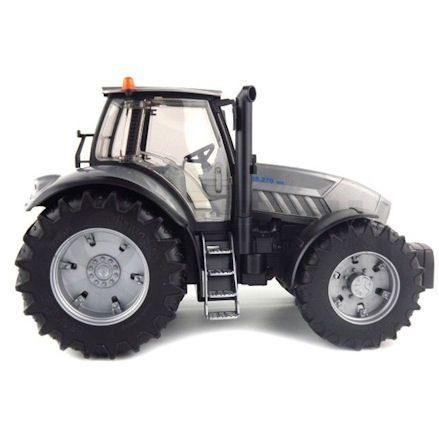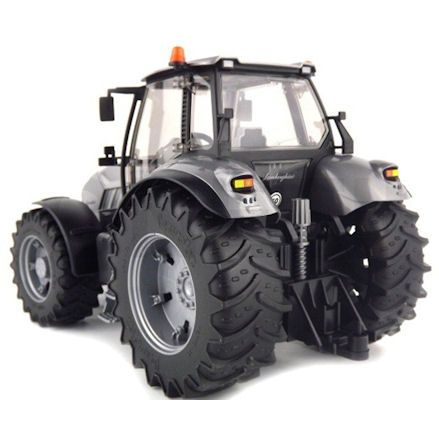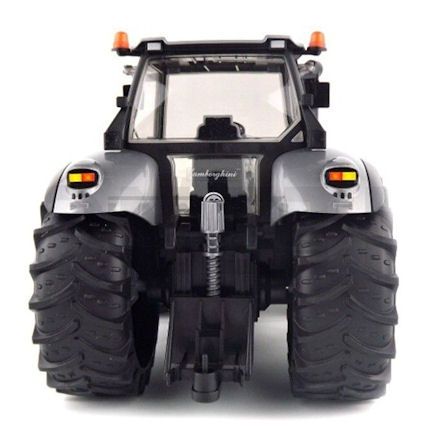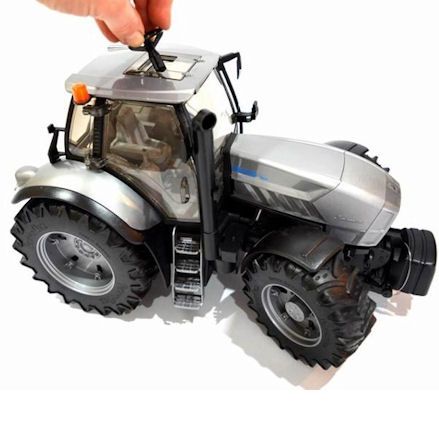 Bruder 03084: Lamborghini R8.270 Tractor, 1:16 Scale
Still functional but finished in a unique colour Bruder Lamborghini tractor in 1:16 scale; active steering, tow hitch, front coupling, open cab door and bonnet.
Brand:
Bruder
Product description
You may think this model tractor only exists in the world of toys, giving a science fiction fan free reign to do one over on a classic by converting a normal tractor into something just to admire.
But you'll be wrong, in reality this is a living, breathing, fully functional real life tractor - mostly seen in Italy - but now made as a 1:16 scale toy.
There's a catch, in fact as Lamborghini and Deutz are part of the same group, the company released this limited edition-like Lamborghini tractor that replicates the Deutz Argotron X720 tractor in every last detail.
Well the Deutz tractors are finished in a dark green, the Lamborghini tractor is finished in grey/silver with the black trim still present.
But just because its a so-called rip-off, you still get all what is good with Bruder tractors, but in a fancy finish that is not present on any other model in the range.
The Bruder 03084 Lamborghini R8.270 tractor has a big opening bonnet, opening door, rear tow hitch with front facing coupling - and of course a steering rod for controlling the front wheels.
Features
Item No: 03084
Scale: 1:16
Age: 4 years and up
Officially licensed by Lamborghini
Presented in open display box
Made from durable plastic
Rear tow hitch, front coupling
Active steering, rolling wheels
Open cab door, bonnet
Bruder Agriculture range
Dimensions: L38 x W18.5 x H21.5 cm
Weight: 1110g
Manufacturer details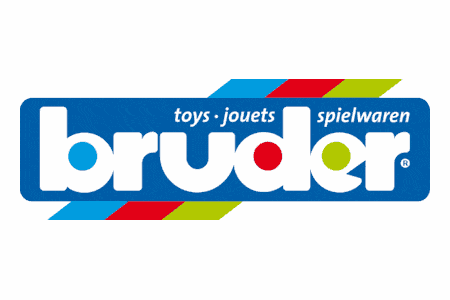 When developing this Lamborghini in 1:16th scale, there wasn't much work to do for Bruder as this is an identical copy to their Deutz Argotron X720 series tractors. Released 2009, the identical model to Deutz needed to be converted into its own. So away with the green and black finish and say hello to the sleek, fancy grey/silver coat with black trim.
Guide to Bruder Lamborghini R8.270 Tractor
It looks a thing of fantasy, but in fact this is a real life tractor now replicated in 1:16th scale, with all the usual features and functionality to mule over in our guide.
Lamborghini R8.270 Tractor
Italian made and preferred Lamborghini tractor not often seen on our roads, or in deed on our farms. But despite its colour being a thing of fantasy, it really does exist.
And if you're not familiar with the Lamborghini brand, then you may of seen this exact body shape on a Deutz tractor, because guess what? Its a copy due to Lamborghini and Deutz being in the same group.
Instead of the the Deutz green, we have this finished in a fancy grey/silver with all original decor; that includes wing mirrors, exhaust pipe and only the imitation hazard lights finished in a stand out orange.
Open the Cab Door
Access to the cab is only gained through the left-sided cabin door, with help from the five 'metal effect' steps leading up to the door - which opens up in reverse.
The hinged door opens up with help from a knob that is used for them to grab and pull open. There will be enough room to access the interior where they could insert a Bruder farming figure.
Access the cab via the opening door also comes in handy when assistance is needed when threading the steering rod through the cab roof, and when they can't quite grab the steering wheel with it.
Tow All Trailers
One of the largest tractors in the series - along with the identical Deutz tractors - so therefore would be capable of towing all Bruder implements and trailers.
Making it so is a height-adjustable rear tow hitch, which can not only be raised to hook up big trailers, but lowered for the smaller implements.
Its a giant tractor already, so a big implement towed behind will need a lot of area to skillfully maneuver around in a small house or garden.
Counter the Weight
No doubt this unique larger than life Bruder tractor is sure brought in for towing the largest, the widest and most challenging farm implements and trailers in the series.
To counter the weight towed in the rear, there's a detachable counter-weight connected to the front coupling.
This is all in the imagination mind you, the counter-weight is not functional in terms of any real weight and would not balance out the model tractor at all. But don't worry, Bruder have made it so there's no tipping up or balancing issues when towing large, heavy loads.
Steerable Wheels
Big, bulky wide giant of a Bruder Lamborghini tractor makes it that little bit easier to steer with use of the steering wheel. With the size in length and width giving them that extra support without tipping over.
And as its a higher up tractor it should be easier to push along the tractor well walking along by it. This all takes place well the steering rod is inserted into the cab via the cabin roof.
With the big toy tractor feeling like a larger than normal 1:16 scale model, it will take a lot of forwards and reversing to maneuver around the house - and in some cases - out in the garden.
Opening Bonnet
Challenging are the only words we can use to describe by getting under the bonnet of this giant, there's no repairing the engine from the ground here.
The engine under the bonnet is so far up they will - or the Bruder figure - will need something to stand on to get proper access to the engine.
As usual, it only takes a pull to lift up the bonnet well viewing the engine detail, then closing the bonnet is sure to keep it closed.
Bruder
This item: Bruder 03084: Lamborghini R8.270 Tractor, 1:16 Scale
Age: 4 Years
Scale: 1:16
L38 x W18.5 x H21.5 cm
Weight: 1110g
Bruder
Age: 4 Years
Scale: 1:16
L35.5 x W18 x H20.4 cm
Weight: 503g
Bruder
Age: 4 Years
Scale: 1:16
L45.5 x W18 x H20.4 cm
Weight: 1390g
SHOP BY THEME
SHOP BY
INFORMATION