Bruder 03080: Deutz Argotron X720 Tractor, 1:16 Scale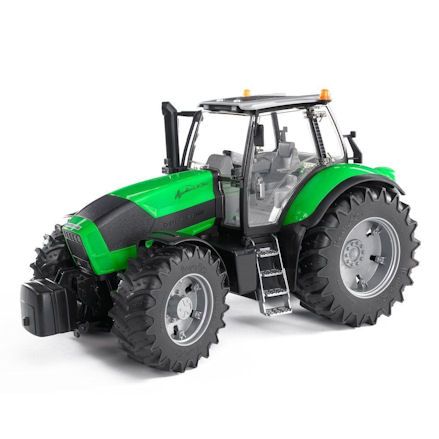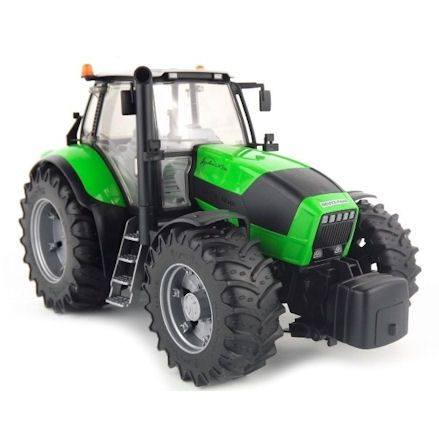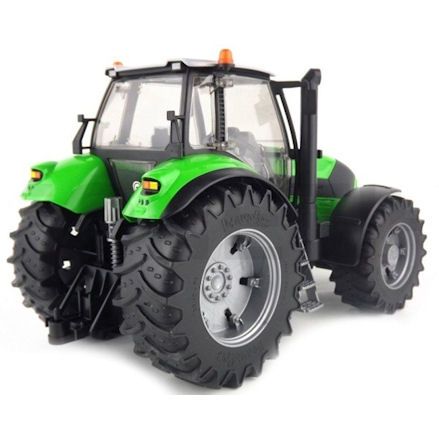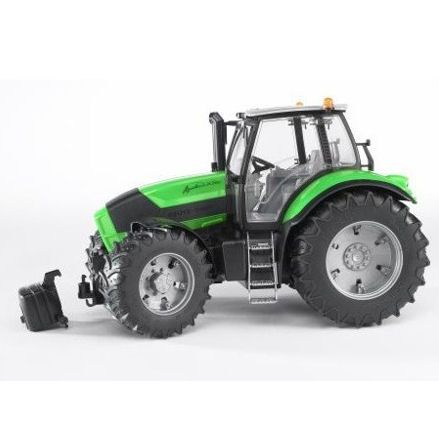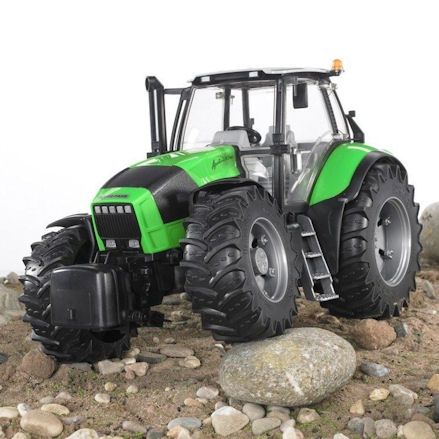 Bruder 03080: Deutz Argotron X720 Tractor, 1:16 Scale
Standalone or ready for accessories Bruder Deutz tractor with active steering, opening bonnet, cabin doors, height adjustable hitch and counter-weight.
Brand:
Bruder
Product description
Monster green tractor only noticeable on Deutz tractors; and well made in 1:16 scale, it has a tough made from durable plastic body and original exterior decor.
Big, wide, chunky design with a standing tall tractor, the giant deep tread rubberised tyres will make all terrain farming a breeze, with free rolling wheels helping them carry out the job with no restrictions.
Push the tractor along the ground by using the steering rod which is threaded through the cab roof well connecting with the steering wheel inside.
Its made harder to steer with the detachable counter-weight present - with any front loader or implement towed later - but this is a skill they should appreciate learning the more they drive around.
Towed implements connect to the height-adjustable tow hitch, well front facing implements connect to the front attachment - simply remove the counter-weight to replace it with an implement.
Features
Item No: 03080
Scale: 1:16
Age: 4 years and up
Presented in open display box
Glazed windows, open cab doors
Opening bonnet
Detachable counter-weight
Adjustable rear tow hitch
Made from durable plastic
Bruder Agriculture range
Dimensions: L35.5 x W18 x H20.4 cm
Weight: 503g
Manufacturer details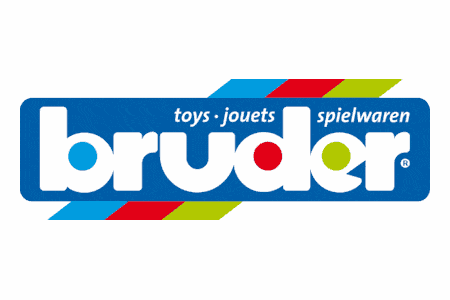 In the mid 00's we had a series of Bruder Deutz tractors released into the 1:16 scale range, and we've relied on this range of models to last up until now. Well this Deutz Artgotron X720 tractor was released in early 2009, we've never see another release. Going with this manufacturer is worth you while mind, as the style, design and colour all make this a great choice.
Guide to Bruder Deutz Argotron X720 Tractor
Humble Bruder Deutz tractor that needs a bit of love with accessories, but as a standalone model it has enough features and functionality to win them over.
Deutz Argotron X720 Tractor
Colour scheme and design that can only be contributed to Deutz, with the unique design on the cab and bonnet with bright green body with black trim and branding along the bonnet.
The big driver's cab makes this a Deutz, along with the big fierce wheels and long bonnet. Against the green body; the exhaust, wing mirrors, steps and cab interior all stand out in black and grey.
Colour is brought to the model through the orange imitation hazard lights, with radiator detail, deep tread rubberised tyres with free rolling wheels.
BIG Driver's Cab
As much has the Deutz tractor is taken up with the big driver's cab, there's still interior detail to inspect, with exterior decor to admire; including wing mirrors, exhaust, steps and imitation lights.
Then there's the slide opening door positioned on the roof to thread the steering rod through well the hinged cab doors can be opened just as they would in real life.
Now access to the interior is possible they can sit a Bruder farming figure on the seat to take over and control the tractor around the yard and out on the field to plough.
Steering with All Terrain Wheels
Secured beneath the Bruder Deutz tractor is a grey steering rod locked away in its own compartment, you'll need to remove this rod before threading it through the cab roof to steer the front wheels.
Once the steering rod is inserted through the cab roof and connected to the steering wheel, force is needing in regards to a pushing motion to repel the tractor forwards, well another hand is needed to help reverse.
Take the steering rod out of its compartment and insert it in place and leave it forever there; for one thing they will use it continuously, and another it prevents the rod getting lost.
Open the Bonnet
Out of the box we have a standalone Deutz model tractor with no front loader, implement or trailers in tow, so what is there to do.
Easy, as usual with an opening bonnet the little ones can play mechanic well fiddling under the bonnet to make repairs and do general maintenance of the tractor.
Lifting the bonnet up keeps it in place, they can then get up close and personal with the engine block detail - with help of a Bruder farming figure taking over as mechanic.
Adjust the Rear Tow Hitch
This Deutz big tractor can tow any Bruder farm implement or trailer in the Agriculture range, so in the case of trailers that might come up to short; simply lower the rear tow hitch to the appropriate height.
This is called an height-adjustable tow hitch and can be lowered and raised with a simple twist of the lever positioned above the tow hitch on the rear - it you like it can also be turned using the steering rod.
Once the correct level is found for the trailer, hook it on and away they go. As it stands, this model is compatible with all Bruder trailers and front connecting implements in the entire range.
Remove the Counter-Weight
We're sure this Bruder Deutz tractor is fully capable of towing heavy farm implements or trailers without worrying about tipping up or pulling a wheelie due to the weight in tow.
So Bruder have added a detachable counter-weight - only works in the imagination mind you - which connects to the front coupling system, and when removed a front connecting implement can be added.
Well the counter-weight present protrudes out far, they will need to adjust there driving skills to counter the extended part at the front, to avoid accidentally knocking objects found the farm environment.
Bruder
This item: Bruder 03080: Deutz Argotron X720 Tractor, 1:16 Scale
Age: 4 Years
Scale: 1:16
L35.5 x W18 x H20.4 cm
Weight: 503g
Bruder
Age: 4 Years
Scale: 1:16
L45.5 x W18 x H20.4 cm
Weight: 1390g
Bruder
Age: 4 Years
Scale: 1:16
L30 x W18.5 x H17.5 cm
Weight: 721g
SHOP BY THEME
SHOP BY
INFORMATION