Bruder 03081: Deutz Argotron X720 Tractor with Front Loader, 1:16 Scale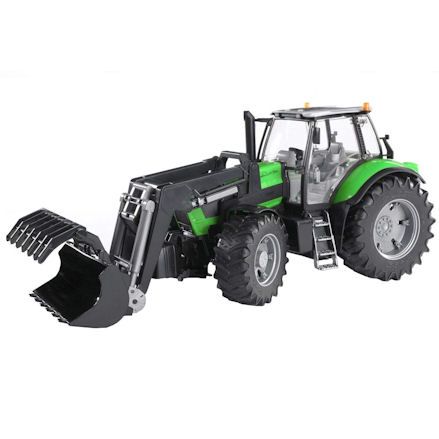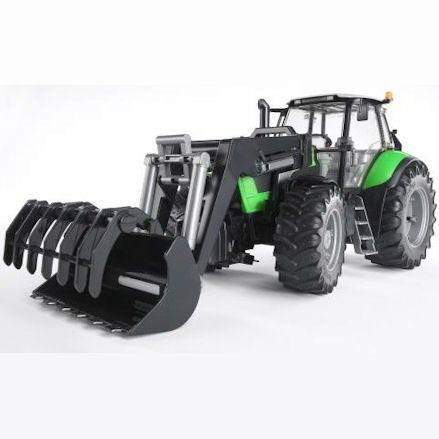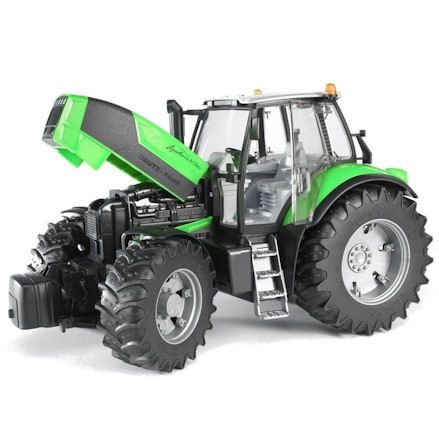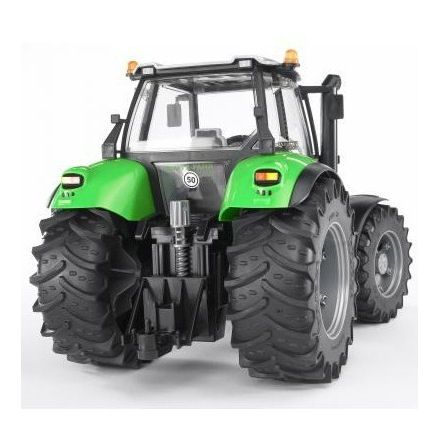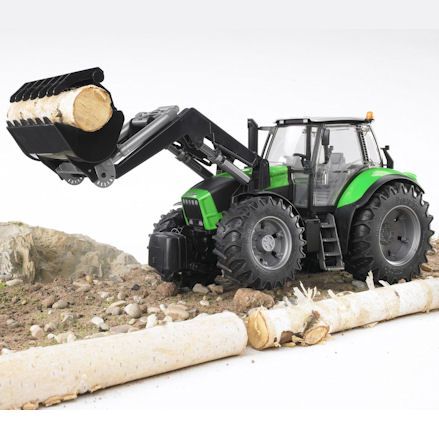 Bruder 03081: Deutz Argotron X720 Tractor with Front Loader, 1:16 Scale
Make it a large scale Bruder Deutz tractor in 1:16 scale with a functional front loader for your forestry needs, well the tractor is steerable, the loader can be tipped.
Brand:
Bruder
Product description
Big, chunky bright green Deutz with a design that can only be associated with this manufacturers, which Bruder have replicated right down to the original exterior decor and interior detail.
Control the front-axle three ways; via the extended steering rod that threads through the cab roof hatch, steer manually by hand, or reach into the cab to control the centre positioned steering wheel.
Extended play on the Bruder 03081 Deutz Argotron tractor happens with use of a farming figure with poseable limbs; well he climbs up the steps to open the cab door, he can be posed in a sitting position to be secured to the seat.
And well you have a figure in use, he can do general repair and maintenance work on the engine by opening the bonnet up to reveal the engine detail.
Height-adjustable tow hitch would make it compatible with all trailers in the series, well a front mountable implement can be connected to the front mount - currently occupied with a counter-weight.
Finally, the Bruder tractor can do farming or forestry work with use of the working front loader with tipping bucket and grabber attachment.
Features
Item No: 03081
Scale: 1:16
Age: 4 years and up
Presented in open display box
Made from durable plastic
Front loader with grabber attachment
Steering with free rolling wheels
Rear tow hitch, front mount
Open cab doors, bonnet
Bruder Agriculture range
Dimensions: L45.5 x W18 x H20.4 cm
Weight: 1390g
Manufacturer details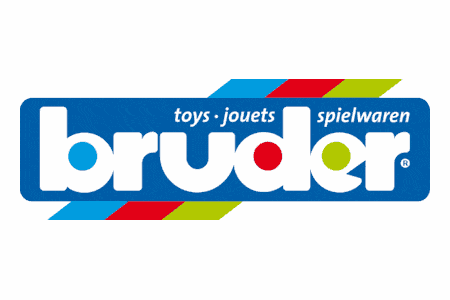 Well this 2009 release Bruder Deutz tractor may be more than ten years old, it wasn't released before Bruder's upgraded functionality along with the usual features. But what you have here is a Deutz tractor with front loader, so they have it all. Intended use of this recent Argotron series model is a larger tractor with features that reach way beyond the usual steering.
Guide to Bruder Deutz Argotron X720 Tractor with Front Loader
Standalone model has enough intricate, replica features to delve into, along with a functional front loader that is sure to get a lot of use.
Deutz Argotron X720 Tractor
Modern Bruder Deutz Argotron tractor in 1:16 scale is made from all plastic, with a bright green body, black trim and grey cab roof and tyre rims, along with detailed Deutz insignia across the body.
Almost clear glass effect driver's cab makes for easy viewing well maneuvering this beast, with original exterior detail; from side mirrors, steps and exhaust, to imitation cab lights, hazard lights and smaller headlights.
Working Front Loader
Connect the functional front loader to the slots near the front-axle, well the hinged part across the bonnet is helped with functional - metal effect - links that make sit go up and down with a telescopic action.
Not only can the front loader rest on the ground when not in use, but can be lifted up as high as it would go; well simultaneously using the pivoting attachment to scoop and offload.
Grab with Attachment
Away from farming they can dabble in forestry work with use of the grabber attachment lifting and piling up big tree logs - or thick branches in the toy world - and stack on the trailer or ground.
Standard bucket attachment can scoop up sand, stones or even soil, but use of the grabber means they can lift up and hold onto longer, rounded loads - twigs, branches and hay.
Active Steering
Three ways to steer this Bruder Deutz tractor includes the standard yet most used extended steering rod; control the front-axle manually by hand; or control the steering wheel inside the driver's cab.
To use the steering rod you'll need to remove it from its compartment beneath the tractor; then insert it through the cab roof hatch, before latching onto the centre positioned steering wheel to go left or right.
Height-Adjustable Hitch
No trailer now but if one is brought in later this height-adjustable rear tow hitch makes for a lot of action taking place in the rear of the tractor.
Height-adjustable would make it hands-free when connecting the tow bar from the Bruder implement or trailer, well its just a matter of finding the correct height before towing away.
Counter-Weight
At the moment an imitation counter-weight occupies the front coupling, and well its looks the part remember its only for show - being light and hollow - there's no weight to the counter-weight.
Removing the counter-weight just needs to be slid up, then a front-mountable Bruder implement can take the weight's place.
Bruder
This item: Bruder 03081: Deutz Argotron X720 Tractor with Front Loader
Age: 4 Years
Scale: 1:16
L45.5 x W18 x H20.4 cm
Weight: 1390g
Bruder
Age: 4 Years
Scale: 1:16
L35.5 x W18 x H20.4 cm
Weight: 503g
Bruder
Age: 4 Years
Scale: 1:16
L30 x W18.5 x H17.5 cm
Weight: 721g
SHOP BY THEME
SHOP BY
INFORMATION