Bruder 02070: Deutz Agrotron 200 Tractor, 1:16 Scale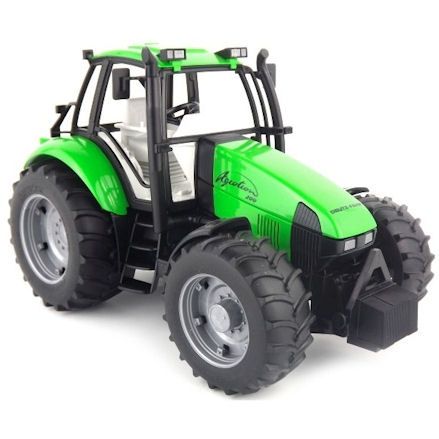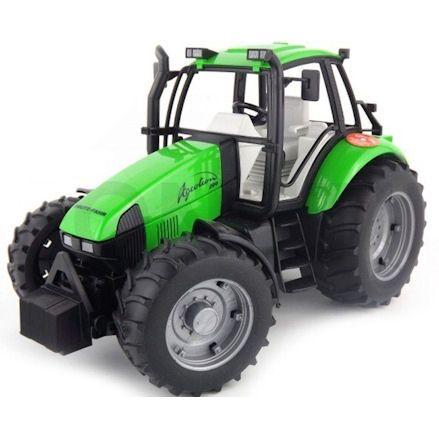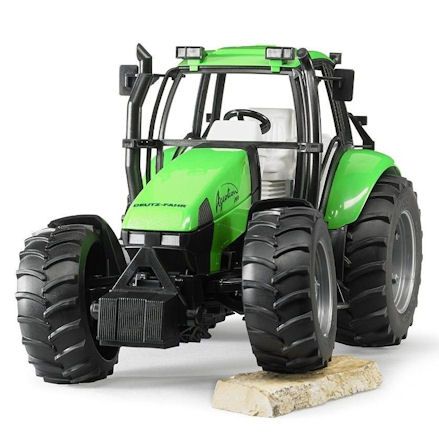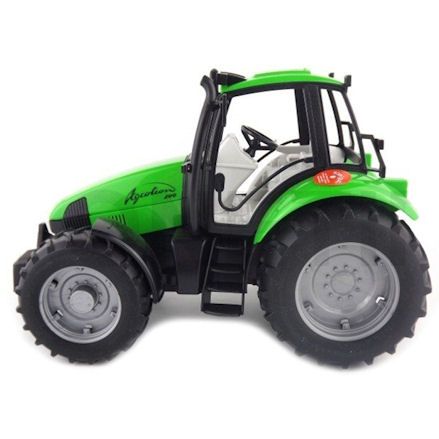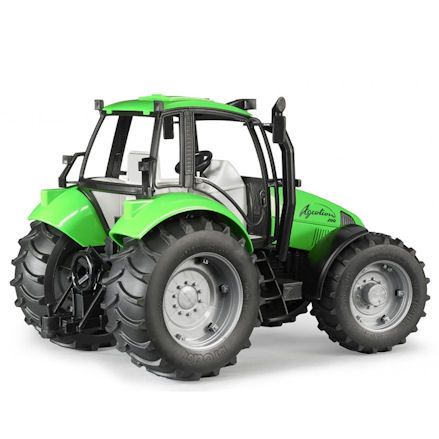 Bruder 02070: Deutz Agrotron 200 Tractor, 1:16 Scale
Unlimited access to this Deutz tractor happens through the windowless driver's cab for steering, it has a rear tow hitch and detachable counter-weight.
Brand:
Bruder
Product description
Tough, hard wearing, made from durable plastic big green toy tractor that offers functionality in the tow hitch to the counter-weight to balance out the haulage.
Replicated in a true 1:16 scale, this Bruder 02070 Deutz Agrotron 200 tractor is ready to do the big jobs around the farm, in the yard or even for driving on the road.
As an early release, there's no height-adjustable tow hitch but rather a stationary one; which is probably a good thing as less moving parts means less can go wrong.
But whenever a heavy haul is being towed, make sure the counter-weight is attached to the front to keep all four free rolling wheels with tread tyres on the ground.
The wheels can be steered with use of a driving rod locked away above the tow hitch; all that they need to do is insert it through the cab roof onto the steering wheel to control the wheels.
An open driver's cab makes way for unrestrictive access to get there little fingers through to steer the steering wheels, insert a driving figure or whenever a second hand is needed to direct the rod.
Features
Item No: 02070
Scale: 1:16
Age: 4 years and up
Presented in open display box
Made from durable plastic
Steering, rolling wheels
Rear tow hitch
Open cab access
Bruder Agriculture range
Dimensions: L30 x W18.5 x H17.5 cm
Weight: 721g
Manufacturer details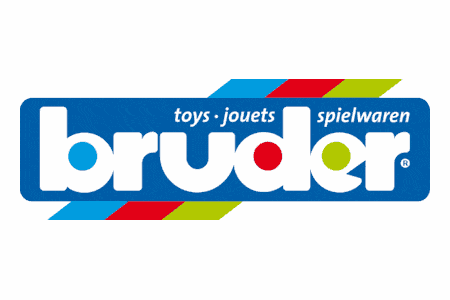 This 2002 model represented the Deutz tractor series in 1:16 scale, it was a lengthy 7 years later Bruder decided to release - in our opinion - better replicated tractors with greater detail. Don't get us wrong, this is a nice model with an open cab that offers unrestrictive access, with later releases representing the real life tractor as it they be.
Guide to Bruder Deutz Agrotron 200 Tractor
Standalone big Deutz toy tractor with the option to extend later with rear tow hitch and loader-ready attachment; find out what this tractor has to offer with our guide.
Deutz Agrotron 200 Tractor
Chunky, big, mean Bruder Deutz - Agrotron series - tractor in dark green and black trim. We get further certification of a Deutz tractor thanks to the branding along the bonnet.
Bruder have done justice to this replicated model, with nearly 20 years later the design is still taken for models released even today.
Hints of hazard lights are scattered around the cab with the headlights (non functional) only associated as a Deutz design - and that's true for the exhaust pipe, wing mirrors and steps leading to the cab.
Open Cabin
Unique feature on early released models are windowless cabs, and well it might seem odd, this feature has its purpose, even though this probably wasn't Bruder's intention back then.
You see an open cab can do one of three things without limitations; they can use there fingers to steer the steering wheel; connect the rod with help from the open sides; or insert a farm figure in with ease.
You see a windowless Bruder tractor with open driver's cab allows for unrestrictive access, and as Bruder requires a lot of fun to be taken within the cab, no windows should assist in play.
Open Up the Bonnet
As the bonnet opens up exactly as it would in real life, realism extends to the engine block detail, with all parts present in 1:16 scale to where they are on the real engine.
And well this is all for show, there's no limits to what they can learn about tractor engines, playing mechanic well inspecting the engine.
To bring out the most of this feature, why no consider bringing help in the way of a Bruder figure who takes the role as farmer, tractor driver - and now mechanic.
Balance the Weight
Bruder have made sure the fun extends to not just towing trailers and forgetting about it, but making sure the child sit's up and considers the actions of towing heavy loads.
The front positioned counter-weight is designed to keep the front wheels down whenever the load is to heavy, so by keeping all four wheels on the ground they then have a balanced tractor.
This is one of a number of things to learn when driving a tractor in real life, so now the young ones will eventually understand what needs to be done for safety reasons even in a 1:16 scale tractor.
Steering
To steer the tractor with the steering rod remove the grey rod from its compartment just above the tow hitch on the rear - then thread it through the cab roof and connect it to the steering wheel.
If they decide to leave it in place that's fine to, but they're sure to get the best out of the big tractor by using the rod that can be used in tandem when pushing it along, walking or sitting.
Its positioned in a way that its never any bother if its kept stored away or inserted onto the steering wheel, the only time it needs to be removed is if they decide to fix a Bruder figure to the seat.
Towing Implements
This might be one of the first Bruder tractors in the series but even for today's standards, it holds up well with the option to tow a number of Bruder implements and trailers.
As an earlier model, you don't get the height-adjustable rear tow hitch, but rather a make do hitch that will reduce what you can and cannot haul.
You see the support bars and wheels on the trailer would drag on the ground, and where there's an adjustable tow hitch present, that part can be lifted off the ground, which isn't available on this model.
Bruder
This item: Bruder 02070: Deutz Agrotron 200 Tractor, 1:16 Scale
Age: 4 Years
Scale: 1:16
L30 x W18.5 x H17.5 cm
Weight: 721g
Bruder
Age: 4 Years
Scale: 1:16
L35.5 x W18 x H20.4 cm
Weight: 503g
Bruder
Age: 4 Years
Scale: 1:16
L45.5 x W18 x H20.4 cm
Weight: 1390g
SHOP BY THEME
SHOP BY
INFORMATION