Bruder 03031: JCB Fastrac 3220 with Front Loader, 1:16 Scale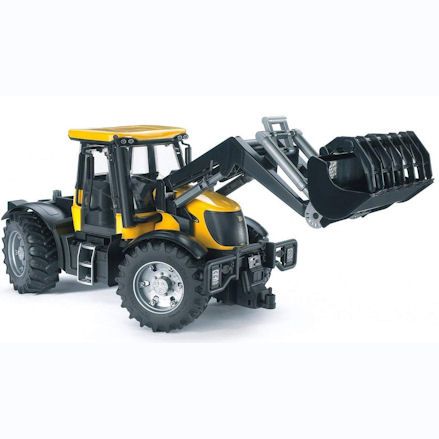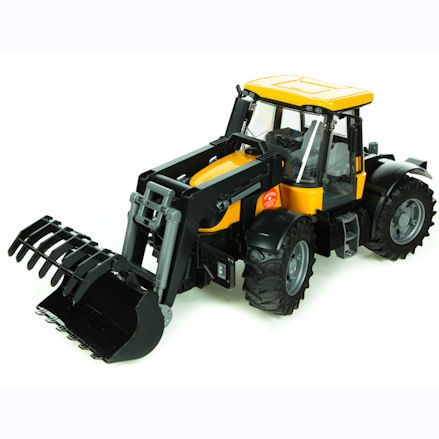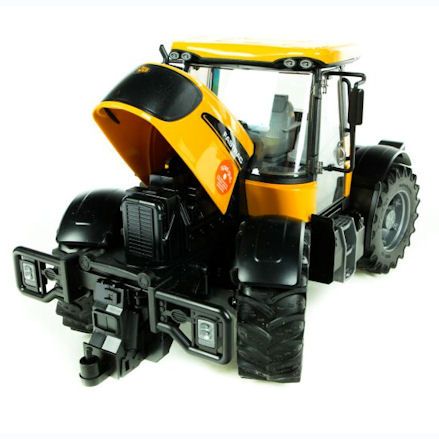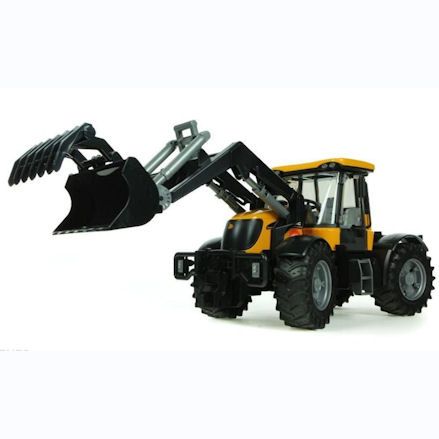 Bruder 03031: JCB Fastrac 3220 with Front Loader, 1:16 Scale
Allow the Bruder JCB Fastrac to take care of business with its functional front loader, 4 wheel steering, centre located cab, opening bonnet and rear tow hitch.
Brand:
Bruder
Product description
The body of this Bruder Fastrac is a thing of beauty and for sure more unique than any model in the series, and in real as it happens.
Big, glazed windows overwhelm the driver's cab with replica interior detail with steering wheel, seat and controls present.
Access to the cab is made through the doors well the sliding roof opening allows for the steering rod to be passed through and locked in place on the centre of the steering wheel.
The fierce front loader with grabber attachment is fully functional with up/down movement well the bucket/grabber attachment pivots to help scoop up and offload.
Perfectly balanced centre located cab will go towards helping all 4 wheels stay on the ground well the tractor is being pushed from the child in a walking position - as well has sat down.
Maneuvering around the house or outside is made easier with four-wheel steering; well the front two wheels turn, so does the back wheels to help take the corners at a sharper angle.
Well different in design, this Bruder 03031 JCB Fastrac 3220 tractor will tow any farm implement or trailer in the 1:16th scale series.
Features
Item No: 03031
Scale: 1:16
Age: 4 years and up
Presented in open display box
Made from durable plastic
Centre located cab
Opening bonnet, open the cab doors
4-wheel steering
Height adjustable hitch
Dimensions: L51 x W22 x H19 cm
Weight: 1400g
Manufacturer details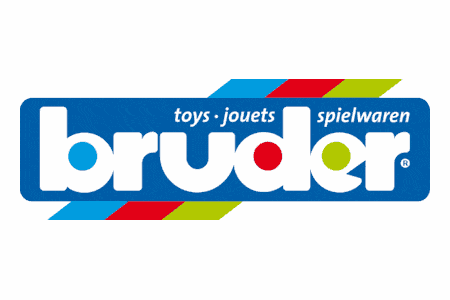 Wow, 2006 this remarkable Bruder tractor was first released into the Agriculture series, as one of two JCB tractors available. They had it easy with all previous and future models, but the way the Fastrac is built made it a challenge for Bruder to replicate. With the centre located driver's cab and 4 wheel steering all new features to reconsider for the company.
Guide to Bruder JCB Fastrac 3220 with Front Loader
Get to know your fast moving, road worthy Bruder JCB Fastrac so they no all functions available to them, with active steering, tow hitch and working loader.
JCB Fastrac 3220
Such a uniquely designed fast moving tractor you'll only associate being a JCB, with the large cab centrally positioned, an out reaching rear and a shorter than normal opening bonnet.
All wheels are the same size which is unique to JCB Fastrac with its fully equipped exterior; including an exhaust hugging the cab, wing mirrors, mud guards, steps and imitation hazard lights.
Removing the detachable front loader will allow them get the most out of the standalone Bruder JCB model, but well attached the height adjustable tow hitch is still functional.
Front Loader
On most other Bruder tractors, this working front loader (item: 03333) would be bought separately, but with this model you get the front loader with the JCB Fastrac all attached and ready to go.
They're sure to use this feature the most but it can be detached. But what you get is a functional front loader with an up and down movement, covering most of the bonnet.
And well the bonnet can still be opened, the front loader is designed to be used in conjunction with the bucket/grabber attachment, well both loader and attachment work in tandem.
Pivoting Attachment
As a half bucket and grabber attachment this makes it ever so easy to scoop rubble off the ground well keeping hold of it. A basic bucket attachment will result in losing most of the load as it falls well maneuvering.
Well the whole attachment is sat on a pivoting mechanism - basically a tipping action - the bucket rolls across the ground scooping up loads, well the grabber holds onto it before offloading.
They have to control the whole attachment by hand well tipping it up and down. There's a grey lever attached to the grabber to make that all important grabbing action, and possible to do it all by hand.
Centre Cab
One major feature of a JCB Fastrac tractor is the positioning of the driver's cab, and only on this model will you find such a uniquely positioned cabin.
Benefits to this is in terms of child's play is the Bruder JCB Fastrac is now perfectly balanced well being pushed from the rear, where a cab positioned further back may result in wheelies and tipping up.
Still we get a functional driver's cab with an opening cab roof to thread the steering rod through, with access through the opening hinged doors for use with the Bruder figure.
4-Wheel Steering
Not present in any other toy tractor or real life machine, only JCB bring you this unique 4-wheel steering function with the front and rear wheels turning simultaneously.
This movement allows the driver to take corners on a tighter angle, and well combined with the speed at which the JCB Fastrac travels, we should get the job done before anyone else.
They're free to steer the wheels by direction them by hand, but make sure they try the steering rod tucked away underneath; thread it through the driver's cab, into the steering wheel to drive from there.
Front/Rear Tow Hitch
As you would expect from all Bruder tractors a rear tow hitch must be present, well on this one you get the bonus front attachment hitch for front operating Bruder farm implements.
Its not any simple rear to hitch mind you, this is a functional height adjustable tow hitch so all trailers and implements of any size are made compatible.
Simply twist the lever above the tow hitch tow to make an up and down movement well it will stay put once you've found the correct height - there's also an option to use the steering rod to turn the lever.
Bruder
This item: Bruder 03031: JCB Fastrac 3220 with Front Loader, 1:16 Scale
Age: 4 Years
Scale: 1:16
L51 x W22 x H19 cm
Weight: 1400g
Bruder
Age: 4 Years
Scale: 1:16
L38 x W19 x H22 cm
Weight: 1140g
Britains
Age: 3 Years
Scale: 1:32
L17 x W9.5 x H10.5 cm
Weight: 839g
SHOP BY THEME
SHOP BY
INFORMATION