Bruder 03030: JCB Fastrac 3220 Tractor, 1:16 Scale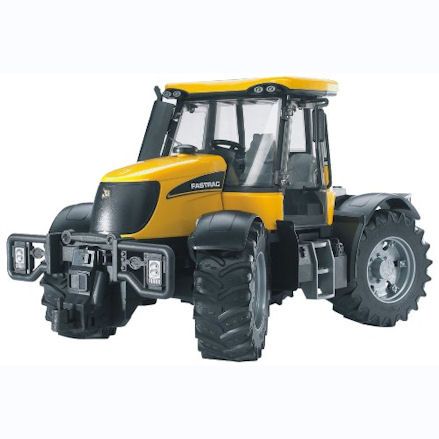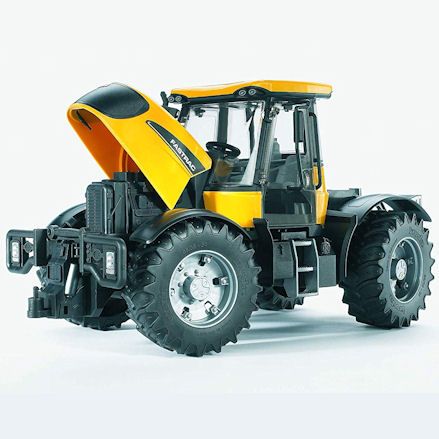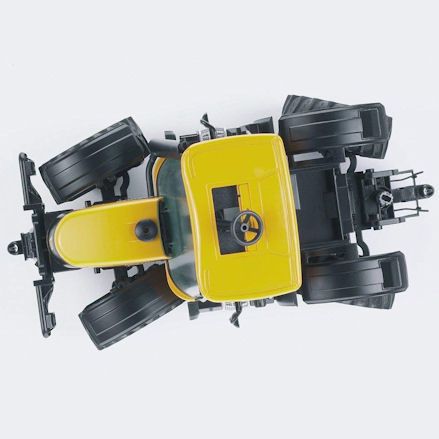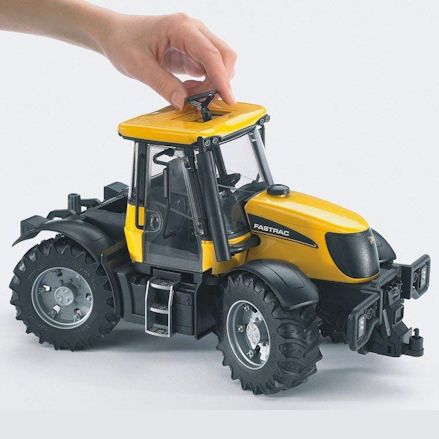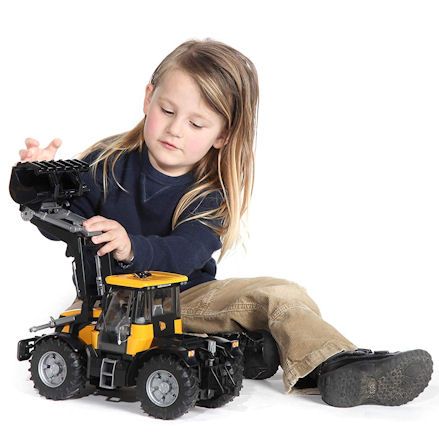 Bruder 03030: JCB Fastrac 3220 Tractor, 1:16 Scale
Fast moving Bruder Fastrac that as a centrally located cab, 4 wheel steering with rod, front tow, height adjustable rear tow hitch, opening doors and bonnet.
Brand:
Bruder
Product description
Nothing needs to be done to balance this Bruder JCB Fastrac 3220 tractor due to the centrally-located driver's cab that is positioned in way where all four wheels stay firmly on the ground at all times.
The big driver's can offers an area to grab on well pushing along, but if you pull out the steering rod from beneath the chassis and thread it through the cab roof, you can steer the wheels that way.
You may want to bring the tractor to life with the use of a Bruder farming figure where the cab doors open and the figure inserts securely on the driver's seat behind the steering wheel.
Well the cab doors open so does the bonnet open to unveil the engine detail to play mechanic.
What is so unique on this Bruder 03030 JCB Fastrac 3220 tractor that is absent in all other models from the 1:16 scale series is the ability to steer the front and back wheels at the same time - so they can skillfully master those tight corners.
As usual the height-adjustable rear tow hitch is present along with a front connecting hitch.
Features
Item No: 03030
Scale: 1:16
Age: 4 years and up
Officially licensed by JCB
Presented in open display box
Made from durable plastic
4-wheel steering
Rear hitch/front attachment
Bruder Agriculture range
Dimensions: L38 x W19 x H22 cm
Weight: 1140g
Manufacturer details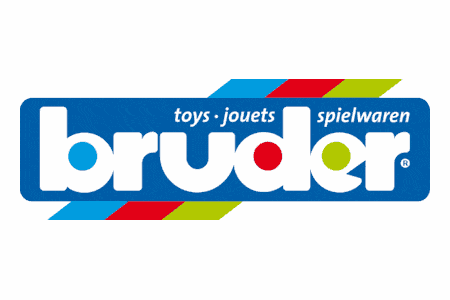 Released in 2006, this model JCB Fastrac is a long standing servant within the Bruder Agriculture series, offering a steering function and unique design like no other. With that in mind, Bruder were forced to change their current manufacturing process to one that builds this model. Focus of which turned to 4 wheel steering and a centrally located driver's cab.
Guide to Bruder JCB Fastrac 3220 Tractor
If you're not already, Its important to familiarise yourself with the JCB Fastrac model to understand that it functions very differently to standard big Bruder tractors, as our guide will explain.
JCB Fastrac 3220 Tractor
What you get out of standard tractors you'll get much more out of this model, with all the usual functions compatible with the bonus of 4-wheel steering, central driver's cab and a front attaching hitch.
This centre located driver's cab is big, so big in fact it take ups most of the area on the Bruder JCB Fastrac; well all wing mirrors, hazard lights, steps, exhaust and mud guards are present.
4-Wheel Steering with Rod
Bruder had to step up their game designing the Fastrac into a replica 1:16 scale model, due to the complication of the 4 wheel steering that not only controls the front wheels, but simultaneously the back wheels with free rolling action and tread detail.
What you get is fully functional steering that not only works as smoothly as all other models, but now the Bruder 03030 JCB Fastrac 3220 tractor maneuvers far greater than all of them.
Centrally Located Cab
Beautifully balanced toy JCB Fastrac that has an naturally balancing design, with no counter-weight required on the front - this also means the centrally located cab is balanced for child's play.
Well they're in a standing position well walking the Fastrac around, the centre position of the cab will assist in keeping all four wheels on the ground.
Rear Hitch with Front Attachment
Thanks to JCB they've made it easy for Bruder to replicate their own height adjustable rear tow hitch design onto the Fastrac model without complicating things.
Now we have the adjustable tow hitch, there's also the standard front-attachment. Not all Bruder implements can be towed, in fact several can only be connected to a front connecting system as demonstrated on this tractor.
Opening Bonnet
As the driver's cab is more central, this in turn takes up bonnet space which reduces the length significantly, but as its a Bruder JCB Fastrac, we still get that all important opening bonnet.
Short and stumpy, the bonnet opens to reveal a detailed engine which they need to work on whenever the tractors needs repairing or general maintenance.
Replica JCB detail
We can tell this is a JCB agriculture vehicle right off the bat due to the unique yellow finish with bits of black trim around the cab, bonnet and lower half on the chassis.
And where the steps leading to the cab and exhaust sit on most other models, they sit very differently on this one with the smaller exhaust on a slope well the ladder is shorter with fewer steps.
Bruder
This item: Bruder 03030: JCB Fastrac 3220 Tractor, 1:16 Scale
Age: 4 Years
Scale: 1:16
L38 x W19 x H22 cm
Weight: 1140g
Bruder
Age: 4 Years
Scale: 1:16
L51 x W22 x H19 cm
Weight: 1400g
Britains
Age: 3 Years
Scale: 1:32
L17 x W9.5 x H10.5 cm
Weight: 839g
SHOP BY THEME
SHOP BY
INFORMATION