Britains 43206: JCB 8330 Fastrac Tractor, 1:32 Scale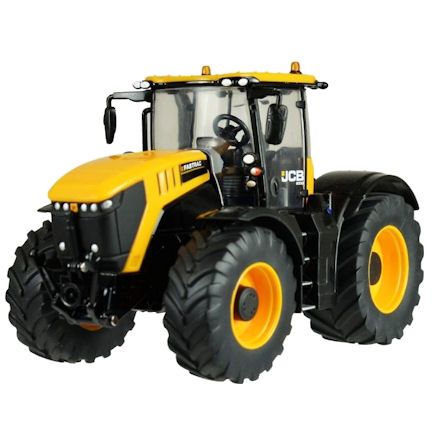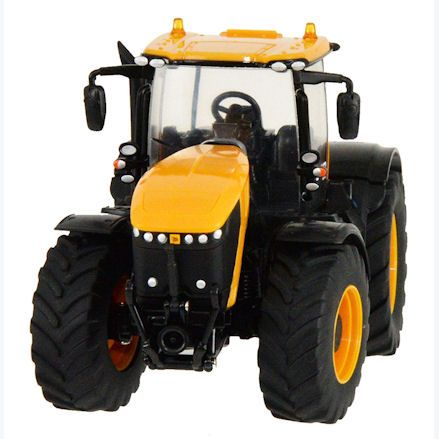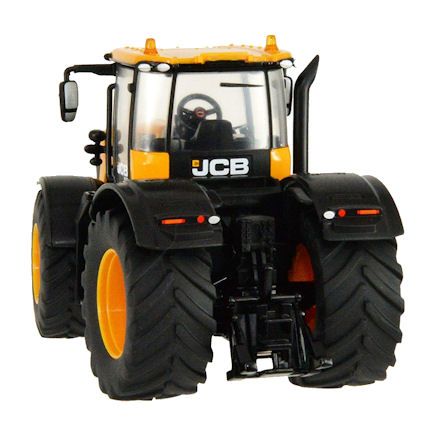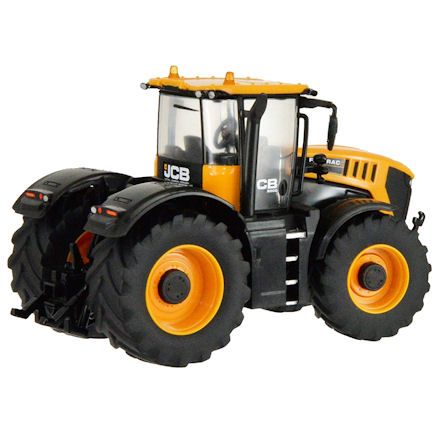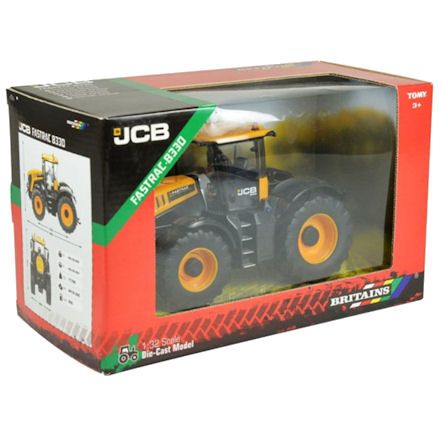 Britains 43206: JCB 8330 Fastrac Tractor, 1:32 Scale
Get behind the wheel of this monster JCB 8330 Fastrac, its comes with a front and rear hitch, rolling wheels with tread, removable cab and exterior detail.
Brand:
Britains
Product description
You're in a safe pair of hands with this Britains JCB Fastrac, thanks to its high speed capability and reliability well working the fields and running around the farm.
The Britains 43206 JCB 8330 Fastrac tractor has it all, with enough detail to admire, and functionality to keep them interested all day long.
Let's start with the tyres, and boy are they monsters. With big, deep treads this allows for working on the muddiest fields with the treads keeping the Fastrac moving well never getting bogged down.
On top of the tyres, you have standard push-along wheels and even front controlled steering; simply push them left or right, well aligning them up forward to go straight.
Tall with a leaning over driver's cab is a design in itself, but it can be removed. But this serves a purpose as you'll be able to insert one of the four Britains sitting driver's in place on the seat.
To complete the multi-functional JCB Fastrac, take a look the back with easy access to the rear tow hitch, with the front hitch allowing for front operational farm implements to be connected with ease.
Features
Item No: 43206
Scale: 1:32
Age: 3 years and up
Officially Licensed by JCB
Active steerable wheels
Removable cab
Presented in window display box
Made from die-cast metal
Dimensions: L17 x W9.5 x H10.5 cm
Weight: 839g
Manufacturer details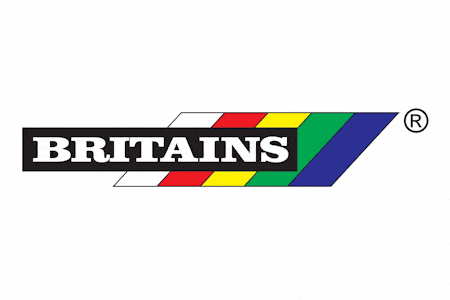 Released in early 2018, this Britains JCB 8330 Fastrac is the latest model in their JCB Fastrac range, an all round toy tractor that is functional all over. In this addition, we have what looks to be a bigger, meaner machine with four big tread tyres, free rolling wheels with active steering. As a 2018 release, Britains can guarantee the sitting drivers are compatible.
Guide to Britains JCB 8330 Fastrac Tractor
To be clear this is a farm tractor for agriculture use, despite the design. Allow us to run over all its top features with unique functionality for a fun farm play experience.
JCB 8330 Fastrac
You will not find a tractor design so unique than this Britains JCB Fastrac. At first glance it doesn't look like a toy tractor, but instead a construction vehicle with the backhoe or front loader missing.
But this is a toy farm tractor that will at times out perform all other tractors on the farm in speed and maneuverability.
As expected it comes with a rear toy hitch and bonus - a front hitch - with four free rolling wheels that are similar in size, as oppose to two large back wheels, and two smaller front wheels.
Removable Cab
Big, wide box like driver's cab that is unique to the JCB Fastrac brand of tractors, well this one can be removed clearly from the rest of the body, leaving the seating in place.
This means well the cab is removed the child can squeeze on one of four Britains sitting tractor driver's on the seat. They then only have to line up the cab in place and push down firmly to secure it.
Failing to secure the driver's cab in tightly will force the cab to come unsecured when driving over rough terrain, but not to worry, this is a durable cab and is made to take a few bumps and bruises.
Steering with Big Tread Tyres
To be clear, this Britains JCB Fastrac has front steering only. We mention that because these types of farm models can have both front and rear steering - with only front steering on this model.
This active steering allows the tractor to make smaller corners when working on the fields or moving around the tight yard of the farm.
Supporting the tractor, it all sit's on four big tread tyres with the front two only slightly smaller. Well the deep tread offers more grip, the size of the tyres allows for a smoother operation.
Rear/Front Hitch
What the design of the Britains JCB Fastrac tractor toy does that's not possible in other models, is the rear tow hitch has a wide, clear opening - with an accessible rear hitch.
So when its time to fix on the big implements that has a short tow bar, its should be made clearer thanks to the Fastrac's design - with long tow bars made easy across all tractor designs.
Then if we view the front of the tractor, you'll see a complicated mess of bars. In fact this is a front hitch that is made to fix the mower, sweeper and similar implements that are operation from the front.
Pull-Along Big Implements
If we view this Britains JCB 8330 Fastrac tractor as a toy only, then we can only ever see it pulling along trailers and make-do implements already on the child's farm.
But if you've ever seen this model in real life - in the field or on the road - then you'll see it towing the biggest, heaviest trailers and implements.
It could be working the fields towing behind big, heavy-duty ploughs to cultivate more field in a single pass, to fertilising with a full tank, to working with the combine well towing the silage trailer beside it.
Impeccable detail
The exterior decor and internal details and features on this Fastrac are similarly fitted to all Britains Fastrac toys released prior to it.
You have the extending wing mirrors and imitation safety lights that would otherwise be flashing, a big exhaust running up one side of the body and steps that lead to the door of the driver's cabin.
It goes without saying, the body is recognisable thanks to its high standing, leaning cab with a wide clearing in the rear where the rear tow hitch is positioned.
Britains
This item: Britains 43206: JCB 8330 Fastrac Tractor, 1:32 Scale
Age: 3 Years
Scale: 1:32
L17 x W9.5 x H10.5 cm
Weight: 839g
Britains
Age: 3 Years
Scale: 1:32
L19 x W9.5 x H10.5 cm
Weight: 599g
Britains
Age: 3 Years
Scale: 1:32
L17 x W9.5 x H10.5 cm
Weight: 839g
SHOP BY THEME
SHOP BY
INFORMATION