Bruder 02112: Claas Nectis 267F Tractor Set, 1:16 Scale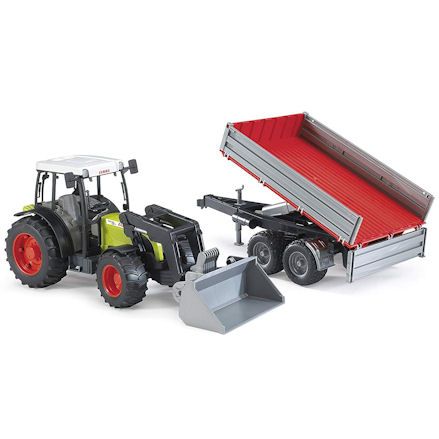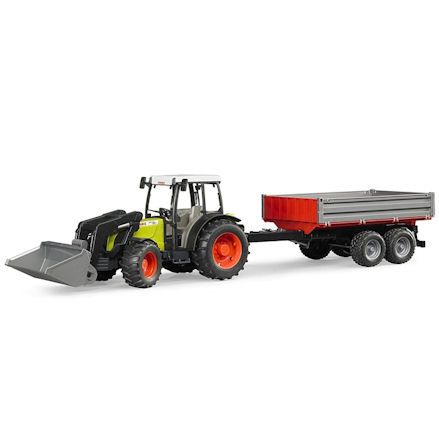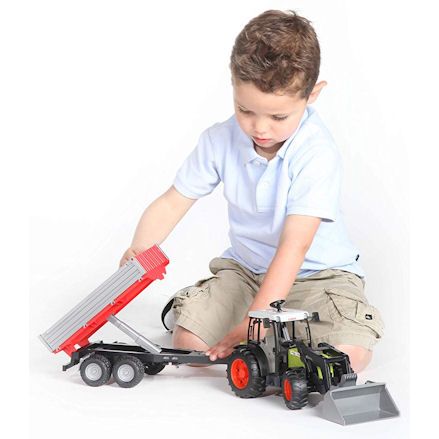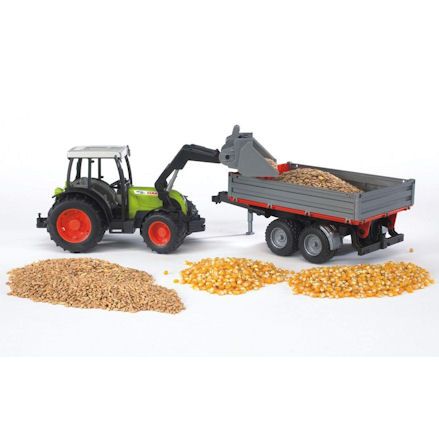 Bruder 02112: Claas Nectis 267F Tractor Set, 1:16 Scale
All you need Bruder Claas Nectis tractor set with steerable wheel; functional front loader with bucket, tipping trailer on a twin-axle with folding side panels.
Brand:
Bruder
Product description
Where size applies you'll need this small, compact Claas Nectis tractor to not only do the light work, but still capable of doing the heavy lifting on the loader and heavy towing in the trailer.
Reaching out on the front is the functional front loader with and up and down action, well simultaneously using the bucket attachment with a pivoting movement for scooping and offloading.
Towed behind the compact tractor is also a smaller, mobile Bruder tipping trailer sat on a twin-axle. All three grey panels fold up and down well the tow bar can attach to the tractor hitch with ease.
With all this making up the set, its hard to forget you still get - all though be it - a small Bruder tractor with functional parts and detailed features.
The wheels can be steered via the front-axle with use of the steering rod or control the small steering wheel inside the driver's cab.
A windowless, small driver's cabin makes accessing the interior easier well steering the wheels or inserting in a bWorld figure.
Its equipped with exterior detail from the wing mirrors, imitation lights to the functional rear tow hitch to small counter-weight fixed to front mount.
Features
Item No: 02112
Scale: 1:16
Age: 4 years and up
Presented in open display box
Made from durable plastic
Tipping trailer with folding panels
Functional front loader
Steerable wheels
Bruder Agriculture range
Dimensions: L65.5 x W13 x H15 cm
Weight: 998g
Manufacturer details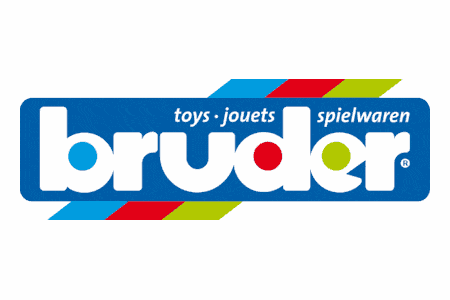 Over 10 years this complete tractor and trailer set has existed in the Bruder Professional series, and well still going strong to this day, the competition is hot with a wide range of Claas toy tractor in 1:16 scale from Bruder. The features on the tractor still remain, well the front loader is fully functional with the trailer offering a tipping action with folding side panels.
Guide to Bruder Claas Nectis 267F Tractor Set
Not just the Bruder Claas tractor on this one but a front loader and tipping trailer making up the set, so allow us to explain all its features and functionality in detail.
Claas Nectis 267F Tractor
Small compact Bruder 02112 Claas Nectis 267F tractor is lighter and more mobile than the larger series, so where size restriction apply, going with these compact tractors are paramount.
No windows on this one but still fixed with original exterior decor; wing mirrors, imitation lights, a single step leading to the cab - with a cab featuring a steerable steering wheel.
Bruder (02019) Tipping Trailer
Small mobility Bruder 02019 tipping trailer still in 1:16 scale, made for light work on the farm by loading up with sand, gravel or stones in smaller quantity.
All three grey panels are hinged so therefore can be folded down well being locked back up, well tipping the trailer also keeps it locked in place. Supported on a twin-axle with standard long tow bar.
Front Loader
Loader appears larger that is actually is, but in fact its because of the small form of the compact Bruder Claas Nectis tractor, making it bigger that it is.
Functionality extends to an up and down movement only, with a stuttering action that represents stops well tipped up to off load.
Bucket Attachment
Occupying the front loader is the option of a big pivoting bucket attachment with a tipping action for offloading or scooping up loads - helped with a large bucket.
Pivoting the bucket is done by hand or pulled back and forth by the grey lever, though you're better off doing it by hand for smoother operation as the lever can be awkward.
Steerable Wheels
You got your work cut out steering this once small, compact tractor to now a larger model with front loader attached and trailer in tow - its takes practice but they will get used to it.
To steer the wheels via the steering rod you'll need to remove it the compartment near the rear tow hitch; thread it through the roof hatch and connect with the wheels to steer the front-axle.
Tow or Front Mount
Standard rear tow hitch has a static design with no height-adjustable feature, it just made to sit there but is still compatible with most - smaller Bruder implements - and trailers.
Not to worry about compatibility issues for now though as the Bruder tipping trailer is included and perfectly made to measure in size and colour theme, and so is the small front mount.
Bruder
This item: Bruder 02112: Claas Nectis 267F Tractor Set, 1:16 Scale
Age: 4 Years
Scale: 1:16
L65.5 x W13 x H15 cm
Weight: 998g
Bruder
Age: 4 Years
Scale: 1:16
L25.2 x W12.9 x H15 cm
Weight: 1510g
Bruder
Age: 4 Years
Scale: 1:16
L23.6 x W13 x H15 cm
Weight: 472g
SHOP BY THEME
SHOP BY
INFORMATION