Bruder 02100: Fendt 209 S Tractor, 1:16 Scale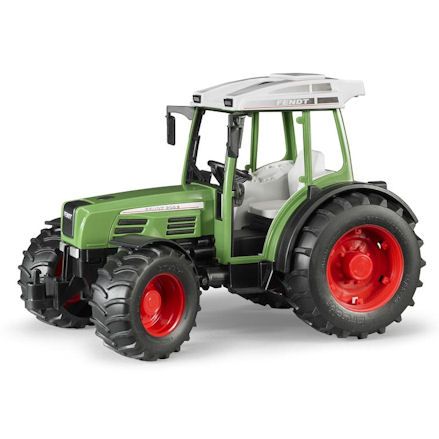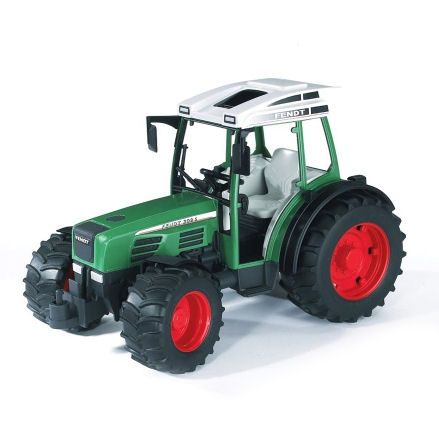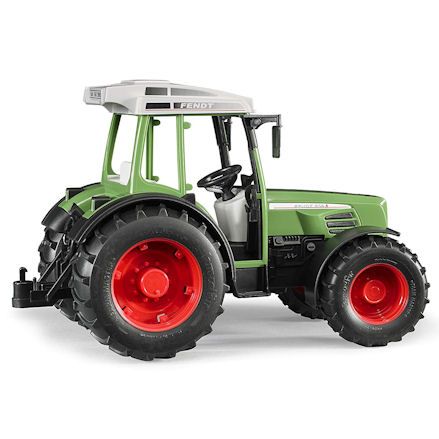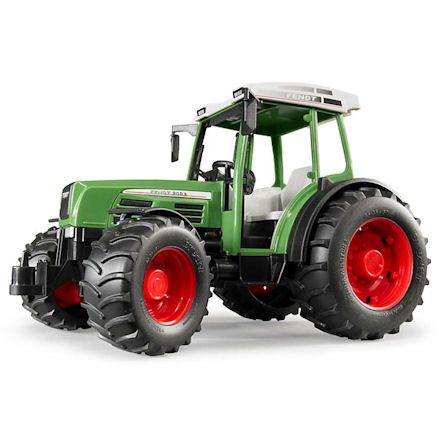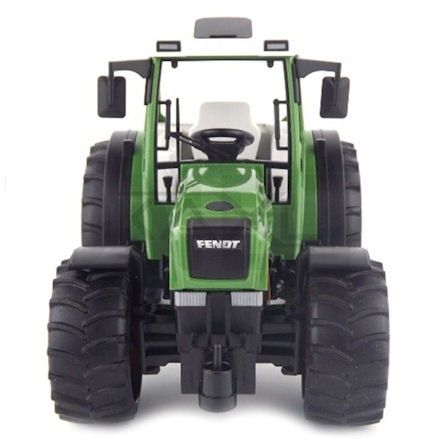 Bruder 02100: Fendt 209 S Tractor, 1:16 Scale
Small, compact Bruder Fendt tractor for use on a small family farm or vineyard where size matters; with functional steering, front mount and rear tow hitch.
Brand:
Bruder
Product description
Small, lonesome compact Bruder Fendt 209 S tractor, small in appearance but still comes in at a true 1:16 scale - as a grown person would stand tall next to this model in real life.
If its a small tractor you need in regard to lack of space around the home or garden, Bruder have you covered with this small 200 series Fendt tractor.
Small body but still with a lot of power, with a rear tow hitch there's nothing this little model can't tow, though you're best saving it for small trailers and implement for a perfect fit.
Pull the steering rod stored away above rear tow hitch and insert through the cab roof to control the front axle from there.
Front mount will allow for a front implement to be connected with ease, just as the trailers are towed.
Open cab compartment allows for unrestrictive access, so either position a Bruder figure on the seat or steer the steering wheel with ease thanks to no windows obstructing the access points.
Make it a Bruder 02100 Fendt 209 S tractor when working on the family farm or vineyard business where the land is confined to a small area, and where a bigger tractor just won't do.
Features
Item No: 02100
Scale: 1:16
Age: 4 years and up
Presented in open display box
Made from durable plastic
Steerable wheels
Open cab compartment
Rear tow hitch, front mount
Bruder Agriculture range
Dimensions: L23.6 x W13 x H15 cm
Weight: 472g
Manufacturer details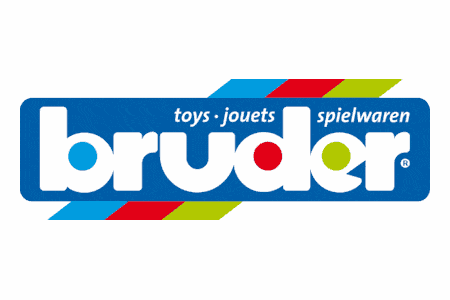 Early 2006 release and it shows due to no windows present with little functionality, with this model having limited options. Its not without the standard steering, tow hitch and even a front mount. Standing strong in the range even today due to its smaller size being favoured over the larger Bruder tractors taking up to much space around the home.
Guide to Bruder Fendt 209 S Tractor
Not much to say about this one other than it still offers that important steering ability with rear tow hitch and front mount still included.
Fendt 209 S Tractor
Design of this Bruder Fendt 209 s tractor has all aspects of a compact tractor all over it. With still a spot for the wing mirrors, steps - no exhaust this time - and mud guards.
Save the big tractors for the heavy work, this tractor should be used for light farming or working the land at lesser rate.
Steerable Wheels
We still have the fun steering ability thanks to the front axle wheels.
The steering rod is tucked away on the rear of this model just above the tow hitch. Pull it out from its compartment and insert it through the cab roof hatch before connecting with the steering wheel.
The rate of turn varies depending how much you turn the steering rod, though a large circle is possible but is made shorter with a 3-point-turn.
Tow Hitch
Reaching out far rear tow hitch makes sure any Bruder implement or trailer in tow is stretched out and cleared away from the rolling wheels to make cornering possible without rubbing on the tyres.
If its a Bruder then it will connect to this simple rear tow hitch with ease, though we wish you would stick with a smaller trailer that is fitting to the size of this tractor.
Front Coupling
All sorts of work can be carried out with a front mounted implement; mowing the grass, seeding or even just lumping items around the yard in a front fitted box.
Its designed with a tow-hitch like hook and a slide on function. Once an implement is fitted rest assured this doesn't reduce the ability to steer the front wheels, as the implement is out of the way.
Open Cab
If you insert a Bruder figure onto the seat on this model you'll get a true representation of just how small this Bruder Fendt tractor is - baring in minds its still a true 1:16 scale mode.
You see as in real life, the cab is absolutely tiny, with enough room for the seat and steering wheel.
And as its so small, Bruder have made it easy for them to wiggle around inside the cab by removing the windows for unrestrictive access from all directions.
Functional Suspension
Now that you will be mostly working on your families farm with general upkeep or still towing small ploughs, you'll still need suspension for riding over rough terrain.
And as a small compact tractor the model still includes this vital features to make pushing along the tractor a much smoother, comfortable experience.
Bruder
This item: Bruder 02100: Fendt 209 S Tractor, 1:16 Scale
Age: 4 Years
Scale: 1:16
L23.6 x W13 x H15 cm
Weight: 472g
Bruder
Age: 4 Years
Scale: 1:16
L33.5 x W13 x H15 cm
Weight: 590g
Bruder
Age: 4 Years
Scale: 1:16
L55.9 x W13 x H15 cm
Weight: 980g
SHOP BY THEME
SHOP BY
INFORMATION