Bruder 02110: Claas Nectis 267 F Tractor, 1:16 Scale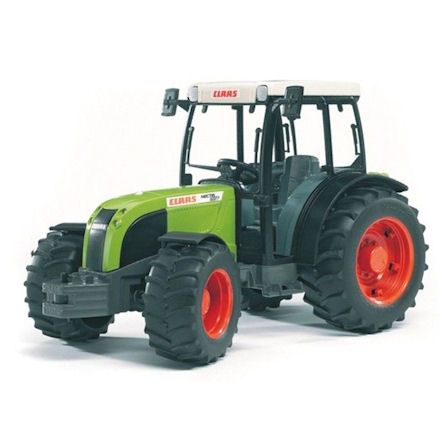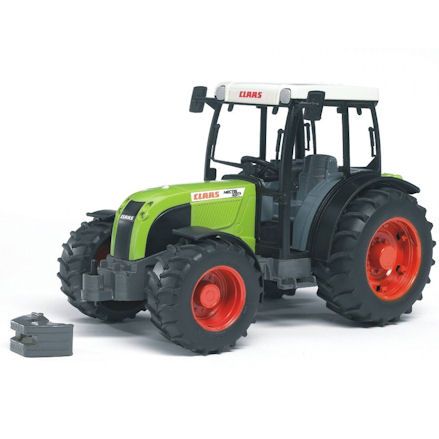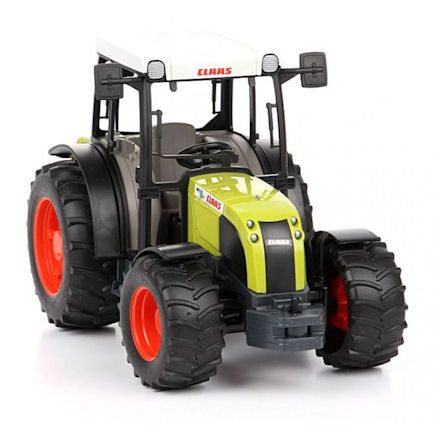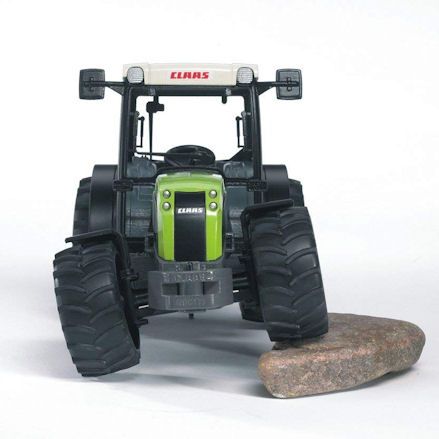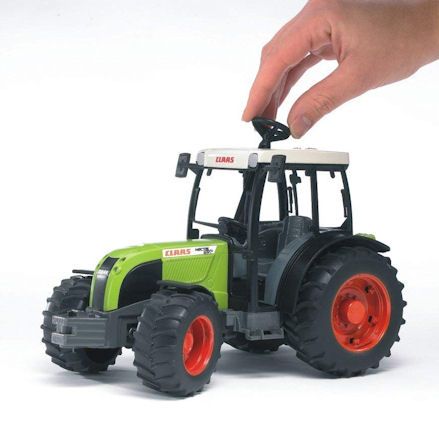 Bruder 02110: Claas Nectis 267 F Tractor, 1:16 Scale
Where Bruder compact tractors are concerned, make it this bright, colourful Bruder Claas model with steerable wheels, front mount and rear tow hitch.
Brand:
Bruder
Product description
Hidden features within this model is a powerful suspension that makes rolling over rough terrain a smoother operation, with use of a hidden steering rod used to control the front-axle - and there's a slot behind the front-axle to fix on a front loader.
Pull the rod out just above the rear tow hitch and thread it through the slide opening cab roof hatch, before latching onto the steering wheel to control the front wheels left and right.
Standard rear tow hitch is made from a robust plastic and will tough it out regardless of the trailer or implement size, and the weight you would be carrying.
If it is an heavy load, it would be cancelled out with use of the detachable counter-weight on the front coupling, and well the weight is not in use you're able to connect a front mountable implement.
Open cab design makes reaching in to control the steering wheel easy, as well has inserting a Bruder figure to the seat.
Features
Item No: 02110
Scale: 1:16
Age: 4 years and up
Presented in open display box
Made from durable plastic
Steerable wheels
Free rolling with suspension
Front mount, tow hitch
Bruder Agriculture range
Dimensions: L25.2 x W12.9 x H15 cm
Weight: 1510g
Manufacturer details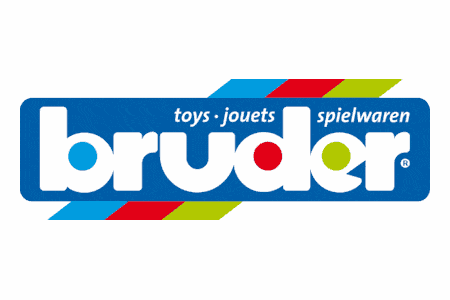 Released in 2007, this model represents a standalone Bruder Claas tractor in the compact series, and despite its size, its still made in a true 1:16 scale. When sat next to a larger model in the range, it would looks like a baby. Its the small size that is the selling point, as Bruder are able to offer you a smaller tractor where space is limited, but still fully compatible.
Guide to Bruder Claas Nectis 267 F Tractor
Allow us to outline the models top features as we go into detail on its functional steering ability, rear tow hitch and a compatible front mount.
Claas Nectis 267 F Tractor
Make it this small size Bruder Claas tractor where space saving is paramount, and we mean it has this model is half the size of the large series of tractors.
Still with all its original exterior decor, you'll be pleased to know it still nicely replicated with wing mirrors and a single step leading up to the cab door. Finished in bright green and white, and red tyre rims.
Steer the Wheels
Despite its small size we still get a Claas tractor with a steering function, meaning its possible to control the wheels via the steering rod, or control manually by hand.
Insert the steering rod through the cab roof hatch to grab hold of the steering wheel; reach into the cab to control the steering wheel, or simply turn the front-axle left or right.
Tow Hitch
Even compact tractors are powerful enough to tow the biggest, heaviest trailers, as the rear tow hitch on this Bruder 02110 Claas Nectis tractor will show.
To keep it real, you may want to stay with a small plough or tipping trailer, well leaving the big balers and equipment for the larger tractors to haul.
Counter-Weight
Fixed to the front mount is a detachable counter-weight, its used to balance the tractor by distributing the weight whenever there's a trailer in tow.
Imitation only as its light and hollow, but does help extend play. Removing the weight will reveal a front coupling, and its here you can connect front mountable implements.
Open Cab
Compact small Bruder tractor has a driver's cab so small, it can be quite restrictive when reaching in to explore the interior. But its still possible to control the steering wheel or insert a figure.
As the model is so small compared to similar, larger tractors the cab can appear quite small, this is normal and is still made in 1:16 scale, so don't worry about that.
Suspension
So what is a suspension on a Bruder tractor? Simple, its a way to operate the tractor over all terrain by limiting the roughness.
On this Bruder Claas tractor the suspension would come into effect every time a single wheel hits a bump, then the opposite wheel will stay firmly on the ground.
Bruder
This item: Bruder 02110: Claas Nectis 267 F Tractor, 1:16 Scale
Age: 4 Years
Scale: 1:16
L25.2 x W12.9 x H15 cm
Weight: 1510g
Bruder
Age: 4 Years
Scale: 1:16
L65.5 x W13 x H15 cm
Weight: 998g
Bruder
Age: 4 Years
Scale: 1:16
L23.6 x W13 x H15 cm
Weight: 472g
SHOP BY THEME
SHOP BY
INFORMATION