Bruder 02108: John Deere 5115M Tractor and Tipping Trailer, 1:16 Scale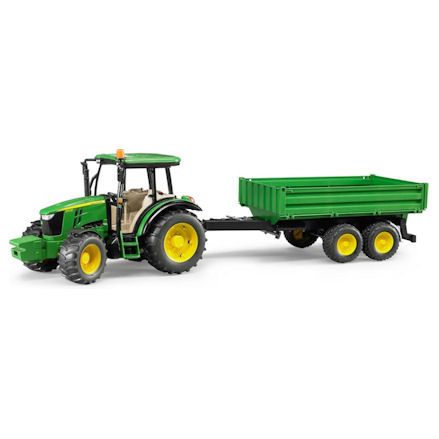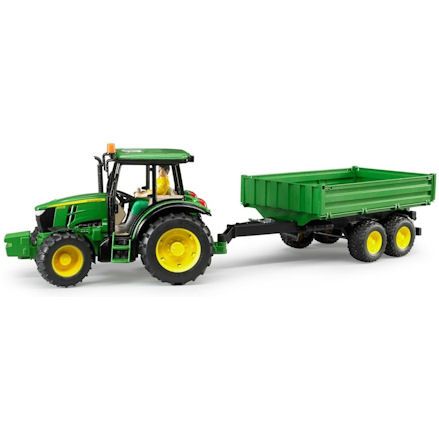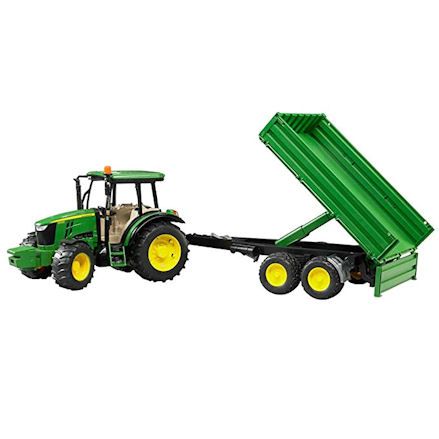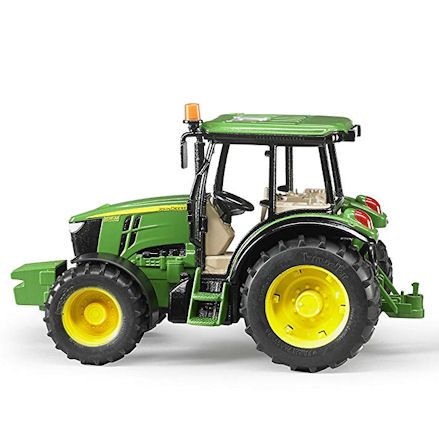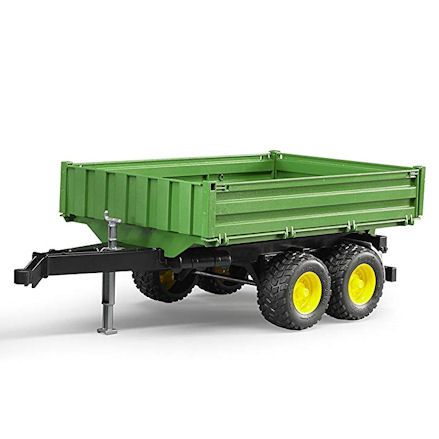 Bruder 02108: John Deere 5115M Tractor and Tipping Trailer, 1:16 Scale
All in one compact Bruder John Deere tractor with multi-functional tipping trailer; steerable tractor with tow hitch, front mount and an open design driver's cab.
Brand:
Bruder
Product description
Small but still a powerful compact tractor for use with light farming work; baring in mind in toy role play we can take full advantage and tow all the weight we want.
Open back tipping trailer can be quickly turned into a sort-of flat bed trailer by folding down up to three hinged panels with exception of the back panel.
Offload a small load just by folding down the tailgate, but offloading with use of the front loader then fold down a panel or two. As this is a tipping up trailer, you're best leaving all but the rear panel down to empty the contents into a pile.
Sitting on a twin-axle, it connects to the standard tractor tow hitch with a lengthy tow bar with a stand that can be folded up once its connected to the rear tow hitch.
Not forgetting the Bruder 02108 John Deere 5115M tractor with all the functional parts it has to offer; with the usual tow hitch, front mount with counter weight, open cab design and steerable wheels.
Features
Item No: 02108
Scale: 1:16
Age: 4 years and up
Presented in open display box
Made from durable plastic
Tipping trailer with folding panels
Steerable wheels
Front mount, counter-weight
Bruder Agriculture range
Dimensions: L58.5 x W14.8 x H16 cm
Weight: 921g
Manufacturer details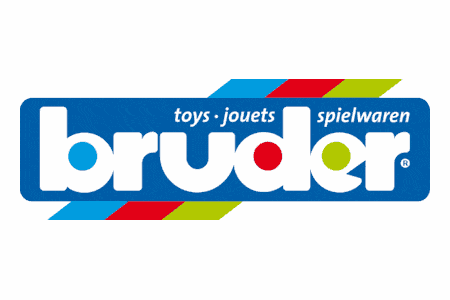 Did you know you can buy this exact Bruder John Deere 5115M tractor as a standalone model, but with this one featuring an interactive tipping trailer finished in the JD colours. Released in 2015 as a small, compact tractor in the series, this is your go-to model when building a farm in 1:16 scale, but the with of the tractor needing to be smaller in size.
Guide to Bruder John Deere 5115M Tractor and Tipping Trailer
Challenging Bruder John Deere tractor with multi-functional tipping trailer, with our guide covering features of the tractor and functions of the trailer.
John Deere 5115M Tractor
Compact-style, small tractor for use on the family farm or vineyard. The cab appears big but in reality is quite small when a figure is inserted.
Small tractors don't have a lot of exterior decor, with this model featuring just the basic wing mirrors, big orange hazard light, red lights on the rear, and a thin, long exhaust pipe.
It only takes two steps to reach the cab, well five or more would be needed on the larger Bruder John Deere tractors.
It has the John Deere insignia along the bonnet against a yellow stripe with yellow tyre rims.
Twin-Axle Tipping Trailer
All exclusive John Deere theme Bruder tipping trailer sat on a twin-axle with free rolling wheels, a tipping up action that stops at certain points with a simple tow bar design.
Tipping the trailer up will stop at various points with a stuttering movement to prevent it from crashing back down, so can be pulled up a little way or as far as it would go.
Making this all work is a single link beneath the trailer base, which also has three folding panels for offloading and loading up with a front loader.
Steering Rod
Remove the extended plastic steering rod from just above the rear tow hitch and thread it through the grey cab roof hatch, before connecting with the steering wheel.
And well the front-axle is steered with use of this steering rod, its also possible to control the wheels using the steering wheel inside the cab or by hand.
Make use of the rod at all times by keeping fixed to the steering wheel, as there's no good reason to insert it back in its compartment unless they've packed away for the night.
Steering with Trailer in Tow
Remember now you're steering the tractor with a long tipping trailer in tow, so allow extra room when taking corners.
This is a trick they will learn over time, and well challenging, its a lot of fun along the way. Its made easier with a long tow bar on the trailer that reduces the chances of the trailer rubbing on the rear wheels.
Not only will the push forwards, but they will need to master going backwards well keeping the trailer aligned with the tractor, making small corrections well reversing with trailer in tow.
Counter-Weight
As the Bruder John Deere 5115M tractor has a tipping trailer in tow, its more vital than ever to balance the tractor with a counter-weight fixed to the front.
This detachable weight is sat on the front mount which also acts as a hitch for implements that connect to the front.
Rest assured, Bruder tractors are perfectly balanced, with the weight distributed evenly so the imitation counter-weight is just for show only.
Open Cab Access
Small compact tractors in 1:16 scale replica size don't allow for much detail in and around the cab, and that's true with lack of windows fitted to the cabin.
Benefits to this is the interior is easier to access well using the steering wheel to control the front-axle, well fixing a bWorld figure to the seat.
The colour beige makes up the interior decor with the contrasting John Deere green body making up a nice colour combination.
Bruder
This item: Bruder 02108: John Deere 5115M Tractor, Trailer, 1:16 Scale
Age: 4 Years
Scale: 1:16
L58.5 x W14.8 x H16 cm
Weight: 921g
Bruder
Age: 4 Years
Scale: 1:16
L26 x W12.7 x H16 cm
Weight: 540g
Bruder
Age: 4 Years
Scale: 1:16
L67 x W16.5 x H17.7 cm
Weight: 998g
SHOP BY THEME
SHOP BY
INFORMATION