Bruder 02106: John Deere 5115M Tractor, 1:16 Scale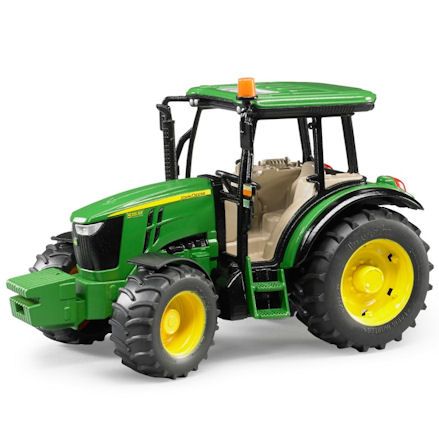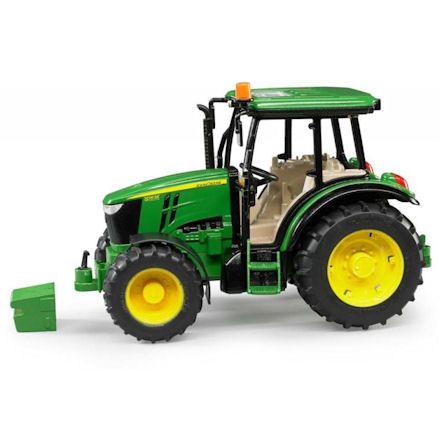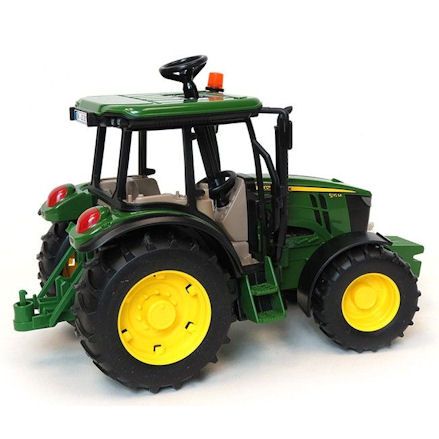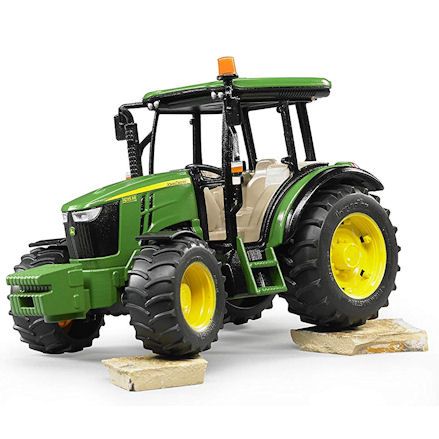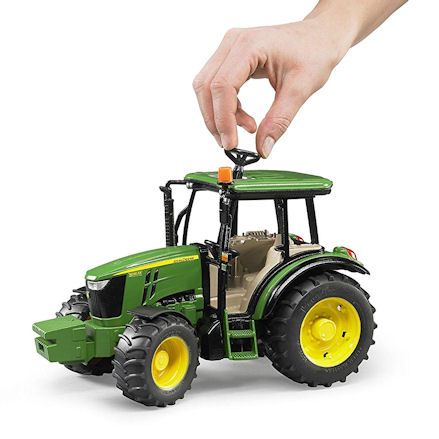 Bruder 02106: John Deere 5115M Tractor, 1:16 Scale
Get the smaller farm jobs done right with this efficient compact Bruder John Deere tractor; includes a rear tow hitch, front coupling and steerable wheels.
Brand:
Bruder
Product description
You might see this type of compact utility tractor working on the orchards or on the family farm, but never are you likely to see it doing the heavy-duty jobs.
And well this Bruder model can do the big jobs, in real life that's reserved for the big tractors.
Its not without it usual rear tow hitch with front positioned coupling; so hauling small tipping trailers would be an ideal fit, well a mower attachment on the front is recommended.
Along with a windowless driver's cab, access to the interior is made easy which would go towards using both hands for controlling the steering wheels - to threading the rod through the driver's cab roof.
Sitting on free rolling wheels with rubberised tyres with tread, the wheels are small compared to big tractors along with only two steps needed for the tractor driver to climb up into the cab.
Features
Item No: 02106
Scale: 1:16
Age: 4 years and up
Presented in open display box
Made from durable plastic
Rear tow hitch, front coupling
Steerable, free rolling wheels
Bruder Agriculture range
Dimensions: L26 x W12.7 x H16 cm
Weight: 540g
Manufacturer details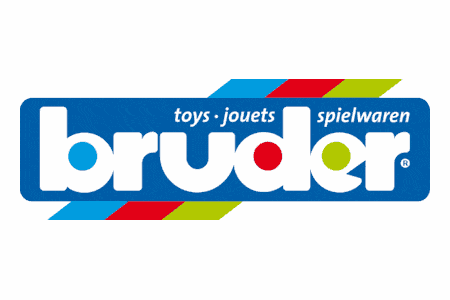 Released in 2015, this model represents the Bruder standalone, compact tractor for smaller jobs. And you can with this one with all the usual functionality packed into its small frame. The Bruder John Deere M series tractor is one of two models available in the range. Well this one is bare bones, you've can save cash with the identical model towing a tipping trailer.
Guide to Bruder John Deere 5115M Tractor
It might be small but it still packs lots of features with a functional tow hitch, steerable wheels and a detachable counter-weight, as we explain below.
John Deere 5115M Tractor
Next up from a compact utility tractor is this still small, John Deere 5115M series tractor. Though it appears small in size, its still a 1:16 scale model tractor.
Well it inherits the John Deere exterior decor; there's just about enough room for the exhaust, wing mirrors - though be it less steps leading to the cab - and a big orange imitation hazard light.
Smaller in size so does it have limits? Yes it does; the cab doesn't allow for an opening door, that's why its open planned; the tow hitch is not height adjustable; and the bonnet cannot be opened.
Open Driver's Cab
Too small means it goes without the nifty opening cab door, so instead Bruder have made it open planned resulting in unrestricted play, so a bonus.
If you're familiar with the Bruder John Deere tractor series, you know they make them big, so building a cab on a compact tractor would naturally loose detail and functionality.
And well that's true for the opening doors, there's still the active steering wheels with a gap in the roof to slide in the steering rod - we can also pop a Bruder figure onto the seat.
Basic Tow Hitch
If we turn to the rear tow hitch on this model the size restricts the use of a functional, height-adjustable rear tow hitch, so its made much more simple.
Instead the tow hitch is made in a static design with only a hook that is compatible with the hoop on Bruder implements and trailers.
Where the height adjustable lever would usually be, its instead replaced with the steering rod. Trouble with this hitch-style models it has its limits when playing with the hitch mechanism.
SMALL Heart, BIG Muscle
Bruder don't want you to go without so despite the rear tow hitch not being height-adjustable you can still connect a number of fun trailers of all types.
Though use you'll initiative, small, compact utility tractors like this one don't plough, cultivate or move big bales around; they haul tipping trailers with small loads and occasionally mow the grass.
Its a small John Deere tractor with a lot of power under the bonnet, so a smaller trailer would be ideal, but still would hauling heavy loads - after all this is a toy, not the real thing so we can do anything we like.
Steer by Hand or Rod
As a compact-like utility tractor, we get all that is great with a big 1:16 scale tractor but in a smaller size, which represents the real life tractor.
Where space is limited in the house or garden with Bruder tractor series being to big, this model would be the ideal tractor with steerable wheels well using the steering rod.
Bruder tractors can be too big when size matters, so this model guarantees maneuvering around the house - even with a loader or trailer in tow - taking up less room.
Standard Counter-Weight
The standard, identical size counter-weight are identical to the ones fitted onto larger models, so this should confirm this model can still mix in with the best of them.
Still detachable and replaceable with front facing farm implements. Removing the counter-weight is possible to then replace it with an implement that would compliment the tractors smaller size.
Though we have to admit you only need this tractor for a small, family run farm or the orchards, so the idea of carrying a big load it not possible, but the front weight is there to balance it all out.
Bruder
This item: Bruder 02106: John Deere 5115M Tractor, 1:16 Scale
Age: 4 Years
Scale: 1:16
L26 x W12.7 x H16 cm
Weight: 540g
Bruder
Age: 4 Years
Scale: 1:16
L58.5 x W14.8 x H16 cm
Weight: 921g
Bruder
Age: 4 Years
Scale: 1:16
L38.5 x W16.5 x H17.7cm
Weight: 930g
SHOP BY THEME
SHOP BY
INFORMATION