Bruder 02104: Fendt 209 S Tractor with Tipping Trailer, 1:16 Scale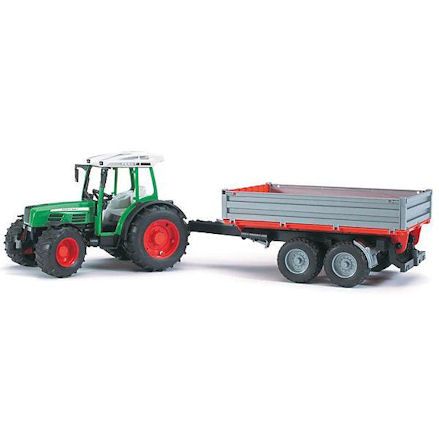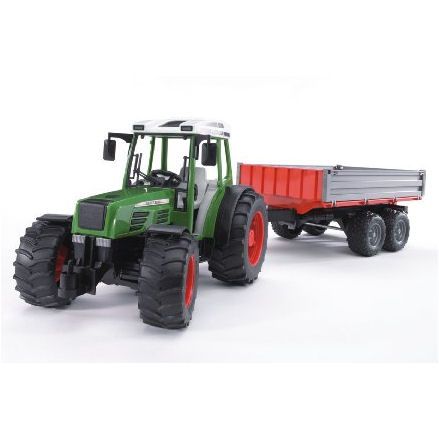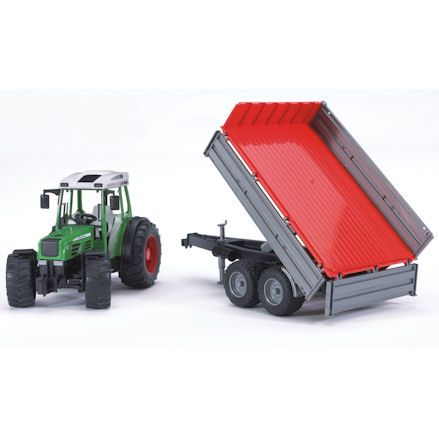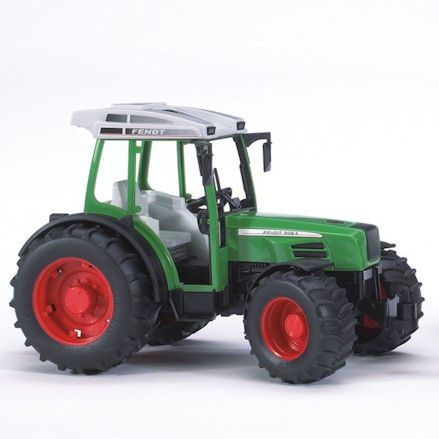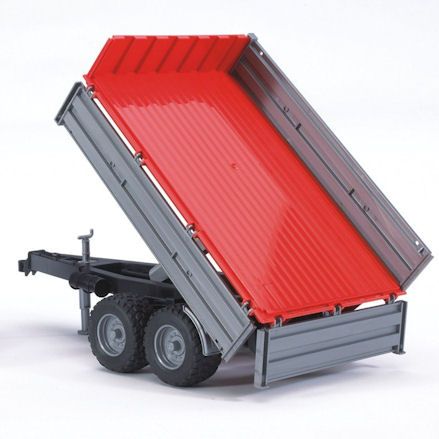 Bruder 02104: Fendt 209 S Tractor with Tipping Trailer, 1:16 Scale
Great space saver Bruder Fendt tractor and trailer set in 1:16 scale; steerable wheels, front mount, tow hitch and a tipping trailer with folding side-panels.
Brand:
Bruder
Product description
Who says farming can only be done with big, heavy-duty tractors and trailers, when it only takes a small, compact Fendt tractor to work on a small farm with only a few animals.
Make its this scale replica Bruder 02104 Fendt tractor-trailer set with the tractor offering all its usual features, with the trailer featuring a tipping up action and folding panels.
Multiple stops on the tipping action allows the trailer to stay put when let go, and will close back up as the telescopic arm folds in within itself to bring it back level.
Well its level be sure to fold down the three side-panels to offload and load up with use of a front loader if available, or use a Bruder figure to lay a hand.
This same figure can also be used as the farmer, mechanic and now tractor driver well sitting securely behind the steering wheel.
Remove the steering rod from its compartment on the rear before threading it through the sliding cab roof hatch to lock onto the steering wheel - and now they can control the front-axle.
Features
Item No: 02104
Scale: 1:16
Age: 4 years and up
Presented in open display box
Made from durable plastic
Multi-functional tipping trailer
Steering wheels with suspension
Front mount, tow hitch
Bruder Agriculture range
Dimensions: L55.9 x W13 x H15 cm
Weight: 980g
Manufacturer details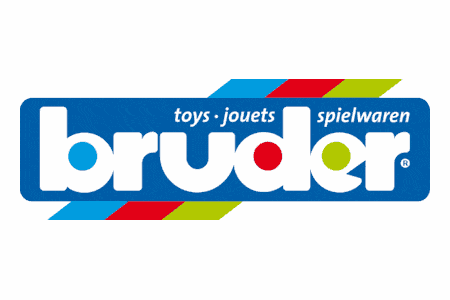 Available 2 years after the standalone Fendt tractor was released, Bruder recognised the need for running a small farm requires a simple but fully functional tipping trailer, so the answer was this Bruder Fendt tractor-trailer set. Well you still get the steering ability along with a front mount and hitch, there's features to explore on the trailer that goes beyond just tipping.
Guide to Bruder Fendt 209 S Tractor with Tipping Trailer
Where space is of importance make it a Bruder Fendt tractor-trailer set with multi-functional tipping trailer, and a compact tractor that still has plenty of functionality.
Fendt 209 S Tractor
Compact tractor can only mean space saving is vital, well light work is needed on the farm. This Bruder Fendt 209 S tractor is the one with still time for multiple functionality.
Take that compact size and make use of it in the small home or garden. It has free rolling, steerable wheels, front mount with tow hitch, and an open cab to reach in and steer.
Bruder (02019) Tipping Trailer
Perfect fit tractor-trailer set includes this Bruder 02019 tipping trailer with folding panels well sitting on a tandem-axle, free rolling wheels with tread detail.
Tipping up the trailer the telescopic arm will extend, before folding in well its pushed back down. Open back trailer design can be converted into a flat bed trailer by folding down three side-panels.
Rear Tow Hitch
Good thing we have a rear tow hitch on this Bruder Fendt tractor or else the tipping trailer wouldn't be much good, but be aware its compatible with all 02000 series implements, not just this trailer.
No height-adjustable function but would still fit many implements and trailers in the range. And well its made from strong, durable plastic, it has enough strength to tow heavy loads in the trailer.
Front Mount
At the moment there's no counter-weight or farm implement connected to the front coupling, but whenever a mowing is needed, a front facing mower would fix to this front mount.
To insure a fit, make sure you bring in a Bruder front mountable implement from the 02000 series, well it would be a smaller model, it would still be a perfect 1:16 scale.
Steerable Wheels
Not much area needed to maneuver this baby, so would be ideal Bruder tractor where space is limited, even more so when they want to use the extending steering rod through the cab roof hatch.
However, whenever they do need to control the tractor in a confined spot, they can always manually control the wheels by turning the front-axle, or reaching in the cab to control the steering wheel.
Open Cab
Compact tractor has a small driver's cab, so little wiggle room if windows were fitted. So Bruder have made away with windows so therefore, made it less restrictive accessing the interior.
And that's vital on this model as the centre positioned steering wheel can be controlled by reaching in and grabber the wheel. Likewise, its made even easier when inserting a figure onto the steering wheel.
Bruder
This item: Bruder 02104: Fendt 209 S Tractor with Tipping Trailer, 1:16 Scale
Age: 4 Years
Scale: 1:16
L55.9 x W13 x H15 cm
Weight: 980g
Bruder
Age: 4 Years
Scale: 1:16
L33.5 x W13 x H15 cm
Weight: 590g
Bruder
Age: 4 Years
Scale: 1:16
L23.6 x W13 x H15 cm
Weight: 472g
SHOP BY THEME
SHOP BY
INFORMATION