Bruder 02101: Fendt 209 S Tractor with Front Loader, 1:16 Scale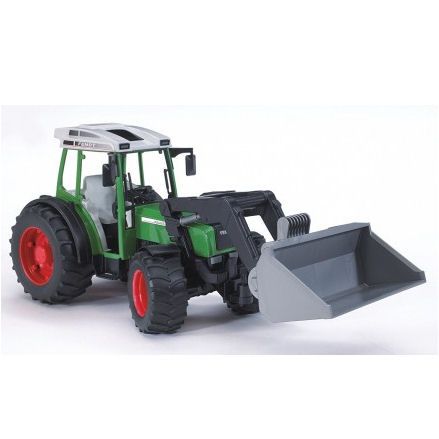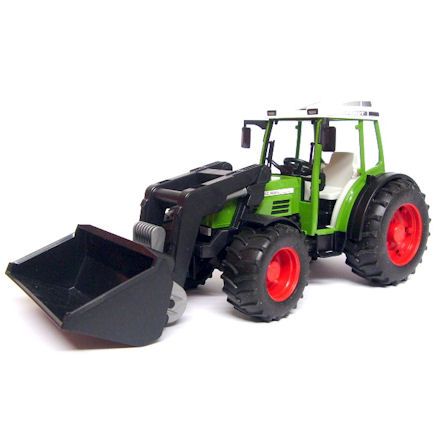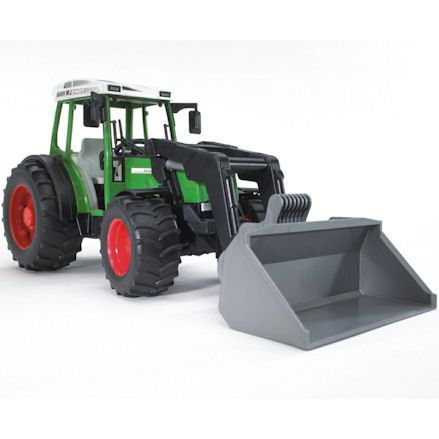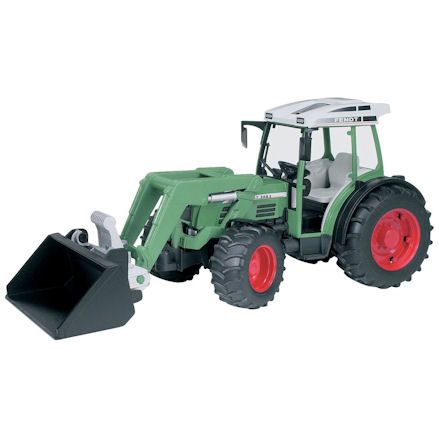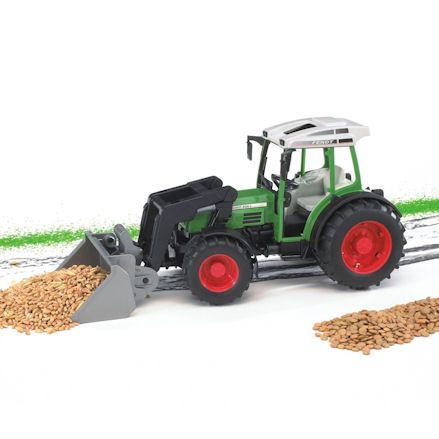 Bruder 02101: Fendt 209 S Tractor with Front Loader, 1:16 Scale
Small family farm needs a Bruder Fendt 209 S tractor where space is limited; features steering wheel, front mount, rear tow hitch and functional front loader.
Brand:
Bruder
Product description
Small, compact Fendt tractor will spend its time ploughing a few acres of land, running up and down the vineyard collecting apples or grapes, to hauling animal feed or crops in a tipping trailer.
With a front loader attached life is made easy, with the ability to clean up the farmyard or lift up crops and cattle feed into an awaiting trailer or fill up the silage pit.
Fully functional with an lowering and raising action, supported with multiple stop to allow them to keep the front loader in place whenever they let go.
Backing up the loader is a bucket attachment with a pivoting action, helped with a small handle or use the tipping bucket with the loader manually.
Controlling this small Bruder 02101 Fendt 209 S tractor is made easy thanks to its size, so to control it use the steering rod threaded through the cab roof sliding door.
They can also steer the front-axle by hand or reach into the driver's cab and control the steering wheel.
Front mountable implements will connect to the front coupling, well trailed implements can be fixed to the rear tow hitch with ease.
Features
Item No: 02101
Scale: 1:16
Age: 4 years and up
Presented in open display box
Made from durable plastic
Steerable, removable wheels
Front mount with tow hitch
Opening cab doors, bonnet
Functional front loader
Bruder Agriculture range
Dimensions: L33.5 x W13 x H15 cm
Weight: 590g
Manufacturer details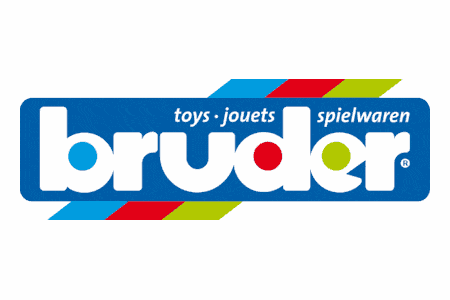 Released in 2006, minimal exterior and original decor was the norm back in the day, but is still going strong today as a more robust, durable plastic model than recent releases. It was made to last, well spending most of its time outdoors. So well its windowless with no adjustable tow hitch, it still has the basics to see you through with small farming needs.
Guide to Bruder Fendt 209 S Tractor with Front Loader
Small, basic tractor but with all functionality you'd expect from a Bruder model, with steerable wheels, front mount and tow hitch, the front loader is the star of the show on this Fendt tractor.
Fendt 209 S Tractor
Compact Fend tractor is all you need for light farming work; so a family farm with a few acres of land or a vineyard business is highly compatible with a small tractor.
This small series compact Fendt is replicated perfectly; from the interior mouldings to the original exterior decor; with wing mirrors, window wiper, step leading to cab and imitation cab light detail.
Front Loader
Bruder Fendt tractor cab be used with or without the detachable front loader, which is slotted on in between the bonnet and front-axle.
It has an up/down movement only well the imitation links help extend the loader up high, before folding back in itself well the loader with bucket attachment is sat on the ground.
Bucket Attachment
Big basic bucket attachment is all you need to make the most out of the front loader, what you could load up on this big, wide bucket is endless; sand, stones, gravel, soil or even a bale of hay.
The edge has a lip so scooping up is made easy, well it has a tipping action to pull back to keep hold of the load - that's helped with use of a small handle.
Extended Steering Wheel
It should be incredibly easy to steer this compact tractor just as it would in real life, it can maneuver in on small grounds or confined yards with ease.
Assisting in steering from an above point of view is the steering rod that slides through the cab roof hatch, before hooking onto the steer wheel to control the front-axle.
Tow Hitch
Think about what a small family farm requires out of a tractor trailer setup; we would think a plough, cultivating implement, and certainly a tipping trailer would be all they need.
This is a 02000 series tractor so only bring in trailers and implements from this range to guarantee a perfect fit, as the rear tow hitch is not height-adjustable, therefore not compatible with all implement.
Standard Front-Coupling
Operating a small compact tractor should be multi-purpose as the budget wouldn't normally extend to another larger series tractor - so this small Fendt 209 S tractor should do it all.
Well usually occupied with a detachable counter-weight, this model doesn't need it as its only for light work on the family farm. But when its needed, there's a front mount for front facing implements.
Bruder
This item: Bruder 02101: Fendt 209 S Tractor with Front Loader, 1:16 Scale
Age: 4 Years
Scale: 1:16
L33.5 x W13 x H15 cm
Weight: 590g
Bruder
Age: 4 Years
Scale: 1:16
L23.6 x W13 x H15 cm
Weight: 472g
Bruder
Age: 4 Years
Scale: 1:16
L55.9 x W13 x H15 cm
Weight: 980g
SHOP BY THEME
SHOP BY
INFORMATION