Bruder 02062: Fendt Favorit 926 Vario Tractor with Front Loader, 1:16 Scale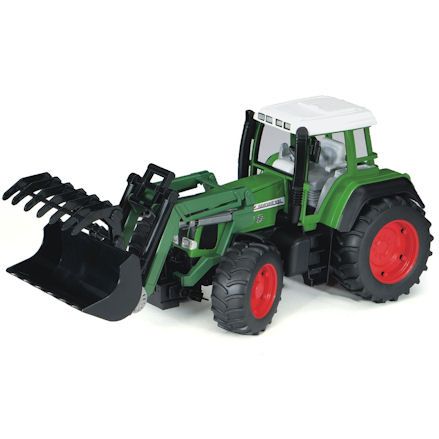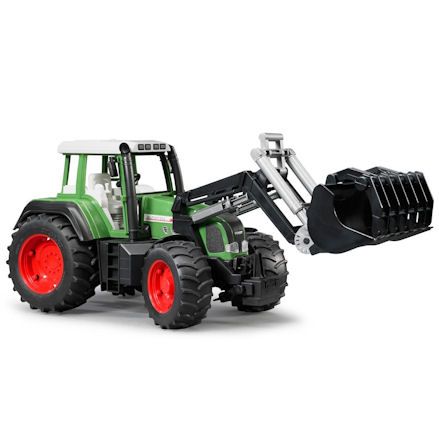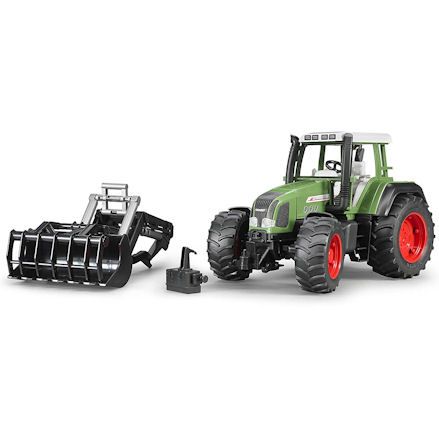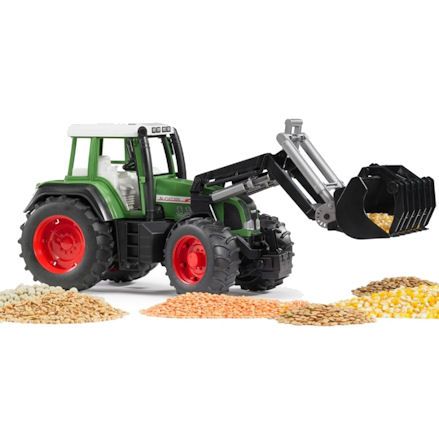 Bruder 02062: Fendt Favorit 926 Vario Tractor with Front Loader, 1:16 Scale
Make it this made for outdoor use Bruder Fendt Vario with a windowless cab, steering, tow hitch and front mount, along with a fully operational front loader.
Brand:
Bruder
Product description
Dark green body with white cab roof and the red tyre rims only contributed to being a Fendt tractor; fitted with exhaust, wing mirrors, steps, and imitation lights.
All plastic rear tow hitch will tough it out well pulling anything from big implements to smaller trailer - well an additional implement can be fixed to the front mount.
The counter-weight is fixed there at this time, well it can be slid off with ease to be replaced later.
Open cabin design makes reaching in to control the steering wheel or insert a farming figure on the seat much easier, its also useful for when assistance is needed when threading the steering rod through.
It makes for a smooth ride when pushing along the Bruder 02062 Fendt Favorit 926 Vario tractor well using the rod from above, but further to the ground they might want to control the wheels manually.
Finally, fixed to the front is a detachable front loader with a high reach, which then comes to rest on the ground with the counter-weight fixed on the front mount still.
Features
Item No: 02062
Scale: 1:16
Age: 4 years and up
Presented in open display box
Made from durable plastic
Functional font loader with grabber
Steerable wheels
Tow hitch with front mount
Bruder Agriculture range
Dimensions: L42 x W18.5 x H22 cm
Weight: 862g
Manufacturer details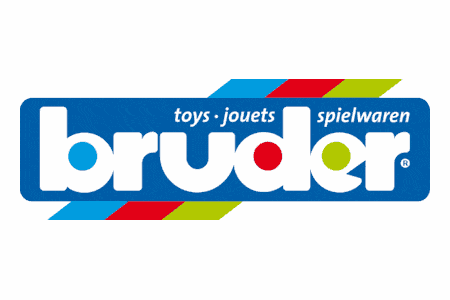 Released in 2003, one of the earliest Bruder Fendt Favorit Vario tractors in the range, only this one was made more interested with the addition of the functional front loader. You see, the company would release the standalone model first, then increase your options to include the same model with a front loader attached or trailer to tow.
Guide to Bruder Fendt Favorit 926 Vario Tractor with Front Loader
With replica detail to admire with functionality to tie you over with hours of play, the front loader is sure to keep them busy along with the realistic steering capability.
Fendt Favorit 926 Vario Tractor
Early release model makes for a reduction in a perfect scale replica, when measured up to newer models, but we can still distinguish this as a Bruder Fendt tractor due to the green body with red rims.
Positioning and shape of the exterior decor is not random either, well with limited detail, its still designed off the original, real life Fendt Favorit Vario tractor.
Front Loader
Fully operational front loader makes for a lot of extended play action on the farm; well they scoop, grab and dump the load on an awaiting Bruder trailer or make up a big pile.
It has a standard lowering action to bring it to rest on the ground, with a raising movement to position it high above the ground. In turn, there's a series of stops to keep it at a height that suites them.
Grab/Bucket End
Attached to the end of the front loader is the grabber/bucket attachment. Well the bucket scoops off the ground, the grabber does just that - grabs hold of the load.
To be used in tandem with the loaders up/down movement, the bucket has a tipping action. Make use of the grey lever to control the pivoting bucket but best controlled by hand.
Steering Ability
Steering at a tight radius well not possible on this Bruder tractor, the movement would mostly rely on the ability to go forwards and backwards to maneuver those awkward bends.
Strong suspension with free-rolling wheels on soft rubberised tyres makes for a smooth operation, whether they're using the steering rod through the cab roof hatch or controlling the wheels manually.
Open Cab Design
Where the windows and doors would be fixed around the driver's cab, this Bruder Fendt tractor warrants an open design which comes in useful.
With no windows or doors to open they can reach in and steer the steering wheels with there hands, it also makes securing a Bruder bWorld figure to the seat a breeze.
Rear Tow Hitch
Tow hitch designed to fit with the current series of farm implements and trailers is as simple as they get, with a basic hitch hook well the hoop on the trailer tow bar clips over it.
All plastic design so there's no concern in regards to accidental damage, as its able to take the larger implements with trailers fully loaded up.
Bruder
This item: Bruder 02062: Fendt Favorit 926 Vario Tractor with Front Loader
Age: 4 Years
Scale: 1:16
L42 x W18.5 x H22 cm
Weight: 862g
Bruder
Age: 4 Years
Scale: 1:16
L28.5 x W16.5 x H17.5 cm
Weight: 513g
Bruder
Age: 4 Years
Scale: 1:16
L66 x W16.5 x H18 cm
Weight: 912g
SHOP BY THEME
SHOP BY
INFORMATION