Bruder 01999: Fendt 209 S Tractor with Tipping Trailer, 1:16 Scale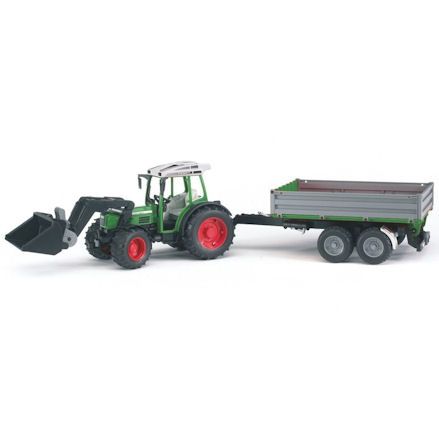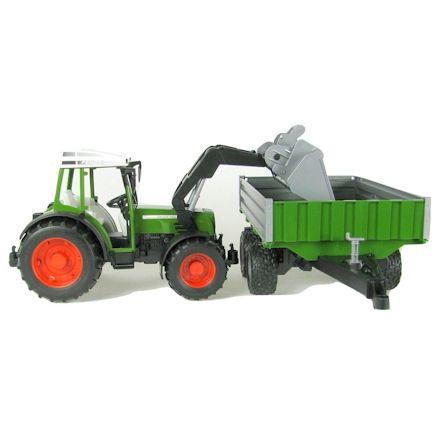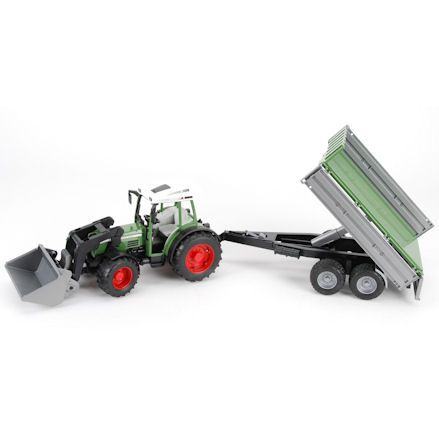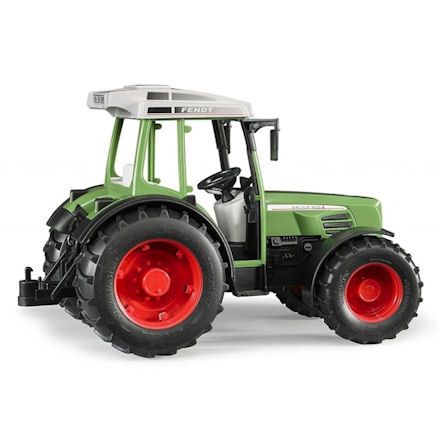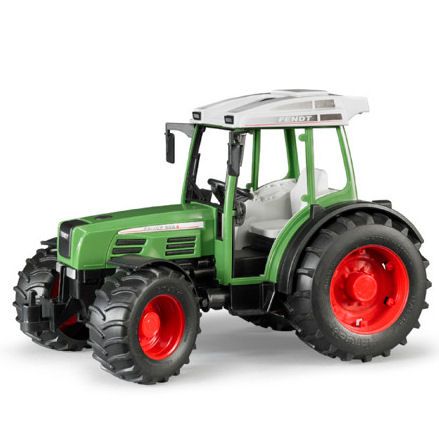 Bruder 01999: Fendt 209 S Tractor with Tipping Trailer, 1:16 Scale
Small Bruder Fendt tractor made bigger with a functional front loader with pivoting bucket attachment, tipping trailer with folding panels and steerable wheels.
Brand:
Bruder
Product description
When a large, heavy-duty tractor is not required, make it a compact S series Bruder Fendt tractor, well smaller in appearance, its still built in a perfect 1:16 scale.
Going for a big - but small - Bruder tractor such as this one is a real space safer, not only for playing around the home, but also when it comes to storage, even with the tipping trailer.
There's still time for a fully functional front loader with pivoting bucket attachment, with the loader offering an up and down movement.
Access is granted through the open driver's cab so the wheels can be controlled using the little steering wheel. But we think the steering rod would be a preferred choice for turning the steerable wheels with red rims and rubberised tyres.
The tipping trailer can be lifted up in various angles, well three panels fold down to make it easier to upload and offload contents.
Features
Item No: 01999
Scale: 1:16
Age: 4 years and up
Presented in open display box
Made from durable plastic
Working front loader
Tipping trailer with folding panels
Steerable wheels
Bruder Agriculture range
Dimensions: L57 x W16 x H18 cm
Weight: 962g
Manufacturer details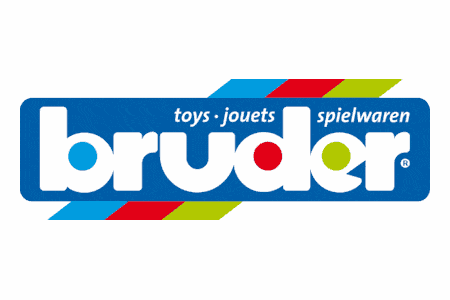 Bruder are making up for its lack of size on this model with a working front loader and a tipping trailer with functional folding panels, well sitting on a twin-axle. The model is available as a standalone, but those extra's sure make up for the shortfall. Released in 2012, the design back then dictates no windows in the cab with a standard rear tow hitch.
Guide to Bruder Fendt 209 S Tractor with Tipping Trailer
All you need to step up that small but still big 1:16 scale farm scene, with a functional tractor along with a working front loader and tipping trailer in tow.
Fendt 209 S Tractor
Only this shade of dark green is associated with the Fendt brand along with the striking red tyre rims making up the unique design.
What else makes this a Fendt tractor is the cab roof is white, as it is on this model. And despite its small size, there's still a place for the wing mirrors but no exhaust this time.
Its still a 4-wheel drive tractor that sit's closer to the ground, that's why there's only a single step that leads up to the driver's cab.
3-Sided Tipping Trailer
What we mean by three-sided tipping trailer is just that; pull down the tailgate and side panels well the front panel is the main support so is not foldable.
Folding down all panels on this Bruder trailer results in a bonus flat bed trailer, and if panels were all raised, it would be hard to load up.
But when they are up use the front loader to fill up the trailer. Its supported with a twin-axle and a long tow bar, supported with a leg arm, which can be lifted up once connected to the tractor hitch.
Functional Loader
Sitting halfway over the bonnet is this small design front loader so its made compatible with the Bruder Fendt tractor exclusively.
It has a basic up and down action with a sort of stuttering movement, this is not a design fault but more of a way to tell you where the loader can be positioned tightly in place well up high or low.
Its a removable front loader so it only need a big pull to remove it from its connection located behind the front two wheels.
Bucket Attachment
You might say because the tractor is a small compact one the bucket attachment is standard but appearing larger when next to this tractor - and well that could be true, its not the case on this one.
Stand this front loader next to a larger Fendt series tractor then you'll really know the sheer size of this bucket, and for good reason too.
Large, wide pivoting bucket will scoop up and empty bigger loads at any one time, well the trailer can be unhitched to drop off the load into your awaiting trailer.
Steering with trailer in tow
Little tractor made bigger with the trailer in tow, and as its wide, long tipping trailer ,manoeuvring is made just that little bit more difficult.
But that's good, because it requires a lot of practice well offering a much more interesting experience when trying to take the tight corners or finding a parking spot on the yard.
The standard steerable function offers left and right turn at various degrees, well reversing and getting around those corners needs a wider angle.
Open plan cab
Even for a later release you still get the open cab design with this smaller than life Fendt tractor, but for good reason.
You see with the luxury of a larger scale model, windows can be inserted with still enough space to reach in and play with the interior ...not so with the S series Fendt.
As its a smaller but still a true 1:16th scale tractor, there's little wiggle room to get inside the cab and play about, so the windows are removed for unrestrictive access.
Bruder
This item: Bruder 01999: Fendt 209 S Tractor with Tipping Trailer, 1:16 Scale
Age: 4 Years
Scale: 1:16
L57 x W16 x H18 cm
Weight: 962g
Bruder
Age: 4 Years
Scale: 1:16
L55.9 x W13 x H15 cm
Weight: 980g
Bruder
Age: 4 Years
Scale: 1:16
L33.5 x W13 x H15 cm
Weight: 590g
SHOP BY THEME
SHOP BY
INFORMATION