Britains 43082: Massey Ferguson 6616 Tractor with Loader, 1:32 Scale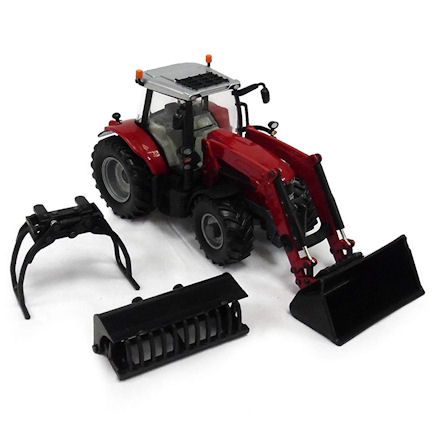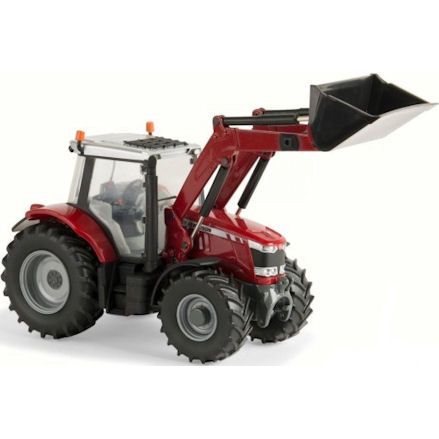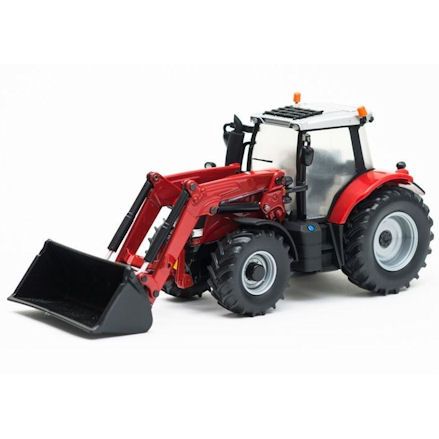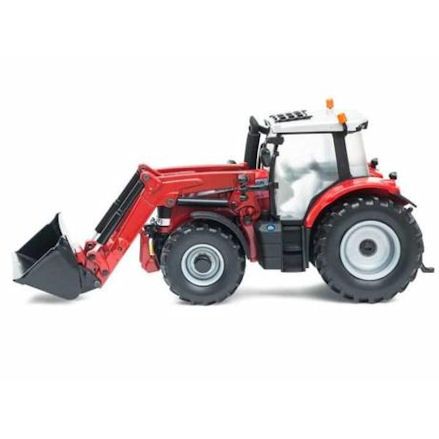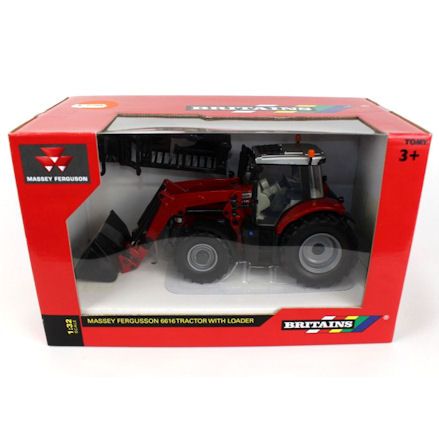 Britains 43082: Massey Ferguson 6616 Tractor with Loader, 1:32 Scale
Keep them busy with this all exclusive die-cast Britains Massey Ferguson tractor set complete with front loader and 3 removable attachment made in 1:32 scale.
Brand:
Britains
Product description
We can guarantee this functional front loader on this model is sure to keep them the busiest, more so with the three detachable attachments that are easily replaceable.
But let's not forget this Britains 43082 Massey Ferguson 6616 tractor with loader is a fine tractor as a standalone model, with the usual free rolling wheels, rear hitch and front steering wheels.
What makes this a Massey Ferguson is the colour red with grey trim and wheel rims. Then there's the placement of the exhaust pipe, wing mirrors and mug guards all accurately replicating the real thing.
Back to the front loader, here we have a fully functional loader that lowers and raises, well staying put wherever its positioned.
On the end of this front loader is the option to fix one of three detachable attachments; they include the bucket, bale grabber and a sort of half bucket/grabber combo that's used to scoop loose hay.
To make this Britains tractor set complete why not consider adding a trailer or farm implement to tow behind well the loader is stretched far out in front.
Features
Item No: 43082
Scale: 1:32
Age: 3 years and up
Officially Licensed by Massey Ferguson
Presented in window display box
Made from die-cast metal
Functional front loader
3 detachable attachments
Rolling wheels with steering
Rear tow hitch
Dimensions: L21 x W8.5 x H10 cm
Weight: 500g
Manufacturer details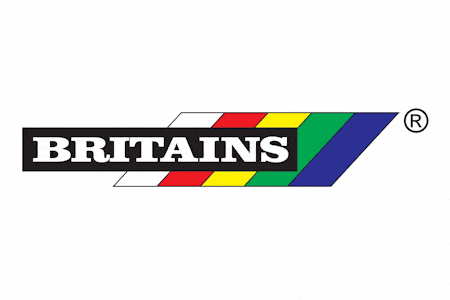 This was the start of Britains releasing their 1:32 scale tractor series with a number of extras, in this only set complete with interchangeable attachments with functional front loader. With this option the big seller of the set, you still get the usual rear hitch, steering wheels and cab detail, along with original exterior decor that replicates the real life tractor.
Guide to Britains Massey Ferguson 6616 Tractor
Britains Massey Ferguson tractor set complete with loader and three attachments, well the loader is functional the cab has interior detail, there's a rear hitch, rolling wheels and real steering.
Massey Ferguson 6616 tractor
Britains Massey Ferguson tractor set complete with loader with three attachments. But allow us to talk a bit about the model tractor itself first, before moving on to the available functions and features.
We can recognise this being a classic Massey due to the large squared-off driver's cab with interior detail. This is combined with the unique body shape only associated with MF.
The free rolling wheels have grey rims that match the grey roof top of the cab. The exterior decor detail includes; wing mirrors, mud guards, flashing imitation safety lights, headlights with rear tow hitch.
Functional Loader
Massey Ferguson tractor with loader that is fully functional with a lowering and raising movement, well the links help with the attachment pivoting action.
When the front loader is pull all the way up, the arm will stay in place; likewise, well the arm is lowered midway it will stay where its positioned at all times - even well holding a load.
This is not a detachable front loader so its always fixed to the tractor itself with the lower link function allowing the arms to lower and rise when moving them out of the way, or lowered to the ground in park.
3 Interchangeable Attachments
What makes this Britains Massey Ferguson 6616 tractor different to the rest with a functional front loader is the ability to switch between attachment - a feature not available on similar models.
Within the set you'll get the all classic bucket for scooping and tipping; a round bale grabber for lifting up the large green bales; and finally a half bucket/grabber for scooping up piles of loose hay.
All three interchangeable attachment exclusively work with this model only, well all attachments still have a pivoting action that work in tandem with front loaders lowering and raising action.
Original MF Decor
What makes this tractor a Massey Ferguson is the decor fixed to the exterior, so we can distinguish this scale replica from its grey cab roof, grey wheel rims and striking red finish.
Well all red areas are made from die-cast metal with a die-cast chassis, the lower part of the tractor is mostly black.
We can also recognise this being a MF tractor due to the overall square like cab. To top it off, there is the Massey Ferguson words along the bonnet with the model name.
Britains
This item: Britains 43082: Massey Ferguson 6616 Tractor with Loader, 1:32 Scale
Age: 3 Years
Scale: 1:32
L21 x W8.5 x H10 cm
Weight: 500g
Britains
Age: 3 Years
Scale: 1:32
L14 x W10 x H9.5 cm
Weight: 558g
Britains
Age: 3 Years
Scale: 1:32
L14 x W10 x H9.5 cm
Weight: 699g
SHOP BY THEME
SHOP BY
INFORMATION