Britains 43174: John Deere 8400R Tractor, 1:32 Scale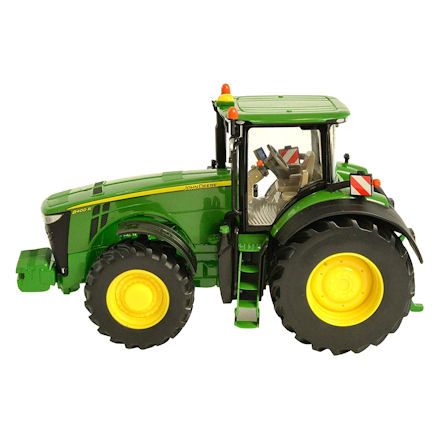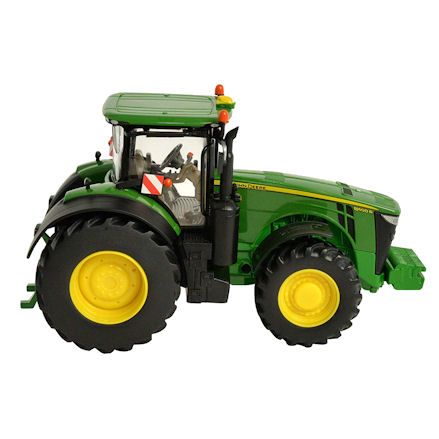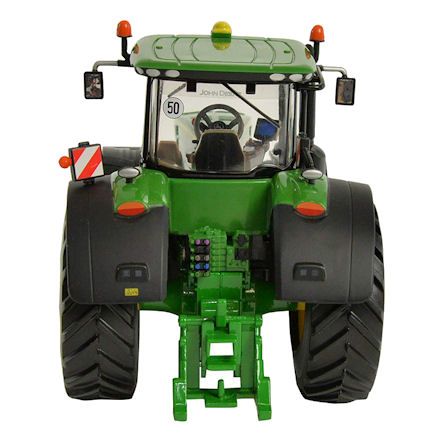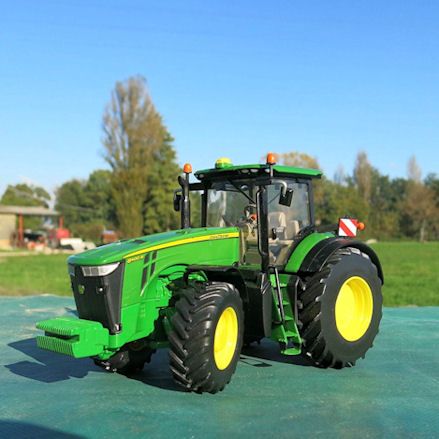 Britains 43174: John Deere 8400R Tractor, 1:32 Scale
No limit to what can be achieved with this all purpose John Deere tractor with functional parts; with rolling wheels, removable cab, rear hitch and steering.
Brand:
Britains
Product description
Reliable, powerful with an amazing performance, this Britains 43174 John Deere 8400R tractor is finished in the would famous green with yellow rims and black trim.
The interior is not short of detail; with imitation lights, safety reflectors, a chunky exhaust running up the right side, wing mirrors, counter-weight and the black radiator with pretend headlights.
There's a few things happening with the wheels to, apart from the disguisable yellow rims, they have deep tread tyres with real active steering from the front axle.
If you focus on the rear, here is where the tow hitch lays, with a clip action pin that can lock the farm implements and trailer in place during play.
And if we move back up to the driver's cab, its filled with remarkable detail that can be closely viewed by simply removing the driver's cab with pulling it off and push back on action.
Features
Item No: 43174
Scale: 1:32
Age: 3 years and up
Officially Licensed by John Deere
Active steering, free rolling wheels
Removable driver's cab
Rear tow hitch with lock
Presented in window display box
Made from die-cast metal
Dimensions: L19 x W9.5 x H10.5 cm
Weight: 621g
Manufacturer details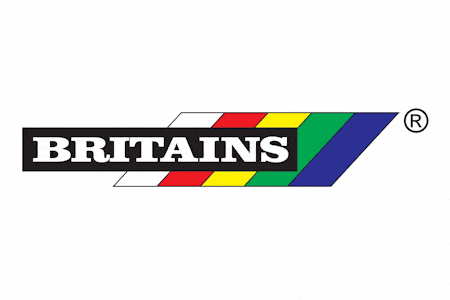 Still going strong since its release in 2017, this Britains John Deere 8400R tractor exists to make sure there is at least one JD in the tractor series that will compliment the matching John Deere farm implements in 1:32 scale. Britains have replicated the detail perfectly on the inside and out, with functional parts in the steering and removable cab and hitch.
Guide to Britains John Deere 8400R Tractor
Our big green guide should help you get an understanding what this model tractor as to offer, as we go over all the available functions in the steering and removable cab.
Britains John Deere 8400R Tractor
Regardless of the colour, you just may be able to pick this Britains John Deere tractor out of a lineup just by its shape alone, but with its green colour theme with yellow rims, there's nothing more beautiful.
This is a John Deere 8R series tractor, with a boxy look and feel, but a noticeable long and narrow bonnet baring the John Deere logo.
The lower part of the tractor is black with most of it covered in green, there's black trim around the cab well the detailed interior has a beige finish with coloured buttons and computer screen.
Steering, Free Rolling Wheels
You know you've got yourself a John Deere tractor just by the colour of the bright yellow rims. And its this set of four wheels that makes this model what it is.
Well the front axle has two small wheels, the back axle holds the big, deep tread tyres with all wheels protected with mud guards.
You can maneuver around the yard or out on the field using the real steering on the front axle. They're manually controlled left or right, well its up to the child to align them up to go straight again.
Counter-Balance, Ballast
When towing Britains farm implements you may come into a little bother. Namely the rear may tip up if the weight you're towing is to heavy - but there's a simple solution.
Britains have fitted an undetachable counter-weight on the front of the tractor. And this is the simplest solution for them.
The idea of towing farm implements is to keep all four wheels on the ground at all times.
So here we have the front counter-weight to split the weight from the back axle to the front axle - this is called ballasting.
Removable Cab
If they've never been in the inside of a real life John Deere tractor before, then this is as real as it will ever get, with a detailed steering wheel, seat and computer system.
It will take a keen eye to inspect the colored buttons and nozzles just as it would be position in real life.
Once they've pulled off the driver's can, they would have unrestricted access to the interior where they can feel around the cab - and bonus - they should be able to sit the Britains tractor driver before closing the cab again be popping the cab back on.
Towing John Deere Implements
You only have to take a quick glance at the entire Britains farm implements range to notice that its mostly dominated with the colours of John Deere.
So whether its a round baler, trailed sprayer, mower conditioner or disc harrow, you can guarantee there will be a matching John Deere implement that would hitch up together nicely.
They're not limited to what John Deere has to offer them mind you, often this tractor is recommended with Britains Ifor Williams livestock trailer, NC dump trailer or Kane silage trailer.
Interior/Exterior Detail
Visually, this Britains John Deere 8400R tractor can be recognised alone by its colour theme. And its this green body with the contrast of the bright yellow rims that makes it so appealing to children.
And with all Britains John Deere tractors, its equipped with remarkable, replica exterior detail in the lights, reflectors, exhaust and black trim radiator.
Well it bares the John Deere insignia on the bonnet, the mud guards are all in black with even the steps that lead to the cabin door in this same colour - well inside the cab is finished in a beige.
Britains
This item: Britains 43174: John Deere 8400R Tractor, 1:32 Scale
Age: 3 Years
Scale: 1:32
L19 x W9.5 x H10.5 cm
Weight: 621g
Britains
Age: 3 Years
Scale: 1:32
L17 x W9.5 x H10.5 cm
Weight: 721g
Britains
Age: 3 Years
Scale: 1:32
L17 x W9.5 x H10.5 cm
Weight: 558g
SHOP BY THEME
SHOP BY
INFORMATION