Britains 42999: John Deere 8370R Tractor, 1:32 Scale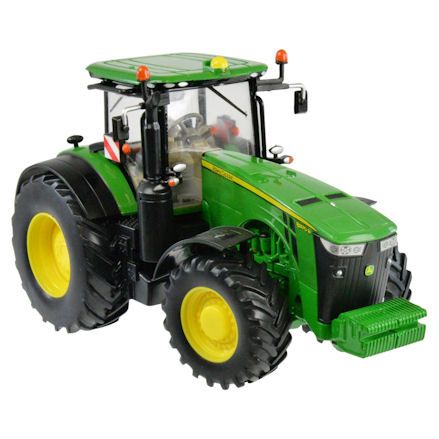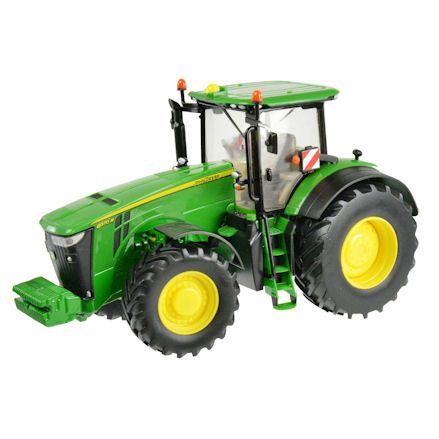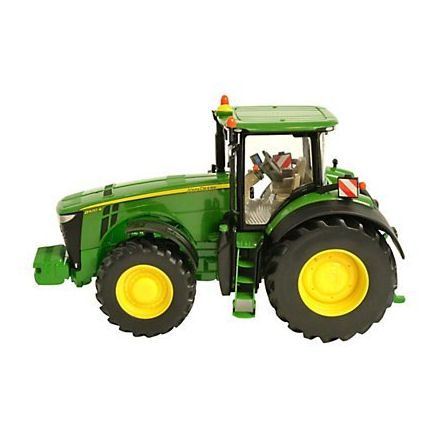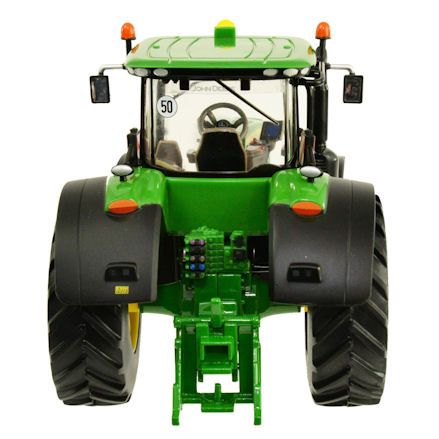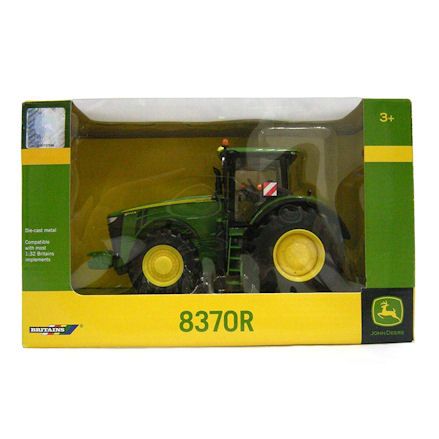 Britains 42999: John Deere 8370R Tractor, 1:32 Scale
With a tonne of JD branded farm implements in the series, then this John Deere 8370R tractor is going to be needed for towing trailers with compatible rear hitch.
Brand:
Britains
Product description
By looking back and simply admiring this Britains John Deere model tractor, we can see they have captured the look and feel of this scale replica beautifully.
The shape of the body in 100% John Deere, well all the green areas are made from tough die-cast metal, the the black trim is made in durable plastic.
As the windows are clear plastic we can view the interior of the cab, but as its a removable driver's cab we can get an even closer look of the seat, steering wheel and automated controls.
And as a bonus we can now secure a Britains toy tractor driver on the seat to really bring the Britains 42999 John Deere 8370R tractor to life.
Fitted to the rear is a lock action rear tow hitch to match with John Deere implements and trailers, with a front counter-weight to help balance the weight from the haulage.
The wheels are free rolling with active steering from the front axle. There's imitation lights, safety reflectors, steps and an exhaust making up the exterior decor.
Features
Item No: 42999
Scale: 1:32
Age: 3 years and up
Officially Licensed by John Deere
Presented in window display box
Made from die-cast metal
Removable cab
Rear tow hitch compatible with implements
Rolling wheels, steering
Dimensions: L17 x W9.5 x H10.5 cm
Weight: 721g
Manufacturer details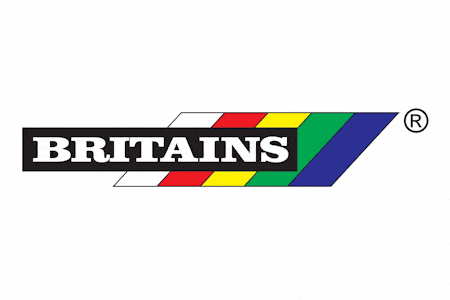 As a 2014 release, this Britains JD tractor was one of a two 8R series tractors to be released, with both models still going strong in the 1:32 scale range. We can always rely on Britains to bring us the big green JD tractors as their licensed grants them complete say. And with all models available, this lucky one is available to kids in a miniature 1:32 scale.
Guide to Britains John Deere 8370R Tractor
Before taking your Britains John Deere 8R series tractors out on the field it would be wise to know the workings inside and out, just incase the farmer needs to make repairs if it breaks down.
John Deere 8370R Tractor
All areas finished green on the John Deere 8370R tractor are made in die-cast metal, with the black trim all made in tough, but durable plastic.
The bonnet is more exposed on this model than similar tractors, with the engine detail coming through with radiator vents and big headlights.
There's imitation safety lights on top of the cab with pull out reflectors to help brighten up the tractor in low light and night time. The ladder leads up to the non-opening door with an exhaust and counter-weight attached to the front.
Exploring the Cab
If you pay any attention to the series of Britains John Deere tractors, you'll notice the interior cab detail is finished in a beige/cream like decor.
But this interior can be accessed by removing the whole driver's cabin with a simple pull off action.
At closer inspection we can now see how the controls of the John Deere 8370R tractor really look. And if you were to view the real life machine, the detail would be accurate.
Rolling Wheels with Treads
You will instantly recognise this set of four free-rolling wheels as a John Deere model due to the bright yellow rims that hold the rubberised tyres with thick treads.
Well the larger big rear wheels take up most of the area on the back, the front wheels - in this rare case - allows most of the engine details to be exposed from behind.
And well the wheels can be steered manually, they are covered in mud guards.
Towing John Deere
Did you know there's more John Deere licensed toy farm implements to match this John Deere toy tractor than an implement from any other manufacturer.
This can only mean match up time; with the option to tow a green John Deere trailer behind this Britains JD vehicle with a hitch compatible with all 1:32 scale series implements.
The big three Britains John Deere farm implements that would suite this model tractor a treat would be the John Deere R962i Trailed Sprayer, John Deere John Deere 990 Round Baler and the John Deere 635 Mower Conditioner.
Britains
This item: Britains 42999: John Deere 8370R Tractor, 1:32 Scale
Age: 3 Years
Scale: 1:32
L17 x W9.5 x H10.5 cm
Weight: 721g
Britains
Age: 3 Years
Scale: 1:32
L19 x W9.5 x H10.5 cm
Weight: 621g
Britains
Age: 3 Years
Scale: 1:32
L17 x W9.5 x H10.5 cm
Weight: 558g
SHOP BY THEME
SHOP BY
INFORMATION