Britains 43089: John Deere 7230R Tractor, 1:32 Scale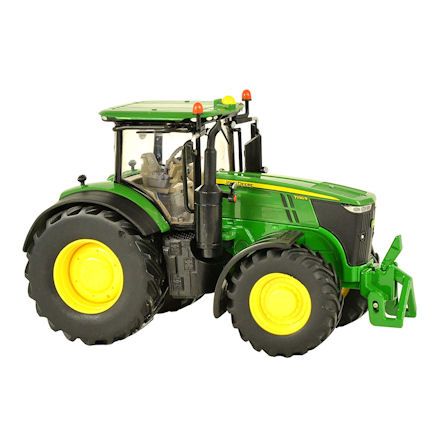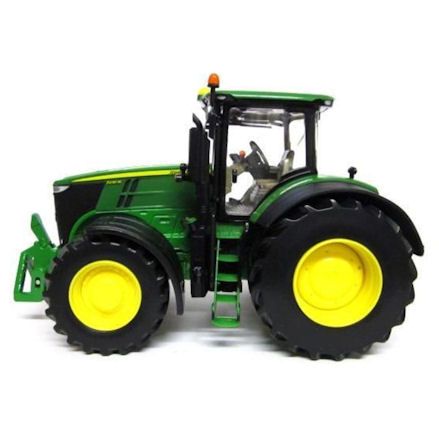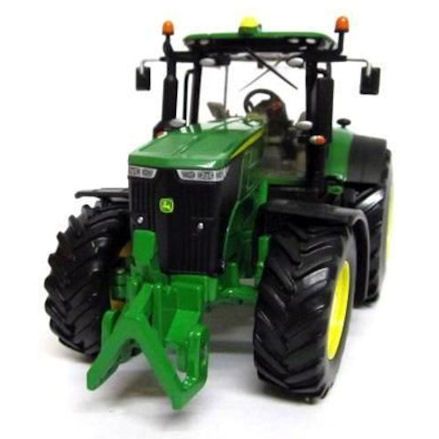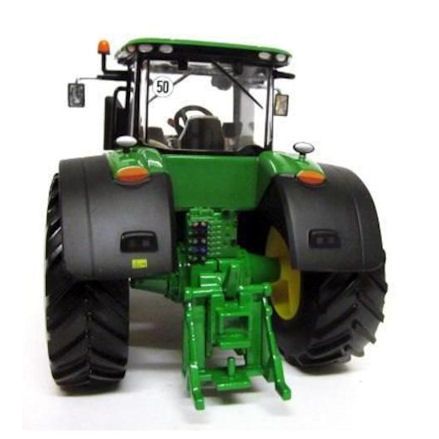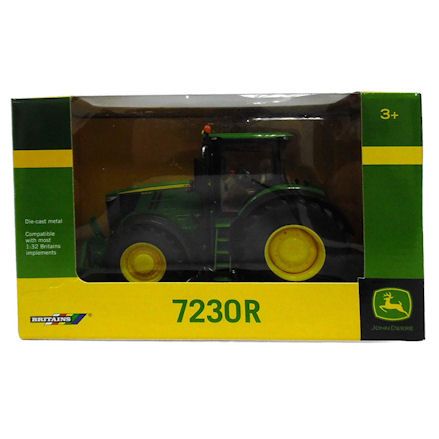 Britains 43089: John Deere 7230R Tractor, 1:32 Scale
Standing tall scale model Britains John Deere 7230R tractor in 1:32 scale with a rear tow hitch, front connecting hitch, enclosed cab and real front steering.
Brand:
Britains
Product description
Monstrous big green die-cast tractor that stands high with a big driver's cab, with enormous tyres lifting the tractor to a considerable height.
All four free rolling wheels are covered in rubberised tyres, holding the classic yellow rims with wheels protected with mud guards.
The front wheels can also be steered by hand with a lift and right movement.
The driver's cab is not a removable one but the interior detail is there to see; with steering wheel, seat and automatic computer controls visible.
Its equipped with a standard big tow hitch with a lock, well the front v-framed hitch is made for front connected Britains toy farm implements such as the mower conditioner.
All areas on the Britains 43089 John Deere 7230R tractor are made mostly of die-cast metal, and so is the front/rear hitch and chassis. The black areas are made in durable plastic and so are the small standout detail to prevent easy breakage.
Features
Item No: 43089
Scale: 1:32
Age: 3 years and up
Officially Licensed by John Deere
Presented in window display box
Made from die-cast metal
Front wheel steering
Enclosed cab, interior detail
Rear tow hitch, front v-frame hitch
Dimensions: L17 x W9.5 x H10.5 cm
Weight: 558g
Manufacturer details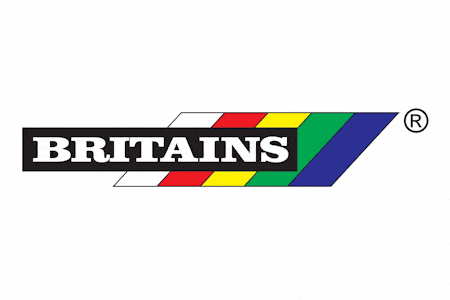 Here we have an early Britains John Deere 7R series tractor featuring all the detail and functionality you would expect from such model. This die-cast tractor represents one of a three current models in 1:32 scale series, and we have to say it really does look the part. As you'll expect its compatible with all trailers, including front connecting farm implements.
Guide to Britains John Deere 7230R Tractor
Run over the features of this classic John Deere toy tractor, featuring free rolling wheels, an enclosed cab, rear tow hitch and front v-frame hitch with original detail.
John Deere 7230R Tractor Body
By viewing this model from the side we can see its a John Deere simply by the shape, with a square-like driver's cab, a long bonnet which bares the JD branding.
The front of the bonnet is a unique JD design, with an exhaust pipe along the one side, safety lights, headlights, mud guards, window wipers and original decor featured.
Enclosed Cab with Interior Detail
We don't have a removable cab on this model, instead what we do have is a classic design with original exterior decor cabin with wing mirrors, window wipers, lights and a hanging over cab roof.
In our opinion the interior detail of this Britains John Deere tractor is remarkable, with a clear steering wheel, seat and controls all visible through the four windows.
Rear Tow Hitch/Front V-Frame Hitch
Inspecting the rear tow hitch on this model and you'll notice the coupling mechanism is larger than usual, well taking up the width of the rear.
But if you turn your attention to the front, here we have a v-frame hitch that is compatible with Britains farm implements that require a front connection, as oppose to being towed behind.
Big Rolling Wheels with Steering
What you would expect with Britains John Deere tractor is front wheel steering, and this is true with this model, well the wheels can be turned left/right manually.
The big deep tread tyres help the wheels roll over terrain or smooth surfaces they would otherwise have issues with. Though its helped with rubberised like tyres and free rolling action with no restrictions.
Britains
This item: Britains 43089: John Deere 7230R Tractor, 1:32 Scale
Age: 3 Years
Scale: 1:32
L17 x W9.5 x H10.5 cm
Weight: 558g
Britains
Age: 3 Years
Scale: 1:32
L19 x W9.5 x H10.5 cm
Weight: 621g
Britains
Age: 3 Years
Scale: 1:32
L17 x W9.5 x H10.5 cm
Weight: 721g
SHOP BY THEME
SHOP BY
INFORMATION