Britains 43090: David Brown 1210 Tractor, 1:32 Scale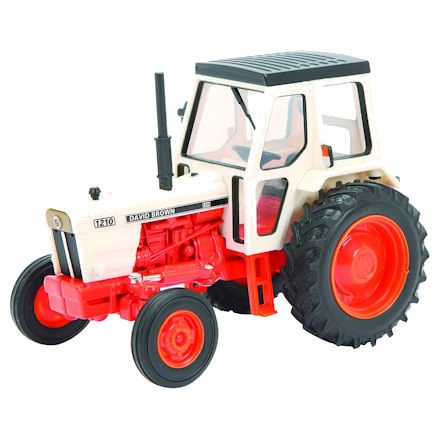 Britains 43090: David Brown 1210 Tractor, 1:32 Scale
Heritage David Brown 1210 tractor in 1:32 scale, used to carry out farming work in the past or even today; featuring rolling wheels, tow hitch and steering.
Brand:
Britains
Product description
Go back to the old days or use it for farming today as it still packs a powerful punch in terms of pulling power and strength.
In real life it will be a heavy, loud, smoke polluting vintage tractor, only here we have a clean, fun, scale replica Britains 43090 David Brown 1210 tractor to enjoy.
And just because its a classic its not without its interesting features; includes the standard rolling wheels with front axle steering, enclosed cab and a rear hitch for towing trailers and implements.
The box-shaped driver's cab is large, therefore will make it easy for the young driver to inspect the interior detail without the ability to remove the cab.
Focus on the vintage-style toy tractor and you'll notice parts of the engine are more visible than modern machines, with the chassis and axle bar connecting the front wheels all out in the open.
Classic tractor that is finished in original interior and exterior decor. The colour red and off-white is what makes this a David Brown tractor, with the rest of the decor finished in black.
Features
Item No: 43090
Scale: 1:32
Age: 3 years and up
Officially Licensed by David Brown
Presented in window display box
Officially licensed by David Brown
Real Steering, Rolling Wheels
Removable Cab
Made from die-cast metal
Dimensions: L20 x W10 x H11 cm
Weight: 322g
Manufacturer details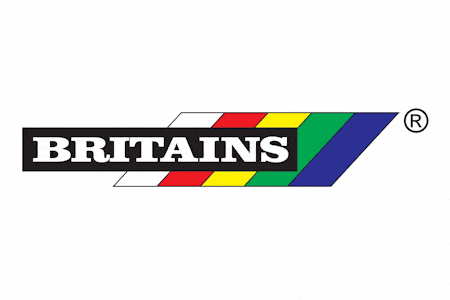 Finally we have a series of David Brown tractors with this one taking the lead. Britains have released a few David Brown models well this one truly features the classic design, with the thin, narrow bonnet and likewise, thin skinny wheels all captured beautifully in 1:32 scale. Get it well you can with these vintage tractor as they just might disappear, as they have in real life.
Guide to Britains David Brown 1210 Tractor
If they are interested in old-style tractors then this one will be a treat, well still able to do what modern tractors can offer well at the same time offering all the fun, interactive features.
David Brown 1210 tractor
Old style farming with this one as the tractor allows for the young farmer interested more in classic design as oppose to the look of modern tractors.
As a David Brown, you'll only get it on this classic tractor with all original decor included on the model; from the lettering across the bonnet, visible engine detail and fixtures.
Rear Chunky, Front Skinny Wheels
The older tractors are the bonier the wheels become - similar to motorcycle-type wheels. This is also true on this model with a pair of skinny front-steerable wheels on a visible wide axle bar.
Fitted to the rear are what we might call traditional big, thick tyres with deep treads. These wheels help balance the tractor well the front smaller wheels have little weight, instead relying on the weight of the engine.
Enclosed Cab
Most of the David Brown tractor is made up with must of the large, enclosed driver's cabin, without the ability to remove it as with recent releases.
As a vintage tractor you'll notice the windows are more restrictive compared to modern tractors well still offering clears view of the interior detail.
3-Point Hitch
Fitted to this vintage David Brown tractor is a classic design three-point rear tow hitch used to attach ploughed or trailed implements on wheels.
Britains have made it easy with a simple lock is hitch, so the implements and trailers are connected with ease well still allowing unrestricted movement.
Britains
This item: Britains 43090: David Brown 1210 Tractor, 1:32 Scale
Age: 3 Years
Scale: 1:32
L20 x W10 x H11 cm
Weight: 322g
Britains
Age: 3 Years
Scale: 1:32
L17 x W10 x H12 cm
Weight: 322g
Britains
Age: 3 Years
Scale: 1:32
L17 x W9.5 x H10 cm
Weight: 490g
SHOP BY THEME
SHOP BY
INFORMATION