Britains 43011: Ford TW25 Tractor, 1:32 Scale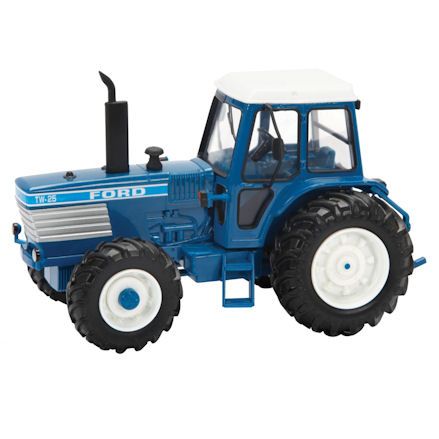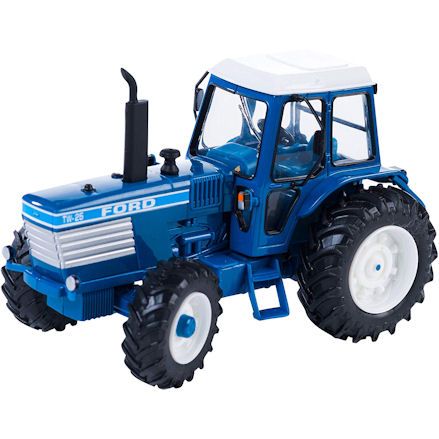 Britains 43011: Ford TW25 Tractor, 1:32 Scale
Not your usual go-to tractor but rather a bare bones vintage Ford tractor; boosting free rolling wheels, rear tow hitch and font-axle steering with tread tyres.
Brand:
Britains
Product description
Set the scene of a classic farm setting circa 1970's, or use this vintage tractor in modern times to carry out smaller jobs around the farm.
Small, powerful engine will help you repel across the ploughed fields or maneuver around the yard well doing your every day tasks; from towing the plough to carrying equipment around the farmyard.
This is all possible due to the standard rear tow hitch available on all tractors, including the vintage one.
As you'll expect with all releases, this Britains 43011 Ford TW25 tractor has a few interesting features of its own; including rolling wheels, steering wheels and a rear tow hitch.
Now this little guy won't be able to tow the big farm implements in real life, but in theory will still be able to tow all toy farm implements regardless.
Decked out in classic FORD colours in blue with white cab roof and black trim. The markings display the words FORD in large lettering; there's wing mirrors, mud guards, exhaust pipe, steps and engine detail around the front wheels.
Features
Item No: 43011
Scale: 1:32
Age: 3 years and up
Officially Licensed by Ford
Presented in window display box
Made from die-cast metal
Rolling wheels
Front-axle steering
Rear tow hitch
Dimensions: L17 x W9.5 x H10 cm
Weight: 490g
Manufacturer details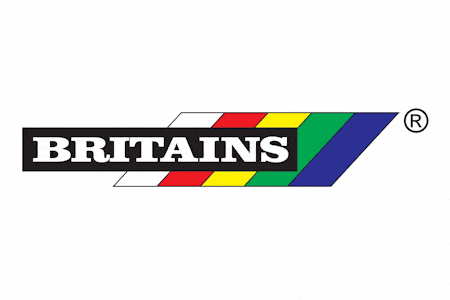 One of four scale model Ford tractors to be released by Britains over a seven year period, with this one out lasting the lot. Released in 2014, Britains have decided to keep this one in the 1:32 series as the only vintage toy tractor available - with David Brown tractor also available. Unlike previous models, this one gathered the most interest, so stayed put.
Guide to Britains Ford TW25 Tractor
Classic farming with this Britains vintage tractor by Ford in 1:32 scale, well still offering a few interesting features and functionality.
Ford TW25 Vintage Tractor
Square-like, boxy vintage-style Britains Ford TW25 tractor decked out in the classic FORD colours with exterior decor including wing mirrors, engine detail, lights and vents.
The Ford tractor has an exhaust pipe positioned on the centre of the bonnet with smaller knobs. The box shape driver's cab has visible interior detail with seat and steering wheel.
Rolling Wheels, Steering
Vintage tractors all have smaller wheels than there modern counter-parts, which is suited to the small driver's cab, yet big powerful engine under the bonnet.
The big free rolling wheels are all made from a rubber like material, well the two front wheels are steerable well sitting on a single axle.
Towing with Rear Hitch
Well it still packs a powerful punch, even a classic can tow the heaviest of loads, well still offering high end performance out on the field.
And with the rear tow hitch present, they can still hook up a Britains farm implement or trailer in tow. We would say the Kane grain trailer, NC dump trailer, double bale lifter or link box are a good fit well at the same time matching colours.
Ford Decor & Features
This model is filled with the classic FORD decor, with the words spruced out along the bonnet, well baring the models name, TW25.
The shade of blue is unique to the manufacturer with a white driver's cab roof, with black trim used as the window frames and the white rims of the wheels making up a typical Ford tractor design.
Britains
This item: Britains 43011: Ford TW25 Tractor, 1:32 Scale
Age: 3 Years
Scale: 1:32
L17 x W9.5 x H10 cm
Weight: 490g
Britains
Age: 3 Years
Scale: 1:32
L17 x W10 x H12 cm
Weight: 322g
Britains
Age: 3 Years
Scale: 1:32
L20 x W10 x H11 cm
Weight: 322g
SHOP BY THEME
SHOP BY
INFORMATION