Britains 42838: Big Farm John Deere 6109R R/C Tractor, 1:16 Scale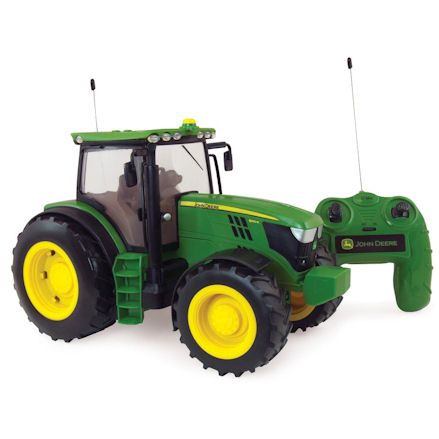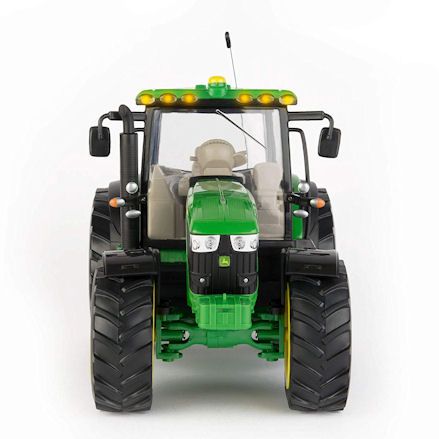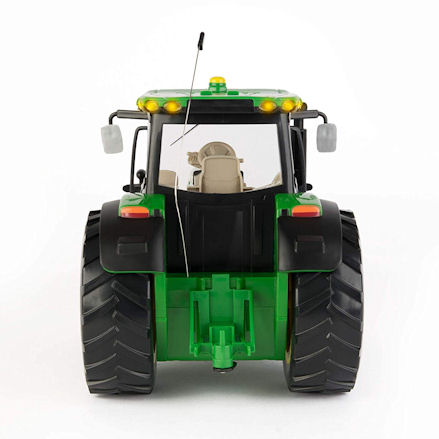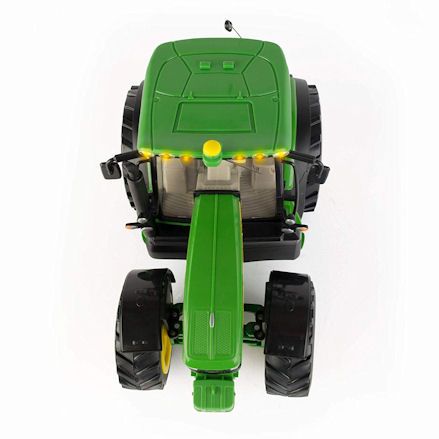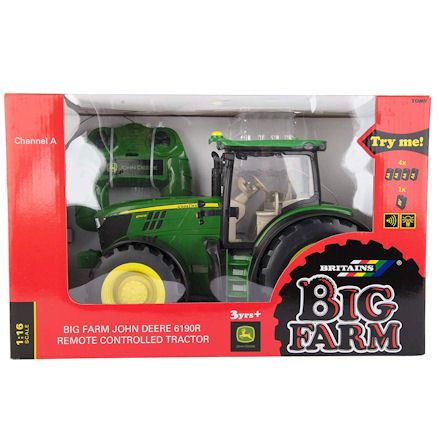 Britains 42838: Big Farm John Deere 6109R R/C Tractor, 1:16 Scale
Steer it anywhere Britains Big Farm John Deere R/C tractor in 1:16 scale; with controller, tow hitch, lights and sounds with all 5 batteries pre-installed.
Brand:
Britains
Product description
Steer this John Deere remote control tractor across all terrain; from the grass in the back garden to the pavement and countryside dirt tracks, this R/C tractor is designed to drive over it all.
Take a Big Farm trailer and implement as its fully compatible with the rear tow hitch on the tractor, and will performed just as well with a trailer in tow, hauling a big load.
To start, you'll need to switch on the tractor and controller independently, then use the left joystick to go forwards and backwards, well the right joystick allows them to steer left and right.
Inherited from the Big Farm series of tractors is the lights and sounds function still activated by a press of a button on top of the cab - so this feature is not controlled using the controller.
We can't access the driver's cab but we can admire the interior detail, well the exterior decor is replicated off the real thing.
Features
Item No: 42838
Scale: 1:16
Age: 3 years and up
Presented in window display box
Made from durable plastic
Radio control tractor with controller
All batteries are pre-installed
Lights and sounds
Compatible rear tow hitch
Dimensions: Age: 3 Years
L38 x W24 x H19 in
Weight: 1580g
Manufacturer details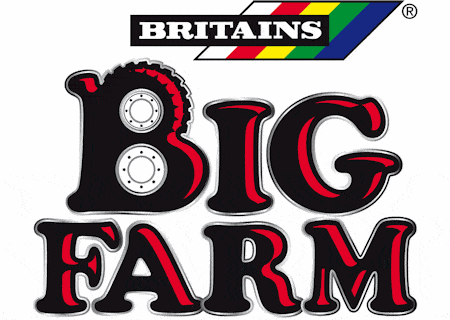 The Britains Big Farm radio control John Deere tractor first came into the series in 2013, which inherited all that is good with the Big Farm range. Only Britains have now installed R/C functionality with a controller offering forwards/backward, left/right function. What you will notice with this range is the tow hitch, lights and sounds feature are all still present.
Guide to Britains John Deere remote Control Tractor
Fully functional radio control tractor with controller, with all batteries installed so you only need to learn how to use the R/C function, which we explain in detail below.
John Deere 6109R Tractor
If we forget about the R/C function for a moment, let's not forget we still have a replica Britains John Deere 6109R tractor in 1:16 scale, well made from a tough plastic build.
And well the tyres are rubberised for helping the radio control tractor maneuver over all terrain, its equipped with replica wing mirrors, mud guards, exhaust and steps leading to the cab.
What this R/C John Deere tractor CAN'T DO what a push alongBig Farm tractors CAN DO is; there's no opening bonnet, removable cab and detachable counter-weight.
Lights & Sounds
If you're already familiar with the Britains Big Farm tractor series then you'll know all models have a lights and sounds function, with a press of a button to activate the flashing lights and engine sounds.
Well now Britains have carried that function over to their radio control tractor series with the buttons still positioned on the cab roof.
Press the one button for the cab lights to flash on and off, well the second button will make an engine running sound followed by a noisy reversing sound.
Controller
So what do we need to check before going out with the tractor and controller? Well the first thing you need to do is make sure there's one 9V battery installed which powers this 27 MHz controller.
Now switch ON the controller with the switch located between the two joysticks. Make sure the arial is clear and away they go.
To go forwards and backwards, use the left joystick, well the right joystick makes the tractor steer left and right. But of course both joysticks will be used simultaneously to steer the tractor in all directions.
Towing
There's no special R/C farm implements or trailers to match up with this Britains John Deere remote control tractor, all you need is the series of 1:16 scale trailers from the Big Farm range.
That's right, all you have to do is take the Big Farm trailers and implements if they already have one or two and use them - as its fully compatible with the R/C tractors rear tow hitch.
Rest assured the tractor is capable of towing a fully loaded up Big Farm trailer, well still having enough power to ride over rough terrain - in terms of grass and gravel that is.
Britains
This item: Britains 42838: Big Farm John Deere 6109R R/C Tractor
Age: 3 Years
Scale: 1:16
L38 x W24 x H19 in
Weight: 1580g
Britains
Age: 3 Years
Scale: 1:16
L38 x W24 x H19 in
Weight: 1580g
Britains
Age: 3 Years
Scale: 1:16
L38 x W24 x H19 in
Weight: 1580g
SHOP BY THEME
SHOP BY
INFORMATION