Britains 42600: Big Farm Case IH 140 R/C Tractor, 1:16 Scale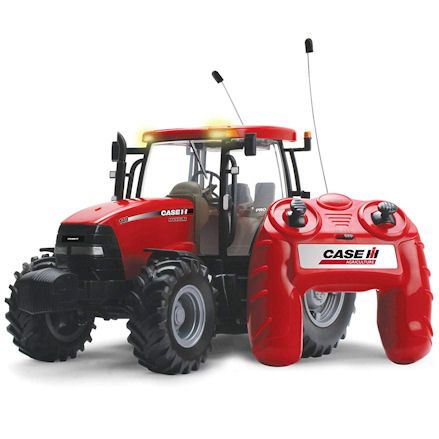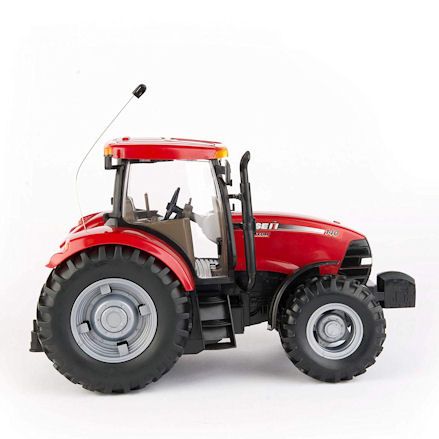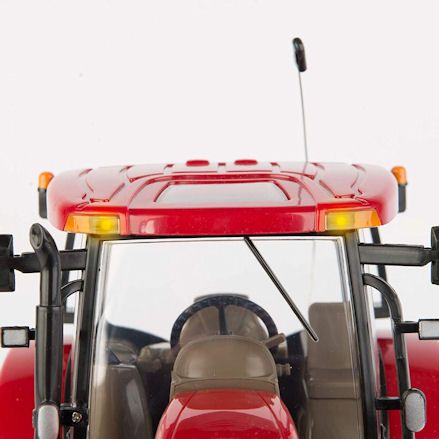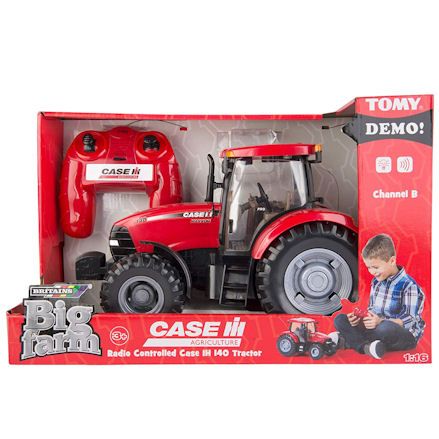 Britains 42600: Big Farm Case IH 140 R/C Tractor, 1:16 Scale
All batteries are pre-installed so you're ready for a test drive, with the radio controlled Case IH tractor featuring tow hitch, lights and sounds and counter-weight.
Brand:
Britains
Product description
With all that included, who needs a push along tractor anymore when the radio control tractors have all major features covered, and this one really does.
As its replicated on a real Case IH 140 tractor, all original exterior detail is present; wing mirrors, mud guards, hazard lights, steps leading to cab, counter-weight, window wipers and exhaust pipe.
Talking of hazard lights, with a press of a button positioned on the cab roof you can activate the lights on the cab - so there's real workings ones and imitation lights.
By pressing the next button over you'll get the sounds of a realistic running engine with a horn.
The child-friendly handheld controller has basic forward/reversing, steering left/right motion with both handset and tractor needing to be switched on before play.
Then there's the tow hitch that's compatible with all Big Farm trailers and implements, simply connect the tow bar to the tractor's tow hitch as its powerful enough to haul heavy loads.
Features
Item No: 42600
Scale: 1:16
Age: 3 years and up
Presented in open display box
Made from durable plastic
All 5 batteries included
Lights and sounds
Compatible rear tow hitch
Dimensions: L38 x W24 x H19 in
Weight: 1580g
Manufacturer details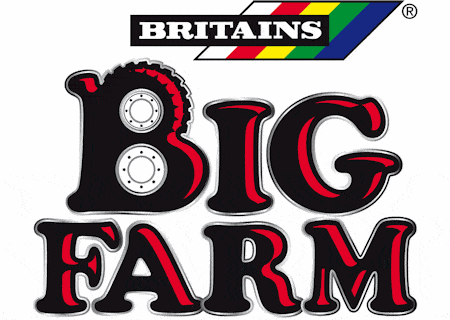 Can't believe this Britains Big Farm tractor was release nearly 10 years ago, with the means to fill the gap in 1:16 scale radio control tractors. And even to this day the vehicle is still going strong as the pinnacle toy in the Big Farm series. As usual Britains have made it so its compatible with the current range so no additional accessories are required.
Guide to Britains Big Farm Case IH R/C Tractor
Understand how your Big Farm radio control tractor functions before taking it for a test drive, which we hope our instructions will outline all the basics for you.
Case IH 140 Tractor
This replica Case IH 140 tractor is made in 1:16 scale from durable plastic. It has all the original decor including wing mirrors, mud guards, tow hitch, hazard lights and counter-weight.
The Case IH R/C tractor requires 4 AA batteries to work well they're all tucked away behind a locked compartment.
Using the Handset
The 27 MHz handset controller requires one 9-volt PP3 battery which is included and pre-installed for you. They're all easily replaceable but locked away by a philips screw for safety.
Shaped to a small hand held device, the controller has a grips with handles for both hands. They're able to go forwards, reverse, left, and right - with all angles used simultaneously for realistic movements.
Lights & Sounds
Press the button on the driver's cab for realistic engine sounds, a horn noise and working lights that flash around the cabin roof.
The functional lights and sounds work independently from the handset, so you can only use this feature manually.
Safety First
Its all about safety with Britains so they've locked the 4 AA batteries away in the battery compartment behind a screwed down hatch - with the batteries compartment up high under the bonnet.
The single 9-volt PP3 battery in the handset controller is also locked away. As the tractor has an aerial protruding from the cab, the end is covered to prevent them poking themselves from the thin wire.
Britains
This item: Britains 42600: Big Farm Case IH 140 R/C Tractor
Age: 3 Years
Scale: 1:16
L38 x W24 x H19 in
Weight: 1580g
Britains
Age: 3 Years
Scale: 1:16
L38 x W24 x H19 in
Weight: 1580g
Britains
Age: 3 Years
Scale: 1:16
L38 x W24 x H19 in
Weight: 1580g
SHOP BY THEME
SHOP BY
INFORMATION