Britains 42601: Big Farm New Holland T6070 R/C Tractor, 1:16 Scale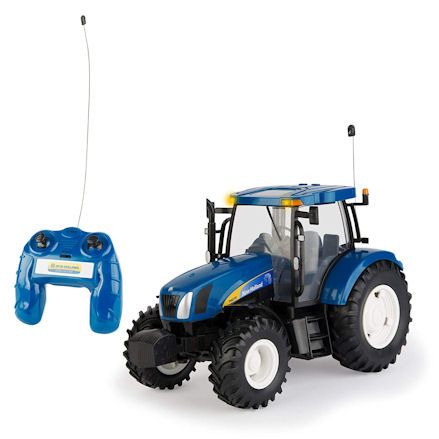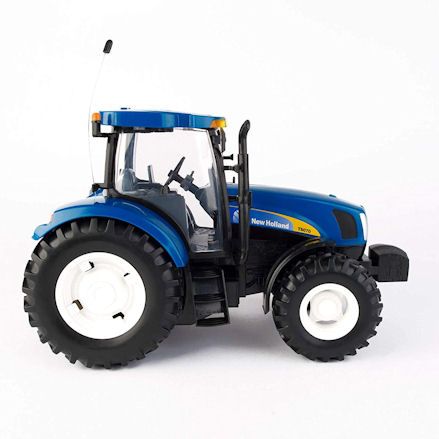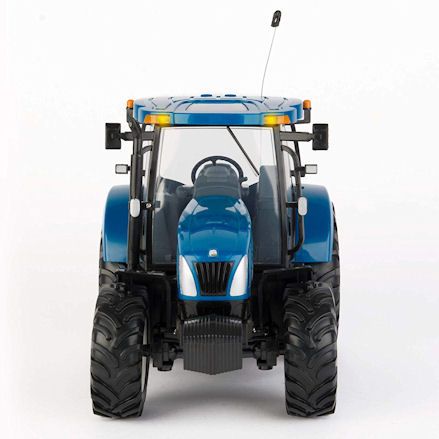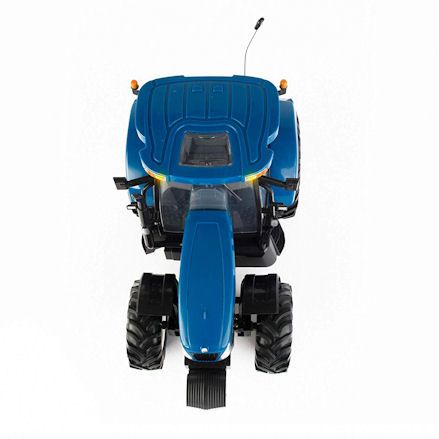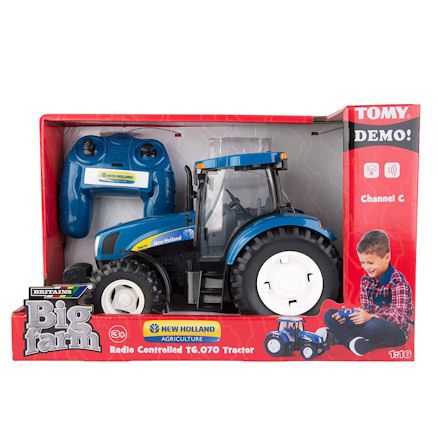 Britains 42601: Big Farm New Holland T6070 R/C Tractor, 1:16 Scale
Go fully equipped as you steer this all terrain Britains New Holland tractor in 1:16 scale; featuring rear tow hitch, flashing lights, sounds and all 5 batteries included.
Brand:
Britains
Product description
To begin, switch on both the Big Farm New Holland tractor and controller separately, well reserving batteries power by turning them both off when not in use or walking to location.
Switch the tractor on and set it on the ground, then switch on the controller before using the left joystick to go forwards and backwards, well the right-sided joystick makes the tractor steer left or right.
Both joysticks will need to be used simultaneously to control the tractor along walkway, over rough terrain and around objects on the ground for smooth, realistic movements.
Pushing the button on the cab to make the light flash on and off is a nice touch at night, well the other button that makes engine noises and reversing sounds would be used less.
In the Big Farm series there's a number of matching blue trailers and implements that would compliment this New Holland radio control tractor a treat, with an easy to use rear tow hitch.
As taste in R/C tractors go there are three to choose from; green for John Deere, red for Case IH and blue for this New Holland.
Features
Item No: 42601
Scale: 1:16
Age: 3 years and up
Presented in open display box
Fully functional controller
Compatible rear tow hitch
Lights and sounds
All 5 batteries included
Made from durable plastic
Dimensions: L38 x W24 x H19 in
Weight: 1580g
Manufacturer details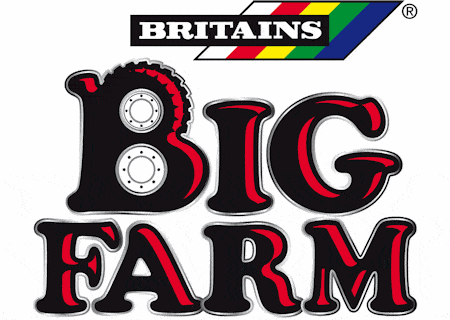 Early released 2010 Britains New Holland R/C tractor that was made to fit within the new Big Farm series - as Britains figured if arch-rival Siku could have R/C tractors, then so should they. Designed to tow the current range of implements and trailers, with a standard hitch on the R/C and push-along tractors - Britains have made it a bonus with batteries included.
Guide to Britains Big Farm New Holland R/C Tractor
Before taking the R/C tractor out of the house and racing around the street, get to know how it functions so there're no important features you've missed out.
New Holland T6070 Tractor
Take a look at the Britains Big Farm New Holland T7.270 tractor in the series and compare it to this R/C version, one thing you'll notice they both have all the original exterior detail and design.
In this Britains New Holland radio control tractor you'll notice it has an exhaust pipe, wing mirrors, mug guards for splashing through wet mud, rear tow hitch and an imitation counter-weight.
All-Direction Controller
This small hand controller should fit snuggly into the smallest of hands, with two handles with grips to help control the tractor in comfort - well finished in blue like the tractor with New Holland branding.
To go backwards and forwards use the left joystick with an up and down movement, then to steer left and right use the right joystick - but of course both joysticks will need to be used at the same time.
Flashing Lights & Sounds
Taken from the original Big Farm tractors is the flashing lights and sounds functions, but this is not controlled using the controller.
The lights and sounds are still activated by pressing the buttons positioned on the cab roof. Well one makes engines and reversing sounds, the other makes the lights flash on and off on top of the cab.
Towing Big Farm
As standard there's a compatible rear tow hitch made to be used with Britains Big Farm implements and trailers in 1:16 scale, and there sure of plenty of implements to tow.
What we would recommend is the blue and yellow KANE Silage Trailer or the blue KANE Low Loader Trailer, all perfectly matched in colour with a no-nonsense tow bar.
Britains
This item: Britains 42601: Big Farm New Holland T6070 R/C
Age: 3 Years
Scale: 1:16
L38 x W24 x H19 in
Weight: 1580g
Britains
Age: 3 Years
Scale: 1:16
L38 x W24 x H19 in
Weight: 1580g
Britains
Age: 3 Years
Scale: 1:16
L38 x W24 x H19 in
Weight: 1580g
SHOP BY THEME
SHOP BY
INFORMATION