Britains 42837: Big Farm John Deere 6210R Tractor, 1:16 Scale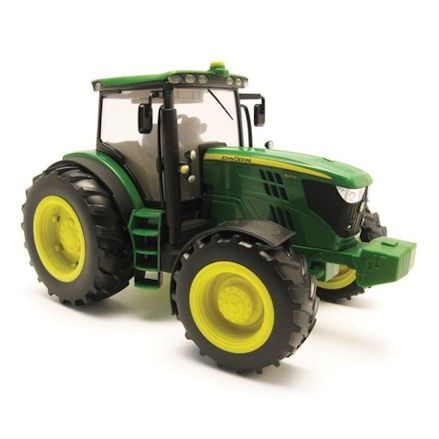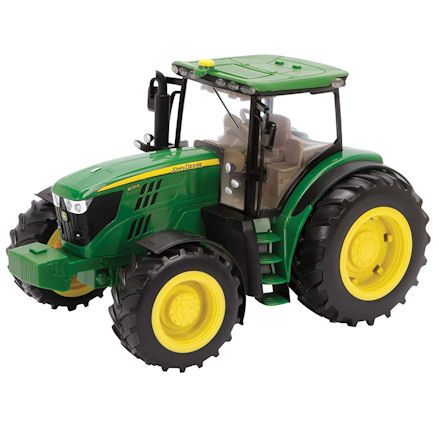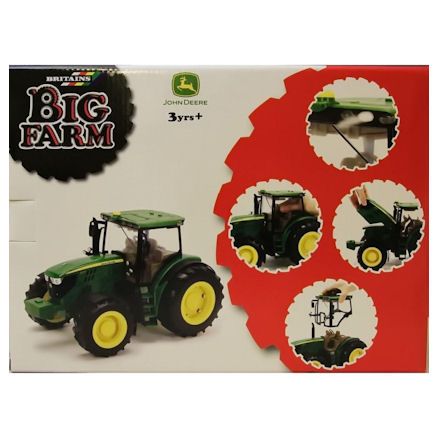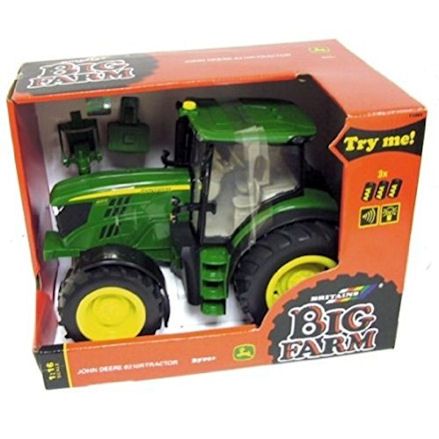 Britains 42837: Big Farm John Deere 6210R Tractor, 1:16 Scale
Large replica Big Big Farm John Deere tractor in 1:16 scale; made from durable plastic with active steering, tow hitch, removable cab and opening bonnet.
Brand:
Britains
Product description
Battery operated big scale tractor that requires 3 AAA batteries for the lights and sounds to function, but no that the batteries can be removed and it would function just as well without.
To make things more interesting, the Britains 42837 Big Farm John Deere 6210R tractor has real active steering from the two front wheels - with deep tread.
Simply turn the wheels with there hands to go left or right, or use the steering wheel inside the driver's cab to control the wheels from there - with access made through the rear of the open cabin.
Located on the front is a detachable counter-weight that helps balance the John Deere when towing heavy Big Farm trailers.
Britains Big Farm implements can be connected to the rear tow hitch of the tractor with a simple hook on design, well the trailers all have a simple hook hole on the tow bar.
Features
Item No: 42837
Scale: 1:16
Age: 3 years and up
Presented in open display box
Made from durable plastic
Active steering with rolling wheels
Lights and sounds, batteries included
Detachable counter-weight
Tow hitch compatible with implements
Dimensions: L30 x W19 x H20 cm
Weight: 1300g
Manufacturer details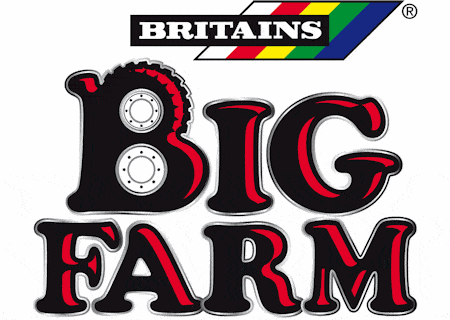 One of the first big 1:16 scale tractors released into the newly introduced Big Farm series from Britains. Released in 2012, this tractor was your started point for all things Big Farm, well made compatible with the implements and trailer toys. As standard, the wheels can be steered, the cab can be access, there's a rear tow hitch and the bonnet opens.
Guide to Britains Big Farm John Deere 6210R Tractor
Push along big scale John Deere tractor offers a bit more, offering lights and sounds with batteries included, active steering, detachable counter-weight and rear tow hitch.
John Deere 6210R Tractor
Fully equipped John Deere 6210R series tractor in 1:16 scale, it not without its standard features, including of course the original decor that would otherwise be found on the real life machine.
Well the detail of the bonnet shows the engine parts and radiator, opening up the bonnet will reveal the engine block itself. There's a big open driver's cab with windows; with visible seat and steering wheels, plus an exhaust, mud guards and wing mirrors.
Active Steering
As a Britains Big Farm John Deere tractor, that can only mean we get real active steering from the two front wheels with deep thick treads.
And well both wheels can be controlled by hand well turning left and right, more interestingly if they reach through the back of the driver's cab and grab onto the steering wheel, they can control the wheels this way.
Lights & Sounds
Asked by the 'Try Me' label on the box, with a push of one of two buttons we can make the cab lights turn on, well making realistic engine sounds.
Well both buttons are located on the cab roof (up high out of the way of potential damage) access is made easy with no restrictions. It requires 3 AAA batteries which are locked away in the compartment.
Opening Bonnet
Imagination if there little to no interactive features on this tractor, then there would be nothing for the young for to day.
Britains Big Farm have you covered, with the use of an opening engine bonnet, the young ones can no open it up to inspect the engine block, well playing mechanic repairing it whenever it break down.
Britains
This item: Britains 42837: Big Farm John Deere 6210R Tractor
Age: 3 Years
Scale: 1:16
L30 x W19 x H20 cm
Weight: 1300g
Britains
Age: 3 Years
Scale: 1:16
L44 x W18 x H20 cm
Weight: 1800g
Britains
Age: 3 Years
Scale: 1:16
L38 x W24 x H19 in
Weight: 1580g
SHOP BY THEME
SHOP BY
INFORMATION