Britains 42425: Big Farm John Deere 6830S Tractor with Dual Wheels, 1:16 Scale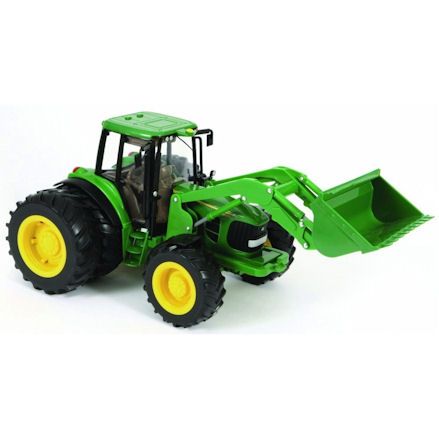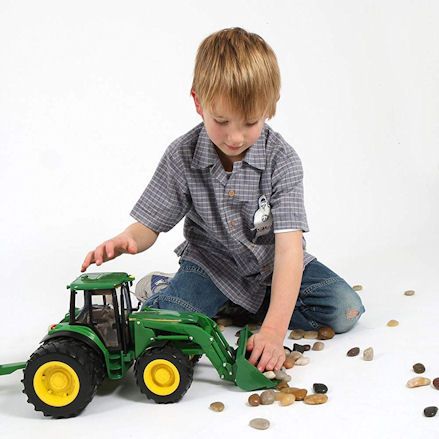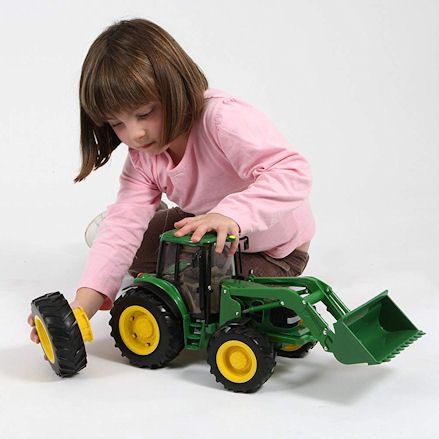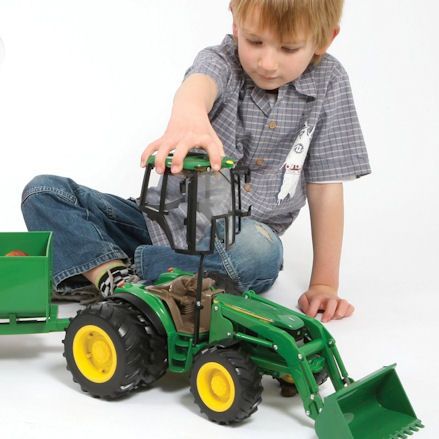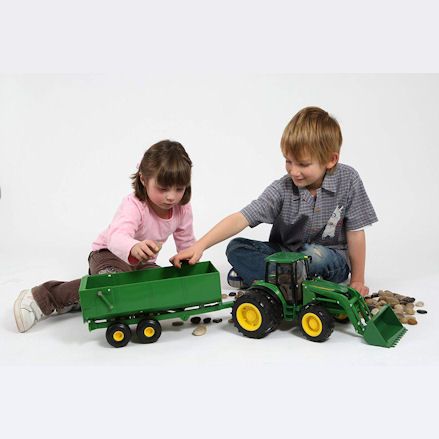 Britains 42425: Big Farm John Deere 6830S Tractor with Dual Wheels, 1:16 Scale
Fully loaded up Big Farm John Deere tractor with dual wheels and front loader; and not forgetting the lights and sounds, removable cab and opening bonnet.
Brand:
Britains
Product description
Before getting over excited with the prospect of the dual wheels and functional front loader, let's not forget this Britains 42425 Big Farm John Deere 6830s tractor has other fun features.
This includes a rear tow hitch for hauling trailers, a removable driver's cab and real active steering from the two front wheels. we also get an opening bonnet so they can play mechanic at the same time.
But what really does capture the imagination on this model must be the detachable set of dual wheels that simply connect to the outer rims of the original wheel setup.
We also have a fully functional front loader with a lowering and raising action with a bucket attachment that has a pivoting function to scoop and offload.
With the big scale tractor coming with a standard tow hitch, the option is there if they wish to add a farm trailer or implement later, or right way if they can't wait.
This all sit's on a set of four big thick tread rubberised tyres with free rolling wheels.
Features
Item No: 42425
Scale: 1:16
Age: 3 years and up
Presented in open display box
Made from durable plastic
Front loader with bucket
Detachable dual wheels
Lights and sounds
Removable cab, opening bonnet
Dimensions: L44 x W18 x H20 cm
Weight: 1800g
Manufacturer details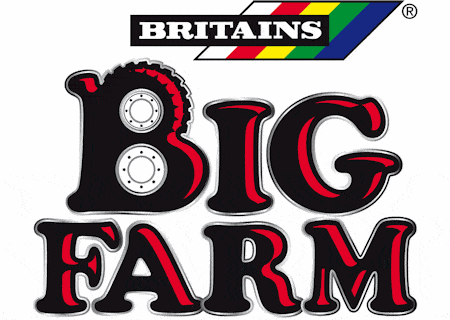 Its hard to believe the Big Farm series dates back more than 10 years, with this model released in mid 2008. This time Britains (or TOMY) really stepped it up a notch with the a big John Deere tractor wrapped around in dual wheels with functional front loader. As we have a rear tow hitch present, why not add to it again with a compatible farm implement.
Guide to Britains Big Farm John Deere 6830S Tractor
Now that we have the tractor with dual wheels and a front loader, its hard to forget it still has well basic, but still fun interactive functions, as our guide will explain.
John Deere 6830S tractor
The Britains Big Farm 6803 series tractor is similar but not identical to the other model in the range, with this offering a more robust look, with a rounded cab and chunkier feel.
Well the front loader cannot be removed and the dual wheels are detachable, let's not forget this tractor still has a removable cab, opening bonnet and real active steering.
Usually when we talk about scale replica having lights - and well just for show - but that's not true with this model as it has real lights around the cab with engine sounds.
Dual Wheels
You're working on the field but you keep on getting bogged down because of the wet soggy ground. Well not anymore as the dual wheels will put a stop to this with an extra set of wheels making up for the shortfall.
As this is a John Deere tractor, it only makes sense for the dual wheels to match with yellow rims, but there's no removing of the original wheels as the dual wheels all clip onto the outer rims of the originals.
Now the wheels are connected, rest assured the active steering is still possible, we can still tow farm implements behind, and so does the front loader still function as normal.
Front Loader
What makes this model more interesting than similar ones is its fully functional front loader, and well not detachable, this feature would be used the most.
The front loader functions like most others, with lower positioned links helping the loader make an up and down movement - well they simultaneously use the pivoting bucket.
Well using the front loader, it makes sense to raise it well they're driving, and when not in use its best practice to lower the loader to the ground when tucked away in the tractor shed for safety.
Pivoting Bucket Attachment
Attached to that functional front loader must have a fully functional attachment, and so it does with this standard, but 'get the most out of it' bucket.
This big, wide large bucket can be used to scoop up anything off the ground well raising the front loader to tip the load into a trailer or in a pile.
To help use the front loader with bucket attachment in tandem, the bucket has a pivoting action to help scoop and offload without moving the loader.
Britains
This item: Britains 42425: Big Farm John Deere 6830S Tractor
Age: 3 Years
Scale: 1:16
L44 x W18 x H20 cm
Weight: 1800g
Britains
Age: 3 Years
Scale: 1:16
L30 x W19 x H20 cm
Weight: 1300g
Britains
Age: 3 Years
Scale: 1:16
L38 x W24 x H19 in
Weight: 1580g
SHOP BY THEME
SHOP BY
INFORMATION