Sit a driver inside your toy tractor
Bring a little realism to the small farm with a toy figure made to fit inside your Siku and Bruder tractor cabin.
Once in a while makers find inspirational ways to improve the young farmer's experience and explore their imagination to the full. So they introduce toy farm figures for use around the farm - and this can be anything from the farmer, to his wife, kids and general farm workers.
But more exciting than that comes toy tractor drivers that are made in a sitting position - with their hands out as if they are steering. This opportunity doesn't work for all, but in Bruder and Siku you can buy - off the rack - Bruder and Siku tractor drivers.
Permanent position for Siky figures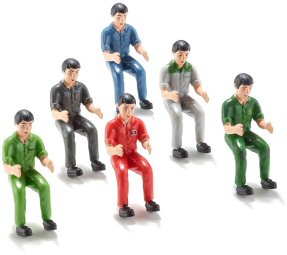 Siku's own range of driving figures are only available for their Farmer series in 1:32 scale. And although they are pretty much the same figure in set of two or six - you can choose a figure primarily based on the young tractor drivers favourite colour.
But what Siku have done here is provided a full range of colours to match up with popular tractor manufacturers colour theme. For example; green overalls for John Deere; blue for New Holland; red for Massey Ferguson or Case IH and a couple of mismatch uniforms.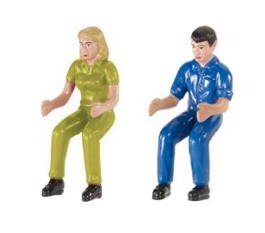 Recently, Siku have introduced a set of two figures - one male, one female - so this will appeal more to both girls and boys. More importantly it's all you'll need for your Siku tractors with the two figures costing a little bit cheaper than the set of six.
Poseable figures with Bruder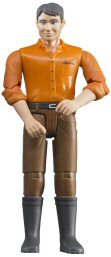 Bruder have recently introduced a line of farm figures to their Bworld line with poseable limbs. And well these figures may not be purpose made driver's, the positioning of the limbs can be placed in a sitting down position - and will fit Bruder 1:16 tractors.
These figures are approximately 4.5 inches tall with both male and female characters available. When playing outside the driver's cab you can move the legs and arms to carry out other tasks, but sitting inside the cab - fold the leg joints with the hands grasping the wheel.
Schleich Vehicle Driver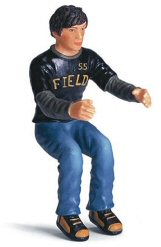 In Schleich, the opportunity is small when it comes to driver figures, simply because Schleich only have the one tractor - which thankfully already comes with a driver. But like their full range of vehicles, you can almost guarantee each one comes with a toy driver.
This Schleich driver is made with the matching 4x4 Vehicle in mind and will slot nicely into the driver's seat - staying in place.
Published by Toy Farmers on 13th January 2016