Siku 1672: Steyr CVT 6230 Tractor and Pottinger Combination Mower, Super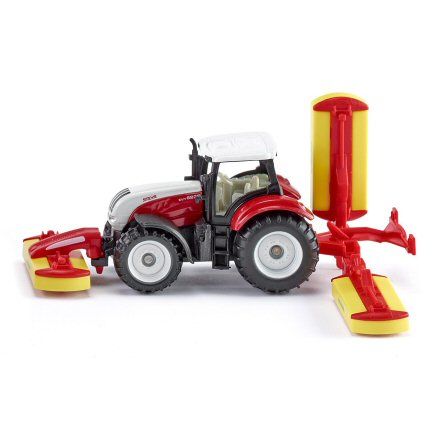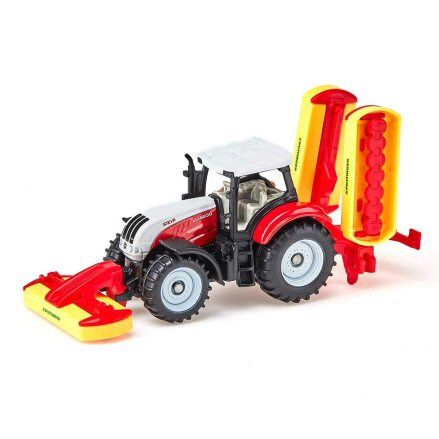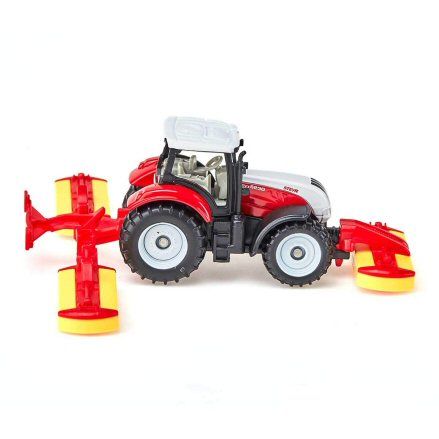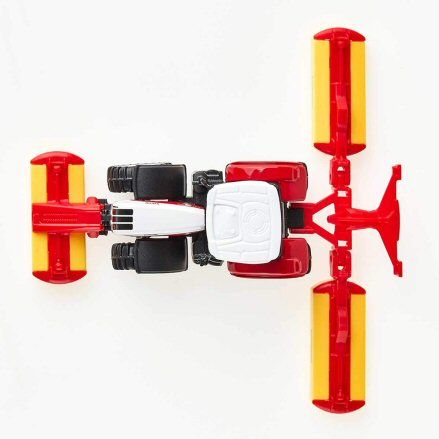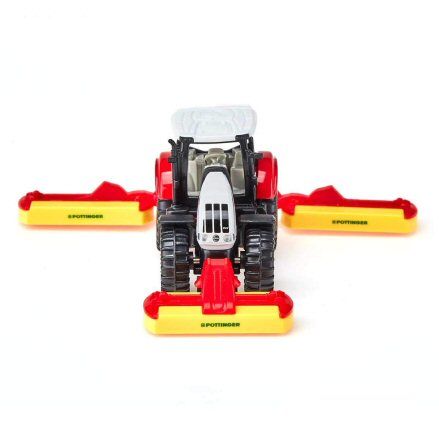 Siku 1672: Steyr CVT 6230 Tractor and Pottinger Combination Mower, Super
To much going on with this Siku Steyr CVT tractor; that's a mower fixed to the front and rear; which is both detachable or can be folded up for road transport.
Brand:
Siku
Product description
You know its a Steyr tractor just by design; perfectly curved bonnet with a big driver's cab. Bonnet and body is made from die-cast metal, well the rest is constructed in durable plastic.
Currently occupying the front mount where a counter-weight would normally be is a front mounted mower. Well to the rear a set of mowers occupy the rear tow hitch.
Slot on the rear folding up combination mower to the rear tow hitch just as you would a regular farm trailer or implement.
All can be removed to be replaced with farm trailer or implement to collect freshly mowed grass.
You'd need to fold up the combination mower to be able to drive on the road, so no need to remove it.
When driving over a meadow with long grass; the rear mowers reach out wide to cut as much grass in a single pass; well the front mower makes up for the missed uncut grass in the centre.
Steyr tractor could be used as a standalone model, or if you like, remove all mower connections to use it again when the grass needs mowing.
Features
Item No: 1672
Scale: 1:72
Age: 3 years and up
Presented in blister packaging
Made from die-cast metal
Detachable two-piece mower set
Fold up when in transport
Rolling wheels
Compatible rear hitch
Dimensions: L7 x W3.5 x H4 cm
Weight: 40.8g
Manufacturer details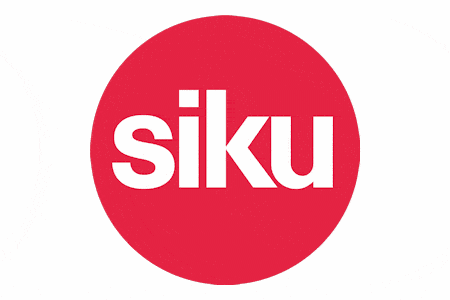 Released in 2015 so is still a new model in terms of a recent upgrade; and that shows in the unique multi-functional, fully detachable mower combination set. Earlier releases won't have much detail in the tractor design as they do now, which is obvious in this Steyr tractor. That's thanks to the exterior detail, branding, to the interior detail in the driver's cab.
Guide to Siku Steyr CVT 6230 Tractor with Combination Mower
Well the tractor holds its own in regard to features; the combination mower has a lot to get your head around... as explained in our guide to this unique tractor/implement set.
Steyr CVT 6230 Tractor
Small Steyr tractor that can still be recognised due to the remarkable attention to detail; perfectly representing the Steyr brand with its unique body shape and design.
Colour white and red is what makes it a Steyr; it also has its replicated exterior decor with a windowless driver's cab with steering wheels and seat - with detailed controls for operating the mower combination.
Combination Mower Set
So much going on with this Siku tractor combination mower set you might agree, which is designed to cut long grass on the meadow to be picked up later on.
Fixed to the front is a single detachable mower; well the rear holds a folding up mower set that fixes to rear tow hitch. When in transport mode be sure to fold up the rear mowers to drive on the road.
Multi-Use Rear Tow Hitch
Currently occupying the rear tow hitch is the interactive combination mower set, it simply slots in before hooking over the hoop.
Simply remove this combination mower set as you would a trailer any time, to then be replaced with a series of matching trailers needed to further mow or collect the freshly cut grass.
All-Terrain Wheels
Rubberised like tyres this Siku Super tractor has which are fixed to the chassis, and well they freely move around as the tractor is pushed or pulled; its further supported with deep tread tyres.
That's an important feature on this Steyr tractor as you'll need it to roll over long, thick uncut grass to be able to mower it will riding over the trimmings.
Siku
This item: Siku 1672: Steyr CVT 6230 Tractor with Combination Mower
Age: 3 Years
Scale: 1:72
L7 x W3.5 x H4 cm
Weight: 40.8g
Siku
Age: 3 Years
Scale: 1:72
L8 x W3.5 x H4 cm
Weight: 40.8g
Siku
Age: 3 Years
Scale: 1:72
L6 x W3.5 x H4 cm
Weight: 40.8g
SHOP BY THEME
SHOP BY
INFORMATION