Siku 1379: John Deere Tractor with Bale Grabber and Bale, Super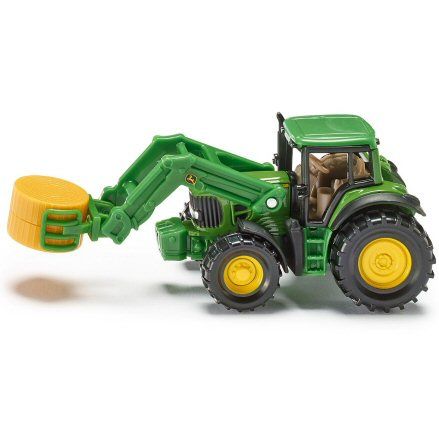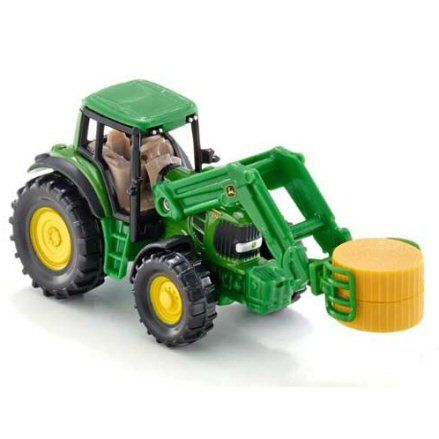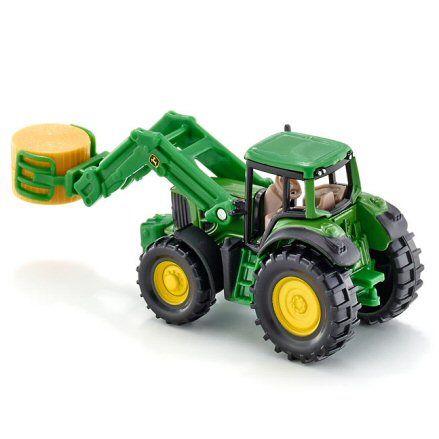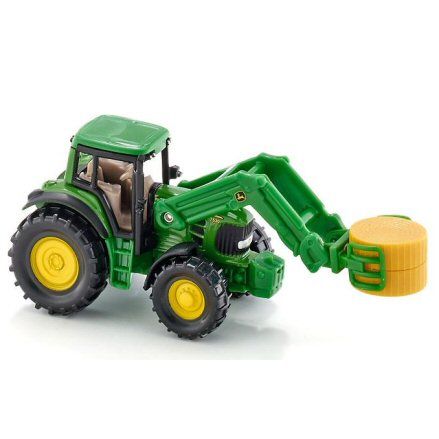 Siku 1379: John Deere Tractor with Bale Grabber and Bale, Super
Highly playable Siku John Deere tractor with functional front loader with bale grabber attachment; free rolling wheels, imitation counter-weight and tow hitch.
Brand:
Siku
Product description
If there is one small replica tractor needed for the small farm then its this all in one John Deere tractor, with a functional front loader with bale grabber - plus a single round hay bale.
Front loader has a simple up/down movement well the round bale slots onto the durable plastic bale grabber attachment with ease.
Well in motion the loader can be lifted up so the driver can see in front, or fold it under next to the imitation counter-weight to drive on the road well its folded under.
Much fun to be had there, but let's not forget this Siku 1379 John Deere tractor still offers functionality; rolling wheels with a compatible rear tow hitch.
Intricate interior detail will see a brown seat, controls and steering wheel, well the exterior has everything you'd expect a John Deere to have - along with its branding alongside the bonnet.
Only with Siku Super John Deere tractors will see a finish in this unique green body, with the bright yellow wheel rims that is only exclusive to JD.
Features
Item No: 1379
Scale: 1:72
Age: 3 years and up
Presented in blister packaging
Made from die-cast metal
Functional front loader
Grabber attachment
1x Round bale
Compatible rear hitch
Dimensions: L9.7 x W3.8 x H4 cm
Weight: 40g
Manufacturer details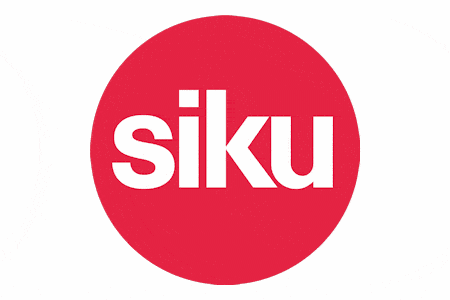 Earlier John Deere tractor releases in the series would have less attention to detail, well not the case with the 2014 release with more focus on intricate detail. Its small so the small replica parts are limited somewhat, but Siku have still managed to fix a working loader. That goes well with the rolling wheels and the option to use a trailer or implement later.
Guide to Siku John Deere Tractor with Bale Grabber
Replica small John Deere tractor with the focus this time on a functional front loader; tractor has an imitation counter-weight, rear tow hitch and free rolling wheels.
Small John Deere Tractor
No doubt this is a John Deere tractor simply from its shape; with a noticeable square-shaped driver's cab, radiator, counter-weight with the highly recognisable wheel rims.
Largely built from die-cast metal with plastic parts, the cab frame, mud guards and chassis are all made from black plastic, so is the fixed front mount - though the rear tow hitch is made from metal.
Working Front Loader
Despite its small frame, this Siku John Deere tractor can still hold its own with a real working, moving front loader for loading up on trailers or transporting bales off the field.
Unlike the front loaders found on larger models, this one has a simple up/down movement; supported with a hinge fixed to the bonnet and a bale grabber attachment fixed to the other end.
Grabber with Round Bale
What better way to transport large bales of hay around the yard or out of the field with use of this attachment. Simply grip on to the bale and drive the tractor to where you need the bale.
Unfortunately for Siku Super collectors, there's little in the way of fun, interesting accessories to maintain there interest; not the case here as it has a simple round bale that does add play value.
Rear Hitch for Towing
Well all focus is down on the front of the tractor, head to the rear to view the simple rear tow hitch coupling, so easy to use in fact it will connect to any trailer/implement in the range.
In all you could end up controlling the tractor with an outreaching front loader, well they will have to maneuver the tractor with a trailer in tow... so there's endless fun to be had if using a trailer later.
Siku
This item: Siku 1379: John Deere Tractor with Bale Grabber
Age: 3 Years
Scale: 1:72
L9.7 x W3.8 x H4 cm
Weight: 40g
Siku
Age: 3 Years
Scale: 1:72
L9.6 x W3.6 x H46 cm
Weight: 90.7g
Siku
Age: 3 Years
Scale: 1:72
L12.5 x W3.4 x H4 cm
Weight: 49.9g
SHOP BY THEME
SHOP BY
INFORMATION