Collecta 88235: Hereford Cow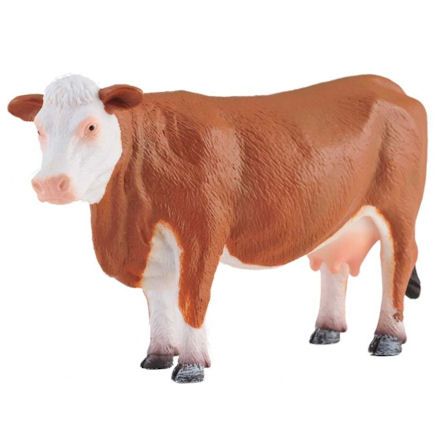 Collecta 88235: Hereford Cow
Standing Hereford cow is finished in dark red with white markings and a pink nose, gray hoofs, long tail and a big bolding udder full of milk for the calf.
Brand:
Collecta
Product description
This Collecta Hereford cow toy will be welcomed to most breeds of cattle but will be better suited to the Hereford bull and calves to create an instant, recognisable family.
Better still, why not mix and match her with all types of breeds for educational value, with the need to find out what an Hereford, bred with others cow breeds are named.
Because she's a cow they are used almost exclusively for dairy so she can produce lots of calves to produce even more cows.
So you may like to add one or two more cows from the exact same figure. The Hereford cow generally has a much smaller figure than the bull with smaller legs.
Features
Item No: 88235
Age: 3 years and up
Presented loose with label attached
Made from durable plastic
Handpainted detail
Includes 1 cow only
Collecta Farm Life range
Dimensions: L12.5 x W3.5 x H6 cm
Weight: 59g
UPC: 4892900882352
Collecta
This Item: Collecta 88235: Hereford Cow
Age: 3 Years
L12.5 x W3.5 x H6 cm
Weight: 59g
Schleich
Age: 3 Years
L13.7 x W6.1 x H8.1 cm
Weight: 159g
Schleich
Age: 3 Years
L12 x W6.1 x H8.8 cm
Weight: 181g
SHOP BY THEME
SHOP BY
INFORMATION