Collecta 88234: Hereford Bull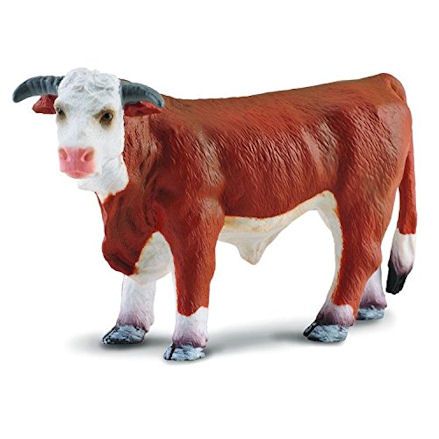 Collecta 88234: Hereford Bull
Collecta Hereford Bull is finished in a deep red with white markings and a pink nose, gray hoofs, long tail and a curved pair of horns.
Brand:
Collecta
Product description
This toy bull is well suited to your Hereford cow and calf to create cattle all from the same breed, - he's posed looking over to his left in a standing position
The Hereford bull is much larger than the female counter-part, with a huge body, enormous legs and face, but can be temperamental due to male dominance.
Hereford cattle originate from the county of Herefordshire, and feature in local companies and publication regularly, but well known as the face of Hereford FC, and the club mascot.
Features
Item No: 88234
Age: 3 years and up
Presented loose with label attached
Made from durable plastic
Includes bull only
Collecta Farm Life range
Dimensions: L13.5 x W5.5 x H7.5 cm
Weight: 159g
Collecta
This Item: Collecta 88234: Hereford Bull
Age: 3 Years
L13.5 x W5.5 x H7.5 cm
Weight: 159g
Schleich
Age: 3 Years
L13.5 x W4.7 x H7.9 cm
Weight: 168g
Schleich
Age: 3 Years
L13.5 x W4.6 x H7.9 cm
Weight: 181g
SHOP BY THEME
SHOP BY
INFORMATION