Collecta 88231: Highland Bull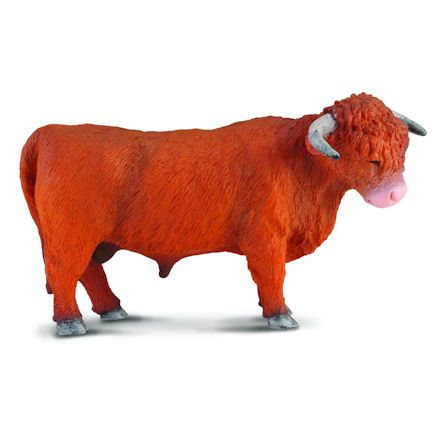 Collecta 88231: Highland Bull
Replica CollectA Highland Bull with a red, long and wavy shaggy coat with curved horns. He's posed looking slightly over to the right in a standing position.
Brand:
Collecta
Product description
This toy bull is made from durable plastic with flexibility to prevent breaking during play.
Welcome your toy Highland bull to the cows for breeding or raise him for meat on the beef farm. You can keep to his heritage by letting him graze on the Highlands and back to the farm for sleeping.
Like most bulls, you'll recognise this one by his bigger and bulky figure, with larger feet and and of course he has no udders like the cows do.
Features
Item No: 88231
Age: 3 years and up
Presented loose with label attached
Made from durable plastic
Includes bull only
Collecta Farm Life range
Dimensions: L13 x W5.5 x H7.5 cm
Weight: 159g
UPC: 4892900884820
Collecta
This Item: Collecta 88231: Highland Bull
Age: 3 Years
L13 x W5.5 x H7.5 cm
Weight: 159g
Schleich
Age: 3 Years
L13.5 x W4.7 x H7.9 cm
Weight: 168g
Schleich
Age: 3 Years
L13.5 x W4.6 x H7.9 cm
Weight: 181g
SHOP BY THEME
SHOP BY
INFORMATION