Collecta 88014: RSPCA Friesian Cow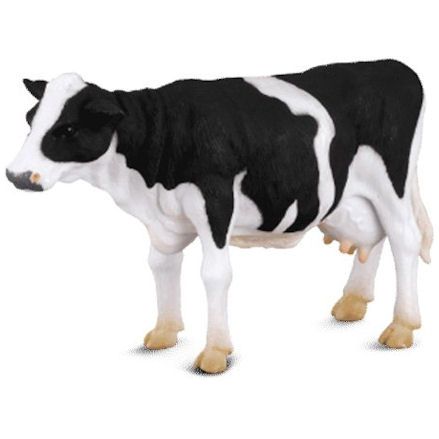 Collecta 88014: RSPCA Friesian Cow
Classic dairy Friesian cow with a classic black and white coat with pink nose and a big udder, she's posed in a standing position, looking ahead.
Brand:
Collecta
Product description
Every Friesian is suited for the dairy farm, and can be housed in the cow shed for calving with daily visits to the milking parlour.
Keep her healthy with a supply of silage during the winter months but in the nice weather she can join all the cows out in the field for grazing.
This Collecta (RSPCA) Friesian cow has high milk production value but can be raised for beef.
Be sure to match this toy cow with the matching bull and calf, or mix and match her with other breeds of cattle, adding educational value.
Features
Item No: 88014
Age: 3 years and up
Presented loose with label attached
Made from durable plastic
Handpainted detail
RSPCA Edition
Includes 1 cow only
Collecta Farm Life range
Dimensions: L12 x W3.5 x H7.5 cm
Weight: 99.8g
UPC: 4892900880143
Collecta
This Item: Collecta 88014: Friesian Cow
Age: 3 Years
L12 x W3.5 x H7.5 cm
Weight: 99.8g
Schleich
Age: 3 Years
L14.2 x W5.1 x H8.1 cm
Weight: 181g
Papo
Age: 3 Years
L11 x W4.6 x H7.6 cm
Weight: 159g
SHOP BY THEME
SHOP BY
INFORMATION