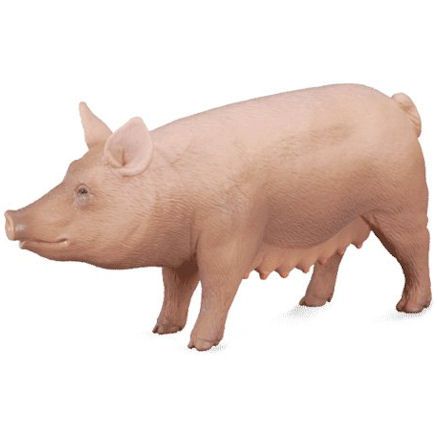 Collecta 88006: Sow
Collecta Sow is finished in a classic pink with visible udders and teats, detailed hoofs, face and body, posed looking forward in a standing position.
Brand:
Collecta
Product description
The figure is made from a solid but durable plastic with a little flexibility. A much loved farm animal comes in the shape of this toy pig - living in the sty in damp and muddy conditions - paradise for pigs.
A sow is a female pig, so she'd need to be matched up with a bunch of sows to create a familiar scene well populating the pig sty.
Though don't forget the piglets and perhaps a male pig, known as a boar, to produce offspring with lots of pigs running around.
Stage your pig scene around a pig sty or housing with a muddy field for roaming and feeding on veg.
Features
Item No: 88006
Age: 3 years and up
Presented loose with label attached
Made from durable plastic
Includes 1 pig only
Collecta Farm Life range
Dimensions: L7 x W3 x H5 cm
Weight: 77.1g
UPC: 4892900880068
Collecta
This Item: Collecta 88006: Sow
Age: 3 Years
L7 x W3 x H5 cm
Weight: 77.1g
Collecta
Age: 3 Years
L7 x W4 x H4 cm
Weight: 68g
Safari Ltd
Age: 3 Years
L7 x W4 x H5.5 cm
Weight: 58g
SHOP BY THEME
SHOP BY
INFORMATION