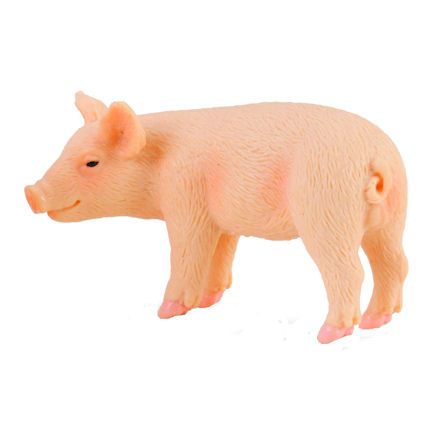 Collecta 33880: Piglet
Sweet Collecta piglet is finished in a shade of pink with darker markings - posed in a standing position and looking slightly over to his left with big pointy ears.
Brand:
Collecta
Product description
This Collecta piglet toy is need of a home so be sure to match him up with a sow and boar to create a realistic pig sty scene.
But he'll be just as happy meeting young friends around the farm, and If you've got a sty handy he will be most welcome.
Be sure to keep the area wet and muddy because it's just what he likes and the adult pigs need a place to cool down in the hot and humid conditions.
Features
Item No: 33880
Age: 3 years and up
Presented loose with label attached
Made from durable plastic
Includes 1 piglet only
Collecta Farm Life range
Dimensions: L5 x W2 x H3 cm
Weight: 18.1g
UPC: 4892900880631
Collecta
This Item: Collecta 33880: Piglet
Age: 3 Years
L5 x W2 x H3 cm
Weight: 18.1g
Schleich
Age: 3 Years
L5.5 x W2 x H3 cm
Weight: 18.1g
Schleich
Age: 3 Years
L5.5 x W2.5 x H3.5 cm
Weight: 13.6g
SHOP BY THEME
SHOP BY
INFORMATION