Bruder 03180: Steyr 6300 Terrus CVT Tractor, 1:16 Scale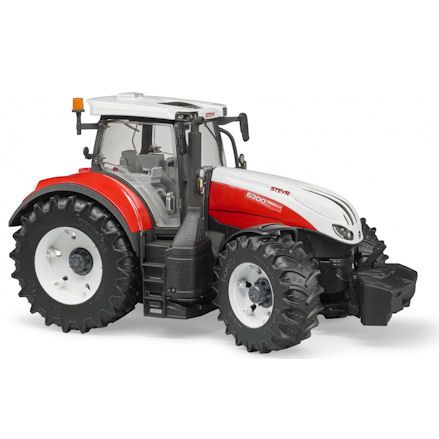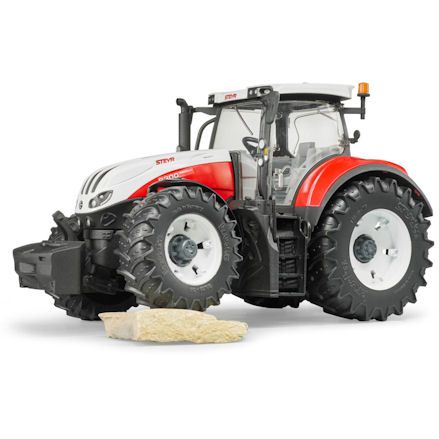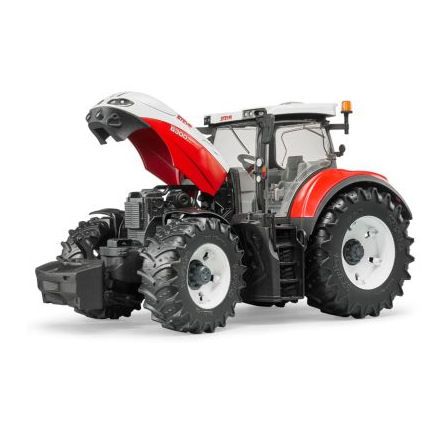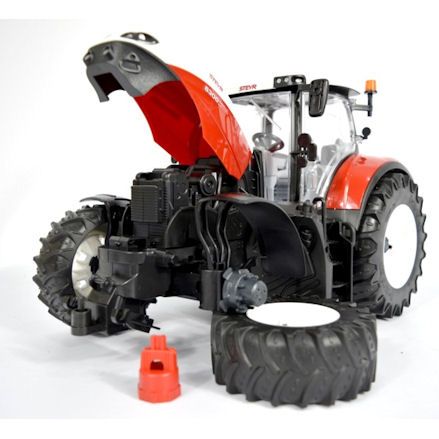 Bruder 03180: Steyr 6300 Terrus CVT Tractor, 1:16 Scale
You can't go with a Bruder Steyr tractor over similar models; features steering, front mount with height-adjustable tow hitch, opening cab doors and bonnet.
Brand:
Bruder
Product description
Tough, made from durable plastic Bruder tractor that can be used indoors and out, it is fade resistant with rubberised tyres and deep tread detail for rolling over all terrain.
After a tough days farming its time for maintenance work under the opening bonnet to access the engine, and as the wheels can be removed, be sure to give them a wash.
Opening the bonnet and accessing the driver's cab by opening the doors with handles on, its made more realistic with use of a Bruder figure, also in 1:16 scale.
Well using the extended steering rod to maneuver the tractor over flat, smooth ground, it becomes a little more challenging - but still fun mind you - over rough, muddy ground or grass.
No front loader with attachment on this model, but the option is there for later with slots to fix the loader in. There's also an height-adjustable tow hitch to haul all implements and trailers in the series.
With a counter-weight attached at this time, the front coupling can take front mountable implements.
Features
Item No: 03180
Scale: 1:16
Age: 4 years and up
Presented in open display box
Made from durable plastic
Removable, steerable wheels
Front mount, tow hitch
Open cab doors/bonnet
Bruder Agriculture range
Dimensions: L34.5 x W18 x H20.5 cm
Weight: 898g
Manufacturer details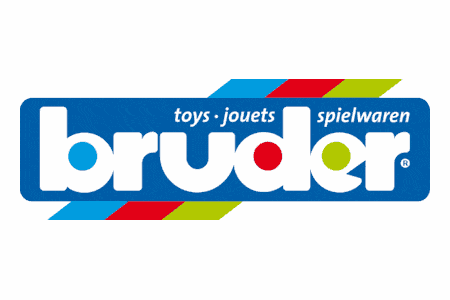 Bruder have made this a fully equipped standalone Steyr tractor model due to the lack of front loader or trailer. But what it lacks in accessories it makes up in functionality; steerable wheels, opening cab and bonnet, etc. - so it has a lot of playability. As a Bruder model an upgrade could happen later with a rear tow hitch, front mount or even slots to fix a front loader.
Guide to Bruder Steyr 6300 Terrus CVT Tractor
Rundown on all the fine detail to the functional steerable, removable wheels, front mount with height-adjustable tow hitch, opening cab doors and bonnet.
Steyr 6300 Terrus CVT Tractor
Instantly recognised as a Steyr tractor due to its red and white colour theme, along with its bright white tyre rims and black trim.
Where the cab lights, orange hazard lights, headlights, side mirrors and exhaust is located, its true replica and positioned as it would be on the real life model.
Steerable Wheels
Standalone models result in play getting back to basics, with the steerable wheels getting used the most; use the steering rod, control manually by hand or use the steering wheel inside the cab.
The steering rod on this tractor is tucked away on the chassis beneath it, along the the screw nut to undo the wheels. All you need to do is thread it through the cab roof hatch and connect the steering.
Rear Tow Hitch
Not in use at this time but this functional height-adjustable rear tow hitch is sitting there waiting to be used later on, and is compatible with the entire Bruder trailer and implement series.
Often pulling trailers and implements become heavier and harder to tow once they have a full load, but as the tow hitch is made from a tough, durable plastic, it can withstand the extra weight.
Front Mount
Extended play happens through little things like this front mount, and well there's no implement attached at this time - may be an upgrade later - its currently occupied with a counter-weight.
This is only an imitation counter-weight mind you, so well its vital in real life, this standalone Bruder Steyr tractor is perfectly balanced with or without the weight.
Open Cab Doors
No longer do we have to admire the intricate detail inside the driver's cab by looking through the windows, now we can open both cab doors to access the interior.
Its vital in two ways why we need to access the driver's cab; first we can actually control the front-axle with use of the steering wheel; and we can now sit a Bruder figure on the seat.
Bonnet Opens
Like all standard bonnets this one opens up to reveal the engine block, benefits to this features extends to playing mechanic.
As the bonnet is lifted it takes up the headlight detail with it, well the engine detail allows for them to get to work by making repairs or general maintenance.
Bruder
This item: Bruder 03180: Steyr 6300 Terrus CVT Tractor, 1:16 Scale
Age: 4 Years
Scale: 1:16
L34.5 x W18 x H20.5 cm
Weight: 898g
Bruder
Age: 4 Years
Scale: 1:16
L29 x W16.5 x H18 cm
Weight: 739g
Bruder
Age: 4 Years
Scale: 1:16
L44.5 x W18 x H20.5 cm
Weight: 1900g
SHOP BY THEME
SHOP BY
INFORMATION