Bruder 02080: Steyr CVT 170 Tractor, 1:16 Scale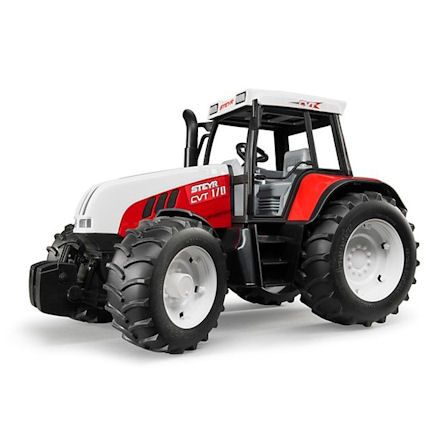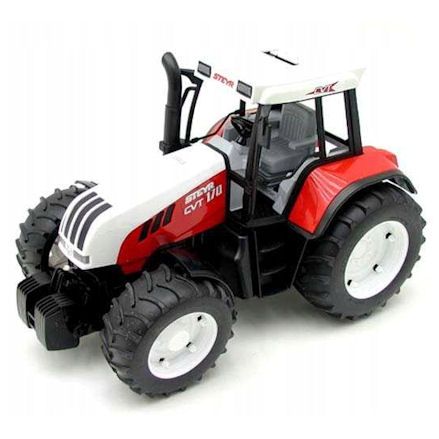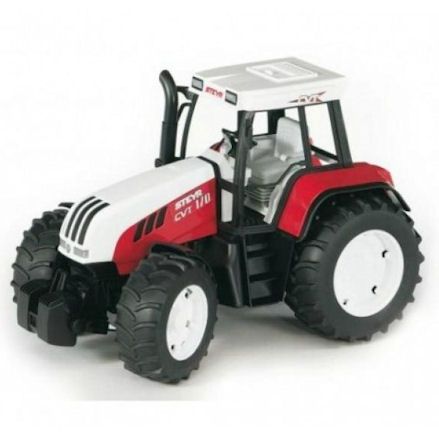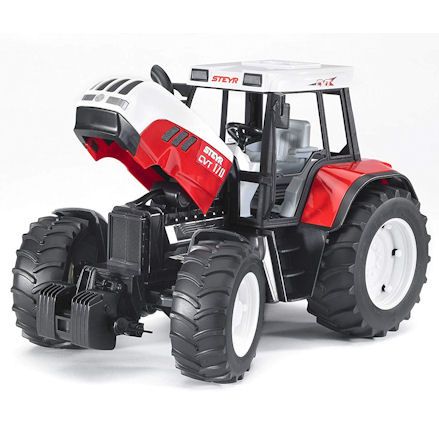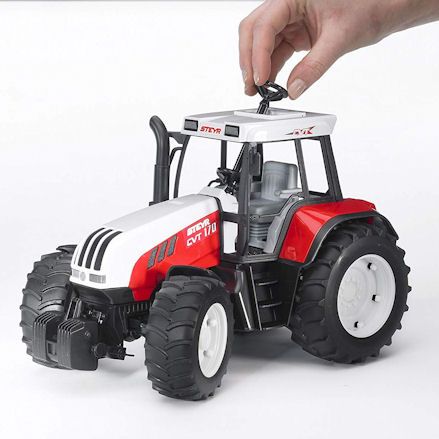 Bruder 02080: Steyr CVT 170 Tractor, 1:16 Scale
Durable Bruder Steyr CVT tractor in 1:16 scale; features steerable wheels with steering rod, rear tow hitch and front mount with a slot to add a front loader.
Brand:
Bruder
Product description
Bruder model that represents early releases with limited, intricate design, instead focusing on the durability, toughness and the option to play outdoors with no fading in the sunlight.
This Bruder 02080 Steyr CVT 170 tractor is tough as they get, all plastic with softer rubberised tyres makes for controlling the model along the ground a smooth operation.
No need to kneel or sit on the ground well using the steering rod; thread it through the cab roof hatch and push along the already big model tractor from a standing position.
On the ground is where they open the bonnet to maintain the engine, or slide in a Bruder figure to the seat - made easy with the windowless driver's cab.
Well there're slots for a loader to be fixed later on, the rear tow hitch is compatible with most of the 1:16 scale series, and well not height-adjustable, the tow hitch is simple, but highly practical.
Sat on the front is a counter-weight which can be removed to put in place a front-mountable implement.
Features
Item No: 02080
Scale: 1:16
Age: 4 years and up
Presented in open display box
Made from durable plastic
Steerable wheels
Rear tow hitch
Detachable counter-weight
Bruder Agriculture range
Dimensions: L29 x W16.5 x H18 cm
Weight: 739g
Manufacturer details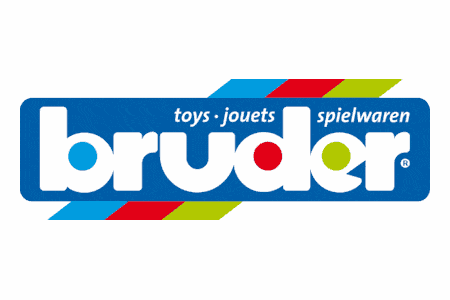 All that is available on this 2002 released Bruder Steyr CVT 170 tractor is still going strong to this day in the range. That's thanks to the toughness that is often not associated with newer models, even though they're. But back then they were made to last, so away with the window detail and sticking out far exterior detail, we have here something more practical.
Guide to Bruder Steyr CVT 170 Tractor
Allow us to explain what this Bruder model has to offer them with our detailed guide; from steerable wheels to a rear tow hitch and front mount.
Steyr CVT 170 Tractor
What you lose in intricate replica detail, is gain through durability and toughness. No windows in cab but still with unrestrictive access, no height-adjustable tow hitch, but still a tough, compatible one.
With limited exterior decor and windows it becomes a tougher Bruder Steyr tractor, and is absolutely suited to outdoor use - as its also fade proof.
Unlimited Cab Access
Often is a can be a turn off going for an earlier Bruder model without windows inserted around the cab, but what you loose in glass effect windows you get in unlimited cab access.
Reaching into the cab happens through all directions, and for good reason too. They can reach in to control the steering wheel, or insert a figure on the driver's seat.
Steering Rod
Earlier released model tractors set the standard in the Bruder extended steering rod, and with older models they're stored away in the back near the rear tow hitch.
Still a standard to day is the opening cab roof hatch to thread it through before connecting with the centre positioned steering wheel.
Removing the Weight
Removing the detailed counter-weight fixed to the front of the model under the headlights can in turn be replaced with a front mountable Bruder implement, with a simple slot-on action.
Bruder counter-weights help balance the tractor with a trailer in tow, but is only for pretend play, as its light and hollow, and really made just for show.
Basic Tow Hitch
Made from tough yet durable plastic is the whole rear tow hitch mechanism, but most importantly the main hook that connects the trailer tow bar.
Its this hook that takes the most heat, well towing heavy loads and pulling in every direction - this hitch can take - and for the most part its compatible with all implements.
NO Accessories Included
Standalone model with no trailer, front loader or accessories of any sort included. But what you miss initially can be added later with what you need, not what you're forced to have.
Take the rear tow hitch, simply pick a trailer or implement that suites there farming needs, well a front loader can be attached by inserting it into the slots behind the front-axle.
Bruder
This item: Bruder 02080: Steyr CVT 170 Tractor, 1:16 Scale
Age: 4 Years
Scale: 1:16
L29 x W16.5 x H18 cm
Weight: 739g
Bruder
Age: 4 Years
Scale: 1:16
L34.5 x W18 x H20.5 cm
Weight: 898g
Bruder
Age: 4 Years
Scale: 1:16
L44.5 x W18 x H20.5 cm
Weight: 1900g
SHOP BY THEME
SHOP BY
INFORMATION