Bruder 03099: Case IH Puma CVX 230 Tractor with Kampe Kipper, 1:16 Scale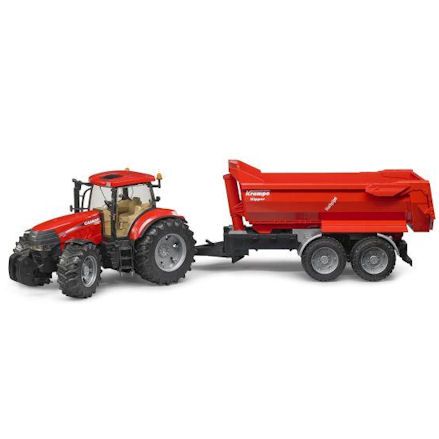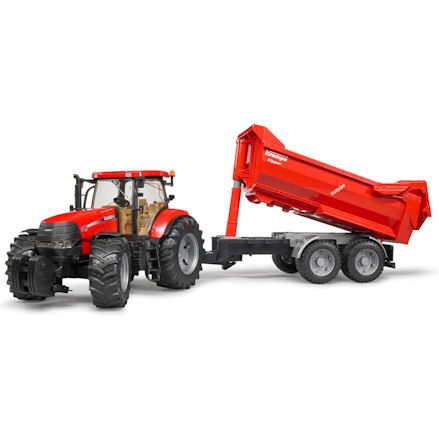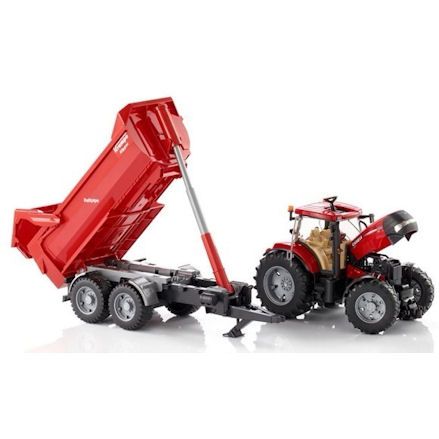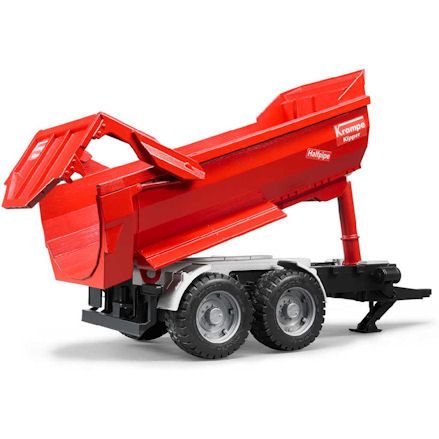 Bruder 03099: Case IH Puma CVX 230 Tractor with Kampe Kipper, 1:16 Scale
Highly playable Bruder tractor-trailer combo with a multifunctional, steerable Case IH tractor along with a Krampe tandem-axle halfpipe tipping trailer.
Brand:
Bruder
Product description
All that you need from the Bruder tractor series is this big, strong tractor-trailer combination, so all they need later is perhaps a front loader along with accessories.
Getting the most out of the Bruder Krampe tipping trailer would require hauling stones, gravel, sand or even LEGO bricks - which can be emptied thanks to a manually opening rear tailgate.
Single telescopic arm extends when the trailer is tipped up, before folding back in itself when the trailer is brought back into its resting position.
This all happens on a tandem-axle with free rolling wheels with tread detail on rubberised tyres.
Well the trailer is not in use it will sit on a folding stabilising support arm, and once connected to the Bruder 03099 Case IH Puma tractors' height-adjustable tow hitch, the stabiliser can be folded up.
Least we forget this model tractor has a few hidden gems; a detachable counter-weight can be replaced with a front mountable implement, well the wheels can be removed.
Opening hinged cab doors to insert a Bruder figure or control wheels using the steering wheel inside the cab, or open the bonnet to maintain the engine.
Features
Item No: 03099
Scale: 1:16
Age: 4 years and up
Presented in open display box
Made from durable plastic
Steerable wheels
Rear tow hitch, front mount
Opening cab, bonnet
Tipping trailer with opening tailgate
Bruder Agriculture range
Dimensions: L87 x W18.8 x H21.5 cm
Weight: 930g
Manufacturer details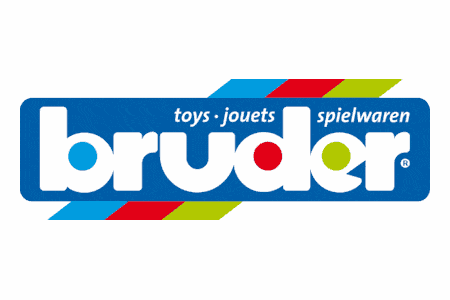 Not often Bruder release a tractor-trailer combo that matches perfectly, so they've cracked it this time with the red Case IH Puma series tractor with the functional Krampe Kipper tipping trailer, all in 1:16 scale of course. Purchased as standalone models it would cost more, but when bought together there is a little saving to be hand - just as Bruder intended.
Guide to Bruder Case IH Puma CVX 230 Tractor with Krampe Kipper
Read our guide to this Bruder Case tractor-trailer combo with functionality in the tractor and the tipping up action from the trailer - along with an opening tailgate.
Case IH Puma CVX 230 Tractor
Big, chunky Bruder IH Case Puma tractor in 1:16 scale has enough functionality to tie them over with hours of tractor play on the farm, with replica interior and exterior detail to impress.
Finished in a bright red with grey rims makes this a Case model - along with Case IH insignia along the bonnet, with all side mirrors, cab lights, hazard lights and steps leading to the cab accurately portrayed.
Bruder (02225) KRAMPE Halfpipe Trailer
Mulit-purpose big, also chunky red Bruder 02225 Krampe halfpipe tipping trailer in 1:16 scale, it has a tipping up action at multiple stops, with a manually opening rear tailgate to offload.
The tipping up action functions with a hinge on the rear end, well raising the trailer the telescopic arm beneath the trailer will increase in length, before folding back in itself as it levels out.
Adjust the Hitch
Well the Krampe Kipper trailer is not in use well resting on its folding stabiliser leg, take this opportunity to lower the height-adjustable hitch, then maneuver the tractor's hitch beneath the tow bar.
Once you've found the position, get out of the tractor, raise the adjustable tow hitch through the tow bar hoop to lift it off its stabilising leg, then clip on tight before towing away - all this can be achieved hands free.
Steering the Tractor
Steering the big Bruder Case IH Puma tractor as a standalone model makes for a lot of fun, but with a big - sometimes fully loaded - trailer to tow it can make it challenging.
You see moving in straight lines or taking wide corners is a breeze, but maneuvering those bends at a tighter radius will become more difficult with a trailer - but rest assured its a skill requiring practice.
Opening Bonnet
Towing big, heavy loads in the Krampe tipping trailer puts a strain on the tractor, so they will need to access the engine block via the opening bonnet.
Detailed engine makes for a lot of fun playing mechanic; fiddling around doing repairs and maintenance in the garage extends play on the ground - not just driving the tractor or towing the tipping trailer.
Driver in the Cab
Hand it over to your Bruder figure to maneuver this tractor-trailer combo around the yard or on the road, with him or her sitting on the seat in the cab.
Realistic role play is often centred around the cab with opening doors on hinges, along with big door handles to grab onto - plus steps that lead up to the cab the figure will need to climb up.
Bruder
This item: Bruder 03099: Case IH Puma CVX 230 Tractor with Kampe Kipper, 1:16 Scale
Age: 4 Years
Scale: 1:16
L67 x W18.8 x H21.5 cm
Weight: 930g
Bruder
Age: 4 Years
Scale: 1:16
L67.5 x W18 x H20.5 cm
Weight: 2400g
Bruder
Age: 4 Years
Scale: 1:16
L67x W18 x H23 cm
Weight: 907g
SHOP BY THEME
SHOP BY
INFORMATION