Bruder 03091: Steyr CVT 6230 Tractor with Front Loader, 1:16 Scale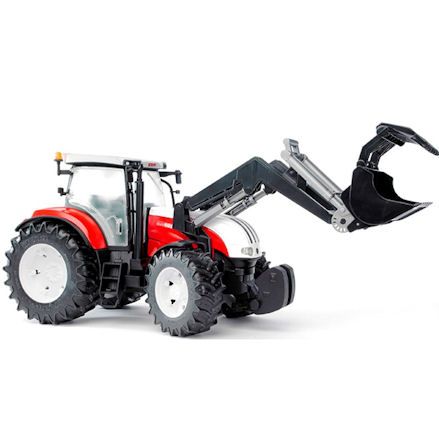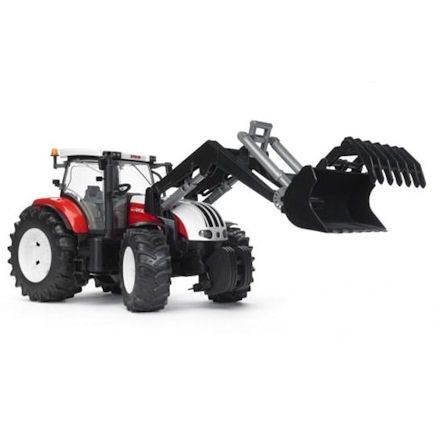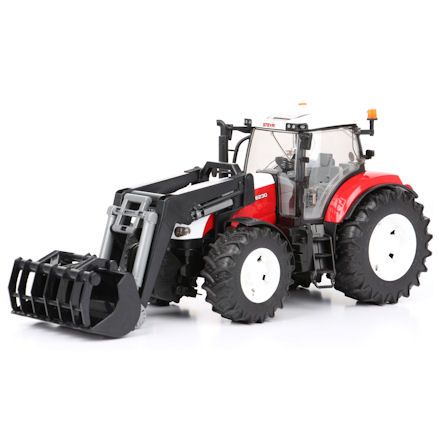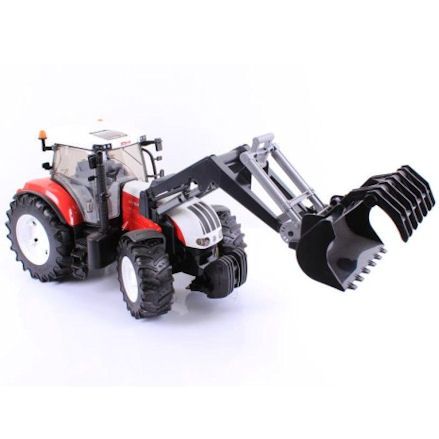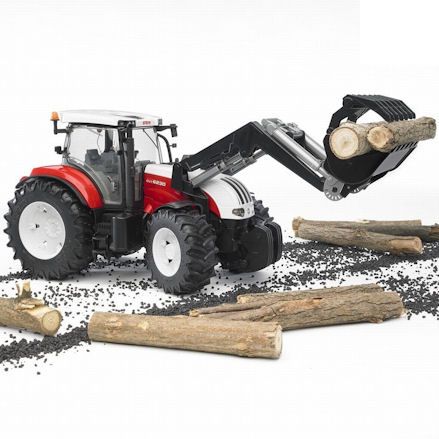 Bruder 03091: Steyr CVT 6230 Tractor with Front Loader, 1:16 Scale
Possible to use as farm or forestry tractor, this Bruder Steyr model has a functional front loader with a front mount, tow hitch, opening bonnet and cab doors.
Brand:
Bruder
Product description
Who would of thought you could get more out of a Bruder tractor than just farming use, well with this one they can do light forestry work with use of the front loader with grabber attachment.
Well it can grab hold and load up trunks in the wood, it can also pick up big round bales on the farm; twigs, sticks, small logs/trunks and hay make safe items to play with.
The front loader can go up and down with the pivoting action of the attachment making for easy scooping up and offloading.
Well sticking with the forestry theme, the Bruder forestry trailer would be a welcome sight, but so would a farm trailer if you wish to stay on the farm theme.
Height-adjustable rear tow hitch will make it possible to connect the entire Bruder trailer series, with a front mountable implement connecting to the front coupling.
Steerable wheels makes for driving around the garden easier with all that space to maneuver, well in the house will result in multiple, smaller turns using a forwards, reversing movement - a skill they will learn in due course regardless.
Features
Item No: 03091
Scale: 1:16
Age: 4 years and up
Presented in open display box
Made from durable plastic
Functional front loader
Grabber attachment
Opening bonnet, cab doors
Front mount, tow hitch
Active steering wheels
Bruder Agriculture range
Dimensions: L38 x W19 x H21.5 cm
Weight: 1390g
Manufacturer details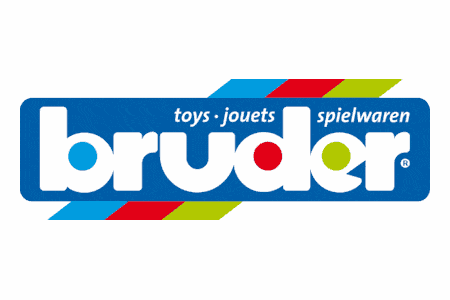 Released in 2011, this Bruder Steyr tractor offers the best of both worlds, with or out the front loader attached. Without the loader its a fully fledged farm tractor for towing implements, with the front loader its possible to do a little forestry work, as well has lifting bales when on the farm. Don't go heavy with forestry mind you, Bruder forestry tractors are for that.
Guide to Bruder Steyr CVT 6230 Tractor with Front Loader
Farm tractor to forestry vehicle in an instant, remove the loader to work on the farm, well the front loader attachment can be used for both forestry or farming, as our guide will explain in detail.
Steyr CVT 6230 Farm Tractor
Standalone Bruder Steyr tractor without use of the functional front loader makes for a lot of farm action all by itself - around the garden in the soil to inside the house around the dining room.
Design only contributed to that of a Steyr in a red and white finish, well the exterior decor is replicated off the real life model, of which they're
positioned in the correct spots.
Original exterior decor includes folding wing mirrors, exhaust, steps and multiple imitation lights.
Bruder Forestry Tractor with Loader
This front loader option will turn this Bruder Steyr CVT tractor from an heavy-duty model farm tractor, to a working Bruder forestry tractor - and why might this be we hear you ask?
Simply put the choice of front loader is suited to grabbing hold and dumping large, heavy - imitation or real, but smaller - tree trunks/logs or thick branches.
Sure they can always use the bucket part to scoop and dump, but things like twigs, sticks and hay can be held on using the grabber function.
Steerable Wheels
Sitting on a single-axle is the front wheels, which in turn can be steered three ways.
Most notably the extended steering rod function helps get the most out of your driving as they master the turn radius well maneuvering corners. Simply thread it through the cab roof hatch to connect with steering wheel.
The easiest and less hassle way to control the front-axle - only when they are low to the ground or sitting - is steering the wheels manually by hand. And well they're on the ground they can reach through the opening cab door to control the steering wheel.
Tow Hitch/Front Mount
Clip-on functional rear tow hitch is compatible with all Bruder trailers and implements in the series, which is further demonstrated with an height-adjustable tow hitch making it so.
Fixed to the front mount is an imitation counter-weight that helps balance the tractor with a trailer in tow, well here the weight can be removed to fix on a front mountable implement in its place.
Keep the counter-weight n place well the loader is in use, it will never get in the way during play.
Opening Driver's Cab Doors
Fully glazed driver's cab makes for viewing the interior easy, but easier still by actually opening and closing the cab doors that are fixed to hinges with the help of door handles to grab onto.
Interior detail is made in a solid grey plastic, but still the seat, computer and controls are visible, along the a functional steering wheels.
Well using a Bruder figure to climb the steps to access the cab, the figure can be secured to the seat.
Open/Closing Bonnet
Opening and closing action of a large bonnet makes accessing the engine detail a breeze, but what to do once you've gained access to the engine block?
With help of Bruder figure, promote him or her from farmer, tractor driver to mechanic to make repairs on the engine and general maintenance work well fiddling around with the engine.
Opening the bonnet should stay open on its own, well closing it should keep it shut at all times.
Bruder
This item: Bruder 03091: Steyr CVT 6230 Tractor with Front Loader
Age: 4 Years
Scale: 1:16
L38 x W19 x H21.5 cm
Weight: 1390g
Bruder
Age: 4 Years
Scale: 1:16
L38 x W16.5 x H18 cm
Weight: 962g
Bruder
Age: 4 Years
Scale: 1:16
L44.5 x W18 x H20.5 cm
Weight: 1900g
SHOP BY THEME
SHOP BY
INFORMATION