Bruder 02082: Steyr CVT 170 Tractor with Front Loader, 1:16 Scale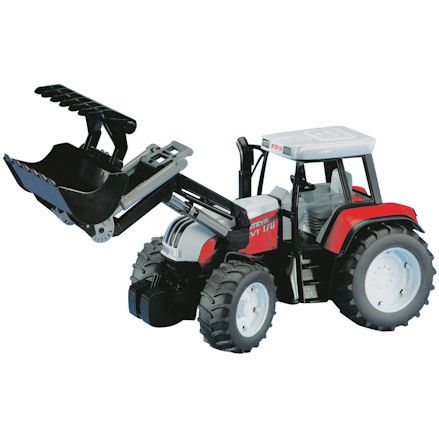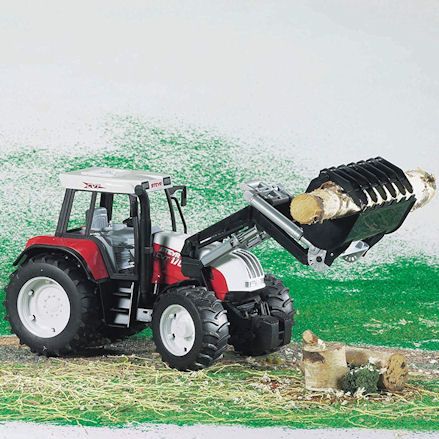 Bruder 02082: Steyr CVT 170 Tractor with Front Loader, 1:16 Scale
Keep it outside Bruder Steyr tractor in all conditions with no issues; functional front loader with steerable wheels, rear tow hitch and counter-weight.
Brand:
Bruder
Product description
When we say keep it outdoors we in fact mean this Bruder Steyr tractor - well an older one - can tough it out in all conditions with little to no fading.
Though we still encourage the occasional wash to keep it clean and remove build up around the axles.
Nevertheless, this is a solid Bruder 02082 Steyr CVT 170 tractor in 1:16 scale, made from a durable plastic that allows rough play without breaking; with wing mirrors, exhaust, imitation lights and steps.
Now the steering rod is stored on the rear with the hitch on this model, so pull that out and thread it through the cab roof hatch to connect with the steering wheel. And bare in mind you can steer with just the steering wheel or by pushing the wheels manaully left/right.
The rear tow hitch is a static design, but still compatible with most of the Bruder implements or trailers.
Stand out feature we haven't mentioned yet it the front loader with attachment. And as the loader can be positioned at various heights due to stopping points (with a sort of stuttering movement), the grabber attachment has a tipping action and is detachable.
Features
Item No: 02082
Scale: 1:16
Age: 4 years and up
Presented in open display box
Made from durable plastic
Fully functional front loader
3 ways to steer the wheel
Tow hitch with counter-weight
Bruder Agriculture range
Dimensions: L38 x W16.5 x H18 cm
Weight: 962g
Manufacturer details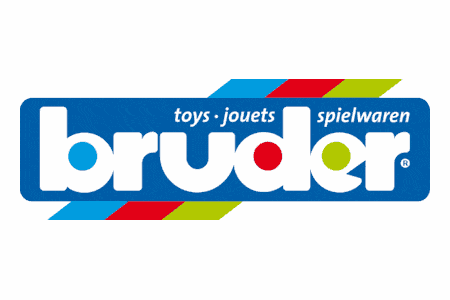 We're not sure for certain, but we think with Steyr tractors in the series, we can say Bruder probably have made at least one tractor in 1:16 scale from all major manufacturers. This 2002 release was and still only a basic design mind you, but its built to last out in all weathers and conditions. Missing on this one are windows with no height-adjustable rear tow hitch.
Guide to Bruder Steyr CVT 170 Tractor with Front Loader
Not a go-to manufacturer by all means but Steyr sure can build them well, as Bruder have perfectly demonstrated with this multi-purpose tractor with front loader, as explained in our guide.
Steyr CVT 170 Tractor
What makes this a Steyr tractor is the replicated square driver's cab, the squared off rear large mud guards and the shape of the bonnet with unique radiator design - only found on a Steyr tractor.
Finished equally in red with white, the tyre rims are also white well the interior detail is grey. And all the trim, including the engine detail under bonnet is black - there's side mirrors, steps, lights and exhaust.
Loader with Grabber
Present in all current Bruder tractors is the slot positioned between the front-axle and bonnet to connect the front loader to the tractor in a secure way.
Now the loader on this Steyr tractor can be used more aggressively without fear of it being pulled off during play.
On the end of the up/down function of the loader is a tipping grabber attachment, which is controlled manually with help of the grey lever if they wish.
Open Driver's Cab
Well a number of Bruder tractors have windows in the early days, all older Steyr models do not, and that's for good reason. Without windows the tractor becomes tough, even more suitable for outdoor play in the garden or even in the sandbox.
All current Bruder Steyr tractors have windows on the cab, but in the case of this one it brings it own advantages. With unrestrictive access allowing for control of the centre positioned steering wheel well using the other hand to help thread the rod through.
Steer the Rolling Wheels
Challenging times controlling a large, chunky Bruder Steyr tractor, but made even more difficult when there's a front loaded attached. Its a skill they will develop over time to offload and pickup using the grabber with perfect precision in due course.
Its possible to steer the wheels on the front-axle three ways; use the steering rod tucked near the tow hitch and insert through the cab roof to reach the steering wheel, or just use the steering wheel or simply turn the wheels left/right manually.
Detachable Weight
Fixed to the tractor is a front mount which is currently occupied by an imitation counter-weight, and a feature needed all the same well it can encourage role play.
Lifting off the counter-weight with a sliding action is a doddle, well replacing it with a Bruder implement is just as simple. And rest assured, the weight can stay in place as the front loader comes to sit on either side of the counter-weight.
Towing Implements
We have a front loader with this model but no trailer to tow, so for now the static rear tow hitch just sits there waiting for an implement or trailer to haul.
But what does sit close by is the steering rod in its own compartment. An all plastic coupling unit so should make for a strong hitch without worrying of ever breaking it.
Bruder
This item: Bruder 02082: Steyr CVT 170 Tractor with Front Loader
Age: 4 Years
Scale: 1:16
L38 x W16.5 x H18 cm
Weight: 962g
Bruder
Age: 4 Years
Scale: 1:16
L38 x W19 x H21.5 cm
Weight: 1390g
Bruder
Age: 4 Years
Scale: 1:16
L44.5 x W18 x H20.5 cm
Weight: 1900g
SHOP BY THEME
SHOP BY
INFORMATION