Bruder 03055: John Deere 7930 Tractor with Front Loader & Tipping Trailer, 1:16 Scale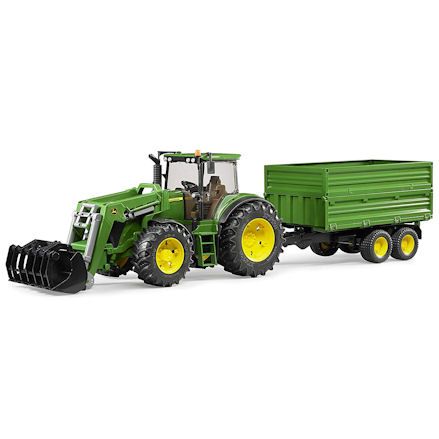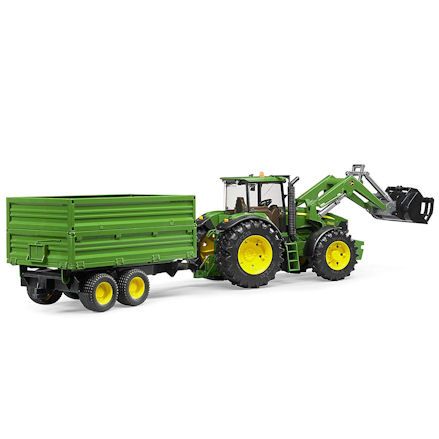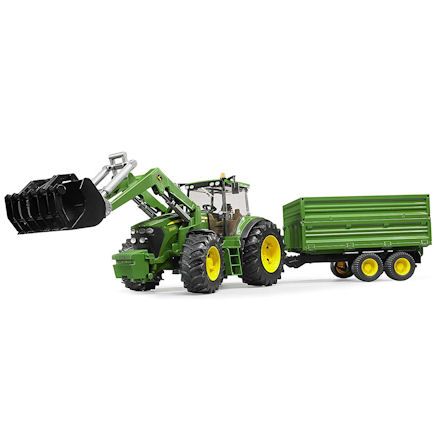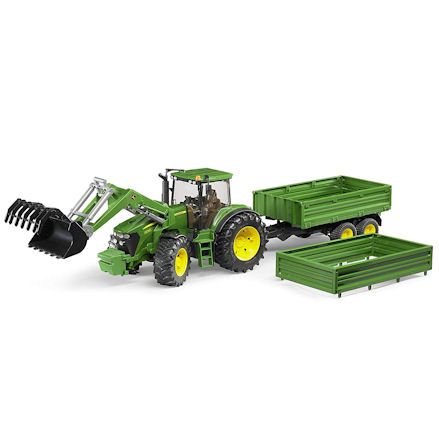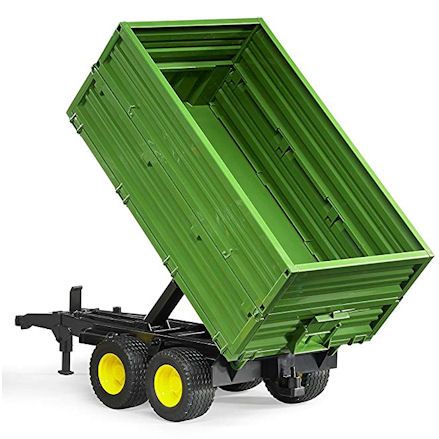 Bruder 03055: John Deere 7930 Tractor with Front Loader & Tipping Trailer, 1:16 Scale
All that you need in one with this complete Bruder John Deere tractor set, boosting a large scale tractor with tipping trailer and a functional front loader.
Brand:
Bruder
Product description
With all this equipment included its hard to remember you still get a large John Deere toy tractor with functional steering, opening bonnet, open cab doors with a rear tow hitch and front mount.
Currently occupying the rear tow hitch is this matching green with yellow tyre rims tandem-axle tipping trailer with extending panels - remove extension to fold up and down lower panel section.
Secured to the slots between the bonnet and front-axle is the detachable front loader with an up and down movement, along with a pivoting bucket and grabber attachment.
It takes practice steering all this in the garden, or with less room around the house, but its makes for fun times along the way - trailer and front loader can be removed if space is an issue.
Steering is possible by hand, manually controlling the wheels left or right or reach through the opening cab doors to control the steering wheel.
Though they will want to steer with use of the steering rod that reaches through the cab roof hatch, to grab onto the steering wheel well going forwards or reversing.
Attached to the front of the Bruder 03055 John Deere 7930 tractor is a detachable counter-weight, and once removed a front mountable implement can replace it.
Features
Item No: 03055
Scale: 1:16
Age: 4 years and up
Presented in open display box
Made from durable plastic
Functional front loader
Tipping trailer with folding panels
Rear tow hitch, front mount
Opening cab doors, bonnet
Steerable wheels
Bruder Agriculture range
Dimensions: L75 x W19 x H22 cm
Weight: 1440g
Manufacturer details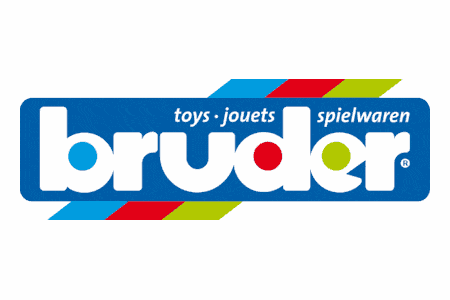 Large Bruder John Deere 7930 series tractor is available within the series in many forms; as a standalone model; with a loader; or with a trailer. Now Bruder have extended the options further with a complete tractor, front loader and trailer set. Advantages to this option is savings; bought together it comes at a discount, well bought separately it cost more.
Guide to Bruder John Deere 7930 Tractor with Front Loader
Big John Deere tractor set includes front loader and trailer, so well the loader slot and rear tow hitch is in use, let's not forget there's steering, opening cab doors, bonnet and front mount.
John Deere 7930 Tractor
Large series Bruder John Deere 7930 tractor in 1:16 scale, with the green body finish and yellow tyre rims that really make it a JD tractor - along with the John Deere insignia across the bonnet.
Where you see the exhaust, wing mirrors, steps and imitation lights are all replicated from the real life tractor, and all in the correct spot too.
Tandem-Axle Tipping Trailer
Multifunctional Bruder tandem-axle tipping trailer has two sections, the bottom half has three folding panels, well extending the trailer height with use of the top level panels.
Tipping up action is supported on a single telescopic bar that folds up within itself when the trailer is down, well extending when tipping the trailer upwards.
Front Loader
Makes for challenging yet fun times well maneuvering around the farm with the front loader attached, so if that becomes to difficult, the loader can be removed via the slots behind the front-axle.
Well attached it becomes a lot of fun, with an hinged section over the bonnet making that up and down movement, well simultaneously using the pivoting bucket to scoop and offload.
Grabber Attachment
When the Bruder John Deere tractor is not busy working on the farm, it can make real use of the grabber attachment by heading into the woods to bring back tree logs, well turning to forestry.
Well it can move up and down with the loader, the bucket and grabber attachment has a tipping action, with the bucket scooping and the grabber holding on tight to loads.
Steering the BIG Load
Steering well using the extended steering rod that threads through cab roof hatch it the best option; not only does it make for a smoother operation, but they can push the tractor along well walking.
Long Bruder John Deere tractor set with loader attached and trailer in tow, so practice will be needed to master the manoeuvrability with all that equipment making it more difficult.
Vital Counter-Weight
As there's a big tipping trailer in tow it makes sense to have a counter-weight fixed to the front to help balance the weight - imitation only well it relies on the imagination with creative play.
Removing this counter-weight would unveil the front mount, which can now be used for a front mountable Bruder implement to take it place.
Bruder
This item: Bruder 03055: John Deere 7930 Tractor with Front Loader & Tipping Trailer, 1:16 Scale
Age: 4 Years
Scale: 1:16
L75 x W19 x H22 cm
Weight: 1440g
Bruder
Age: 4 Years
Scale: 1:16
L50 x W19 x H23.5 cm
Weight: 1510g
Bruder
Age: 4 Years
Scale: 1:16
L38.5 x W28.5 x H22 cm
Weight: 1470g
SHOP BY THEME
SHOP BY
INFORMATION