Bruder 03050: John Deere 7930 Tractor, 1:16 Scale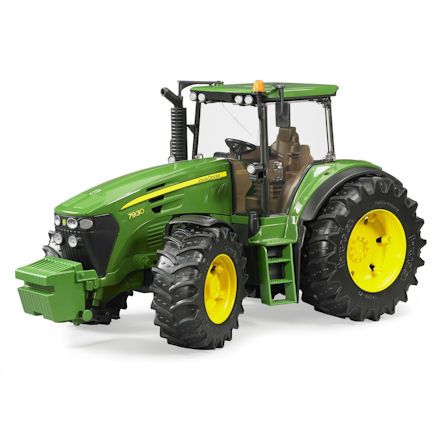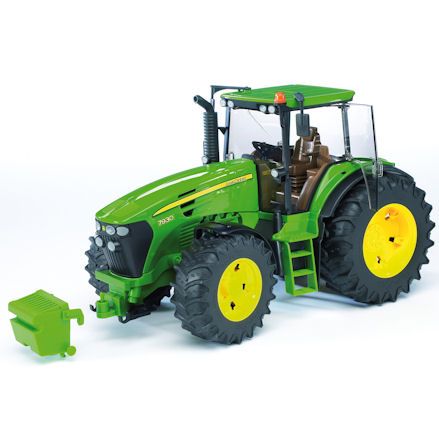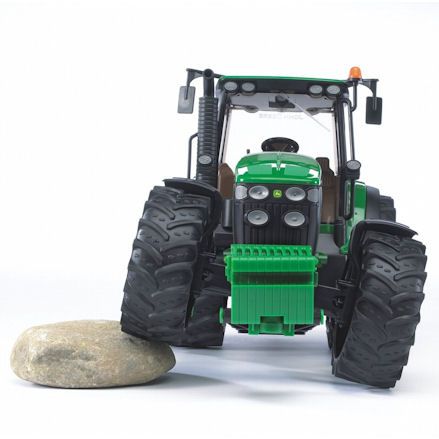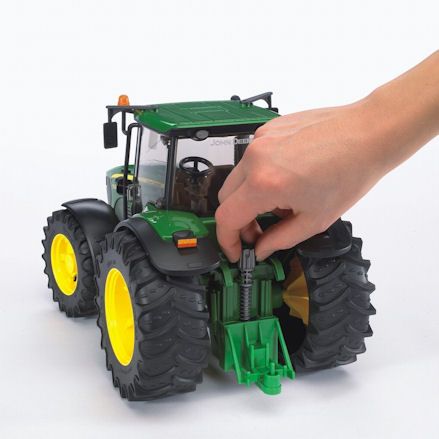 Bruder 03050: John Deere 7930 Tractor, 1:16 Scale
Large, bulky Bruder John Deere with opening cab doors, steering, height adjustable rear tow hitch, detachable counter-weight and opening engine bonnet.
Brand:
Bruder
Product description
Replica Bruder John Deere 7930 tractor in 1:16 scale, made from durable plastic with soft rubberised tyres, original exterior detail and that green with yellow finish only associated with John Deere.
The body is equipped with all exterior detail found on the real life machine, with imitation safety lights - including headlight detail - wing mirrors, exhaust, steps and even an engine radiator.
The driver's cab cannot be removed but is fully accessible through two opening cab doors. Now we can fit a Bruder figure securely on the seat to bring the tractor to life.
Well the driver is in place, they can really take the controls by inserting the steering rod through the cab roof opening, locking the rod into the steering wheel so they can control the front wheels.
No limits to the type of farm trailers or implements that can be towed - it depends on the job. But a useful height adjustable tow hitch will make all implements compatible.
Fitted to the front is a detachable counter-weight so can be used with or without it fixed on. But once removed we can now connect a front compatible implement if we need too.
Well there's also an opening engine bonnet so repairs can be carried out, there's always a connection available for a front loader, well dual wheels can be locked onto the outer wheel rims.
Features
Item No: 03050
Scale: 1:16
Age: 4 years and up
Presented in open display box
Made from durable plastic
Steering wheels using rod
Opening cab doors, bonnet
Height adjustable tow hitch
Detachable counter-weight
Bruder Agriculture range
Dimensions: L38.5 x W19 x H22 cm
Weight: 1110g
Manufacturer details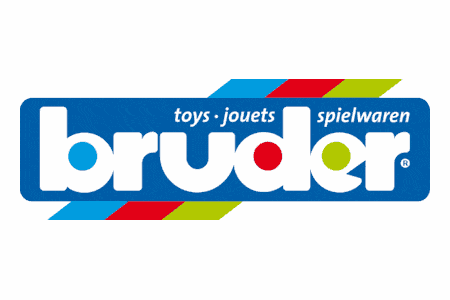 Would you believe it, this model has existed in the Bruder series since 2002. That's right, close to 20 years this model has been in the range, which can only confirm how important its is in the range. Well other John Deere tractors are available, this one has lasted the test of time. Well even today, a driver can be sat in the cab, dual wheels or a loader cab be fitted.
Guide to Bruder John Deere 7930 Tractor
Understand how this Bruder John Deere tractor functions well not missing out on important fun features, as we explain what it has to offer within our guide below.
John Deere 7930 Tractor
Big, chunky green body of the John Deere 7930 tractor, featuring all the original exterior decor you will notice on the real life machine.
Only here we have it in 1:16 scale with all the detail and functionality still an option. Take the driver's cab doors, well both doors open outwards, a Bruder figure can be secured on the seat.
Then we have an opening bonnet, which is idea for imaginative tractor repair and maintenance. We also have an exhaust, steps leading to the cab doors, wing mirrors and imitation lights.
Chassis
The whole body sits on a functional chassis which acts as a bed for the body. The chassis is not a simple frame it is a device that allows the wheels to turn and function.
Take for example, not only are all four wheels attached to the bar, but this part also offers the all important suspension for riding over rough farm terrain.
Well the rear wheels are fixed to a single axle, the front positioned axle allows for the wheels to be turns, which is the all important feature needed on a Bruder tractor.
Rear Tow Hitch Adjustment
Developing the rear tow hitch on the John Deere tractor is not all that different to all other models, with a simple hook style that allows the tow bar of the implement or trailer to hook up with ease.
To allow all types of Bruder farm implements to attach to the rear tow hitch, Bruder have created a multi-functional hitch with height adjustable function.
Simply twist the grey lever that is positioned with the tow hitch and turn clockwise or counter clockwise for the hitch to go up and down, depending on the height you need it at.
Counter-Weight/Front Hitch
We have three options here at the front of this Bruder John Deere tractor, first we can leave the counter-weight at is - leaving it attached to counter the weight of heavy loads in tow.
On the other hand we can simply remove the counter-weight and go without. That way they can play part of the person who is responsible for removing/connecting the counter-weight when needed.
However, better still well removed we now have a front-hitch coupling that can be used to connect front-connecting farm implements.
Sit a Bruder figure
Driving this functional tractor around the house or garden is fun in itself, but without a figure present interactive play out of the tractor and around the farm is limited.
Well thankfully Bruder have a number of poseable figures with moving limbs that play the part well.
Better still, what if one of the those figures can be put in a sitting position and sat behind the wheel of the tractor - well you can do that with anyone of the figures available in 1:16 scale.
Steering with Rod
Forget it, you don't need any advice at all to steer the front wheels; if they prefer they can simply turn the wheels by hand.
Though we highly recommend the use of the Bruder steering rod for controlling the tractor, and once out and set up, there's really no need to put it back away.
To setup the steering rod, access the underside of the tractor and pull out the rod. Then with it back on all four wheels; open the sun roof of the cab, insert rod into steering wheel in cab and off they go.
Dual Wheels Optional
Not available with this model but is available separately when an upgrade is due. Turn to the Bruder (02321) twin tyres with yellow rims - with the yellow matching the John Deere brand.
There's no removing the current wheels to replace them with the dual wheels mind, they are made to fit on the outside of the current wheel setup so there will be eight rolling wheels in total.
The twin tyres can be attached to the outside of the wheels with a bayonet lock; which is basically a clip-on function with no additional screwing or removing of the current setup.
Add a Front Loader
We can get a lot out of this standalone model without dual wheels or now a front loader setup, but the option is there if a more interesting setup is required, without needing to commit to a new tractor.
Bruder have a connection for attaching current or future front loaders tucked in behind the front wheels, all they have to do it connect the loader and it will be functional with no other work needed.
As this Bruder John Deere 7930 tractor has a counter-weight attached, the front loader will work without needing to remove the counter-weight first - so keep it attached well using the loader.
Bruder
This item: Bruder 03050: John Deere 7930 Tractor, 1:16 Scale
Age: 4 Years
Scale: 1:16
L38.5 x W19 x H22 cm
Weight: 1110g
Bruder
Age: 4 Years
Scale: 1:16
L38.5 x W28.5 x H22 cm
Weight: 1470g
Bruder
Age: 4 Years
Scale: 1:16
L50 x W21 x H19 cm
Weight: 1370g
SHOP BY THEME
SHOP BY
INFORMATION