Bruder 02040: Massey Ferguson 7480 Tractor, 1:16 Scale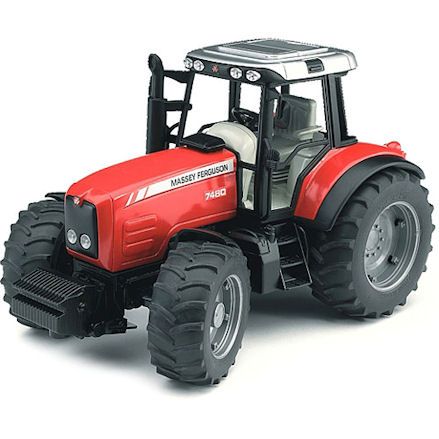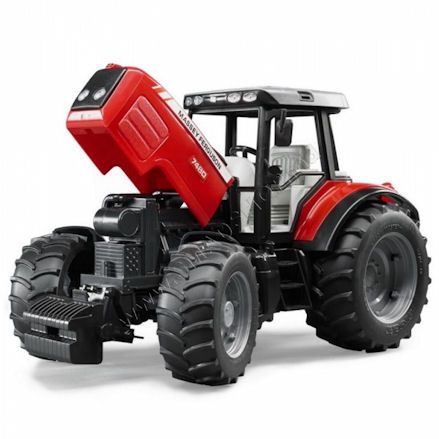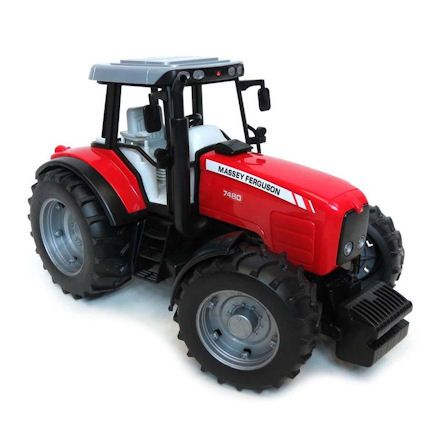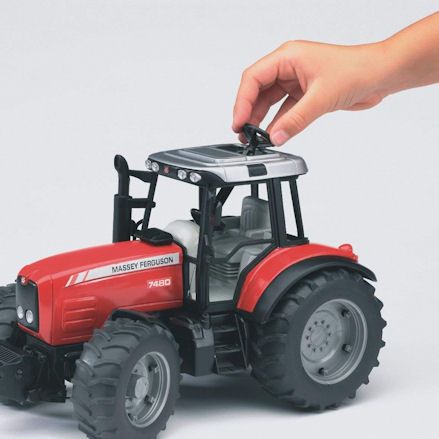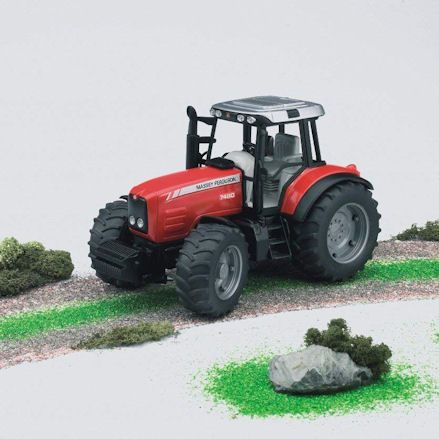 Bruder 02040: Massey Ferguson 7480 Tractor, 1:16 Scale
All setup to tow any Bruder implement or trailer, with a standard tow hitch for hauling, countered out with a weight, opening bonnet and steerable wheels.
Brand:
Bruder
Product description
No implements, trailers or front loader attachment would be needed if its only a standalone tractor you require on the 1:16 scale farm.
As a standalone Bruder tractor it has all the functionality for role playing; opening bonnet, steerable wheels and a detachable counter-weight.
If an upgrade is required later then look to the tow hitch for hauling, the bonnet connection for adding on a front loader, or remove the front weight to add a front facing implement to the coupling.
What makes this Bruder 02040 Massey Ferguson 7480 tractor more interesting is the possibility of steering the wheels via the steering rod, the tiny steering wheel or simply move the wheels by hand.
The Bruder Massey Ferguson tractor is complete with decor only associated with the manufacture; imitation lights, number plate, steps, exhaust pipe, wing mirrors and mud guards.
Features
Item No: 02040
Scale: 1:16
Age: 4 years and up
Presented in open display box
Made from durable plastic
Opening bonnet, open cab design
Steerable, rolling wheels
Tow hitch with counter-weight
Bruder Agriculture range
Dimensions: L29.8 x W16.5 x H17.5 cm
Weight: 608g
Manufacturer details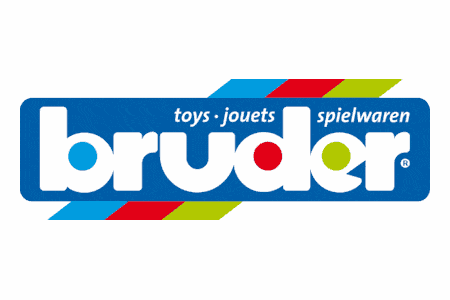 Still going strong in the Bruder Agriculture series is this 2004 Massey Ferguson tractor, with the design and functionality going today, as it did back then. Only one of two MF tractors in the range that comes as a standalone model. Well upgrading later is a possibility with a still functional hitch and a connecting slot to add a working front loader over the bonnet.
Guide to Bruder Massey Ferguson 7480 Tractor
Standalone model is all you need with this one with enough functionality to tide you over, but there's an option to add a trailer or even connect a front loader.
Massey Ferguson 7480 Tractor
You'll recognise this being a Massey Ferguson just from its big, square like body with the well-known silver cab roof top.
The distinguishable headlights and bonnet detail also make it a MF, but to clarify its a Massey you only have to look at the words along the bonnet with the famous white stripe.
Unique to Bruder Massey Ferguson tractors are the detailed reflective lights around the cab roof; plus the exhaust pipe, steps, wing mirrors and even a number plate making it road worthy.
No Windows Cab
Access to the interior of the driver's cab happens from all angles with there little fingers able to reach in or in some cases, there whole hands.
Benefits to interior access of course is there able to steer the wheel, well they could insert a Bruder figure on the seat.
Updated models all have windows with access gained through opening hinged doors, well on this one there's no door in the way with unrestrictive access.
Steerable, Rolling Wheels
Big chunky free rolling wheels are what makes this Bruder tractor go round, with deep treads for digging into the ground and realistic grey rims - just as they would on the real thing.
Well all wheels are covered in mud guards the front two wheels are steerable, therefore the mud guards follow the wheels in any direction they go.
To steer the wheels they can do it in three ways; remove the steering rod and thread it through the cabin roof and into the steering wheel; or steer the little steering wheel or just move them by hand.
Tow Hitch
Early models only have a basic rear tow hitch unlike the height-adjustable hitches on all recent releases.
But don't let this discourage you from this model, the hook on the hitch is still designed in a way that the hoop on the trailer or implement clips over the hook, well staying in place when towed.
Big implements are good but so are the smaller ones. Positioned above the hitch is where the steering rod is stored.
Lift Bonnet Up
As reliable as Massey Ferguson tractors are you still need to get under the bonnet to maintain the engine once in a while.
Thankfully, role play is extended on this model in the shape of mechanic. Pretend play can happen with the hands, but why not get hold of Bruder figure to make the repairs.
Talking of playing mechanic, there's also an opportunity for the 1:16 scale farming figure to get underneath the tractor and make repairs on the chassis.
No Accessories Attached
Standalone Bruder tractors are ready to go from the start, with no trailers to tow or front loaders to control with attachments - and this is really all you need.
The Bruder Massey Ferguson tractor is fully functional with opening bonnet, unrestrictive cab and counter-weight all present.
Now or later, you can connect a front loader to the tractor with most of the Bruder implements all compatible with the tow hitch.
Bruder
This item: Bruder 02040: Massey Ferguson 7480 Tractor, 1:16 Scale
Age: 4 Years
Scale: 1:16
L29.8 x W16.5 x H17.5 cm
Weight: 608g
Bruder
Age: 4 Years
Scale: 1:16
L40.6 x W20.3 x H22.9 cm
Weight: 898g
Bruder
Age: 4 Years
Scale: 1:16
L38.5 x W17.5 x H16.5 cm
Weight: 676g
SHOP BY THEME
SHOP BY
INFORMATION